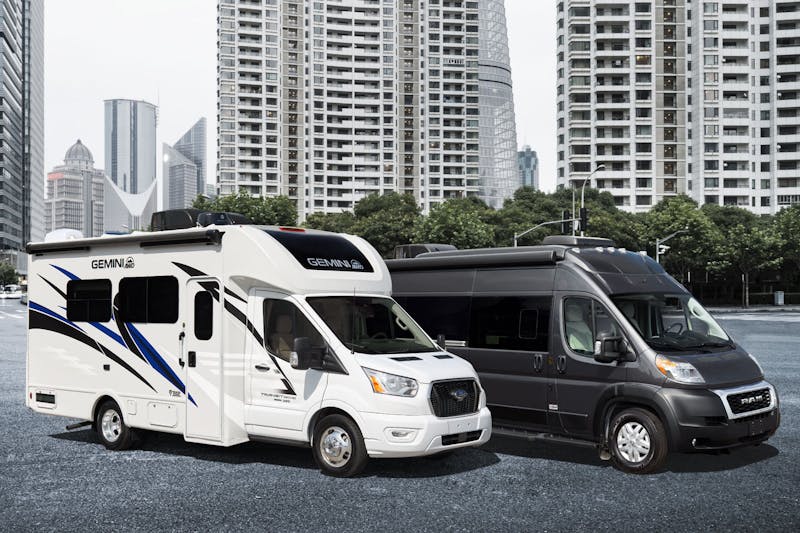 The Difference Between Class B+ and Class B RVs
Class B vs. Class B+ motorhomes - What are the differences? We're breaking it down for you in this week's blog.
Class B vs. Class B+ Size
First, let's talk about motorhome size.
You may hear the terms camper vans, conversion vans, and B vans when talking about Class B RVs. A traditional Class B contains all of the motorhome's features within the van body, without any other walls, floors, or roofs added in the manufacturing process. The most popular van platforms include the RAM ProMaster®, Mercedes® Sprinter, and Ford Transit®. Vans also tend to be the smallest and nimblest RVs on the road, measuring between 16 feet to 21 feet in overall length. The van's width is also smaller than most, allowing owners to park the vehicle just about anywhere.
Unlike Class B RVs, Class B+ motorhomes have an attached cab, or a "cut-away" or cab chassis, which includes the same cockpit set-up as a B Van, but the RV manufacturer adds a body to increase living space. These motorhomes are 23 feet to 25 feet long, which is slightly smaller than our Class C motorhomes. Feel free to look at the Class B specs and compare them to the Class B+ specs.
Class B vs. Class B+ Drivability
RAM 3500 ProMaster® vans, like that under the Dazzle and Twist, have a front-wheel-drive (FWD) platform powered by a 3.6-liter gasoline engine with a transmission. FWD, standard in most vehicles, coupled with Class B's size, promotes confidence and surefooted handling of these motorhomes in all weather conditions. The Scope and Rize models are smaller, built on the 1500 series of the ProMaster® vans, for an even more compact camping experience. The 1500 van is 17 feet long, making it shorter than most three-row SUVs on the road.
For Class B motorhomes with an added touch of luxury, check out the Sanctuary and Tranquility Sprinter vans. Perfect for an adventurous lifestyle, these vans are built on the Mercedes-Benz® 2500 passenger van with a 4x4 platform with optional all-terrain tires, which improves road adhesion and handling to any destination.
The Ford Transit® chassis has all-wheel-drive (AWD) as part of our Class B+ motorhomes' standard build. With AWD, you can get off the grid, as this system works well for limited off-roading. These motorhomes come alive from the 3.5-liter EcoBoost gas engine and the Ford® 10-speed automatic overdrive transmission.
Class B+ motorhomes also have a bonus - they're Recreational Utility Vehicles (RUVs). Similar to sports utility vehicles (SUVs), these motorhomes are easily maneuverable due to their compact size, which means less stress behind the wheel. These Class B+ RVs have the Ford® safety system, featuring lane departure warning, pre-collision assist, auto beam headlights, hill-start assist, rain-sensing windshield wipers, and AdvanceTrac® with RSC® (Roll Stability Control).
Class B vs. Class B+ Storage
Holding tanks, electrical components, and LP systems can be hidden under the Class B vans, increasing internal storage capacity. All Class B vans have storage inside the cabinets in the living area, kitchen, bathroom, and room under the bed on most floor plans. Although there aren't external storage compartments on the B vans, many models can be equipped with Thule® bike racks, awning, roof ladder, and rack system.
Class B+s also have storage in the cabinets that run throughout the living area, kitchen, and bathroom. Unlike Class Bs, B+s are larger, giving you more space to store your road trip must-haves. Depending on your floor plan, you'll also find storage under the Dream Dinette. External rotocast storage compartments with lights come standard on Class B+ motorhomes, so you can bring an extra bag for an extensive trip.
Class B vs. Class B+ Interior
As mentioned, Class B vans have motorhome features built within the van, so there aren't any slide-outs. For this reason, Class B vans have closer quarters when compared to other motorhome classes. With multiple floor plans, you can decide which layout, features, and options fit your lifestyle, needs, and budget. Although these are our smallest motorhomes, they still come equipped with a kitchen, wet bath, bedroom, and living area. Many models offer the flexibility of the optional SkyBunk, a roof-mounted bed system with a full tent enclosure for a night of sleep out under the stars.
Our Class B+s have the upper hand on the B vans when it comes to interior space, as the floor, ceiling, and wall dimensions are substantially larger. Our two Class B+ motorhomes, Gemini AWD and Compass AWD, each have multiple floor plans. Depending on your layout, you may have a full wall slide-out or a partial wall slide-out, making the living area feel open. Extra kitchen counter space, wardrobe space, and luxurious bathrooms help increase the homey feel of these compact machines.
Class B vs. Class B+ Features
Connectivity and Convenience
Many Thor Motor Coach Class Bs and Class B+ motorhomes have modern conveniences, including Winegard® ConnecT™ 2.0, working as your WiFi extender and 4G hotspot and Rapid Camp+ multiplex system, an all-in-one control center for your lights, awnings, tank monitors and more. These features are essential when considering working on the road and convenience at your campsite.
All of these motorhomes promote outdoor living with solar charging and battery systems. Class B+ motorhomes come with a 100-watt solar panel. Class B vans come standard with a 200-watt solar. There is an optional Re(Li)able® lithium battery system, which prolongs dry camping viability and the Class B vans' solar charging capabilities.
Class B vans have versatile entertainment spaces.  Cab chairs will swivel, allowing the front seat travelers to join the conversation or enjoy a board game in the living space. A TV connection allows campers to connect to their favorite TV or streaming services. However, the most entertaining place on the van is outside, under the patio awning enjoying the campfire. 
B+ models have more space inside the vehicle allowing for larger groups of friends or family to gather. Every layout has a TV installed with easy access to connect a gaming system on those days when the weather doesn't allow for exploration outdoors.
Because the two Class B van and two Class B+ motorhome brands are what we call sister products, they offer the same floor plans, but each has different interior and exterior décor options. Check them out if you want to find the motorhome Made to Fit® your style.
Class B Vans (Camper Vans):
You can always contact our Coach Link Sales Advisor if you have any questions or comments. Already have your heart set on one of the B vans or Class B+s? Find your local dealer with our Dealer Locator, and begin your adventure with Thor Motor Coach.
Want to learn more about the Class B+ and Class B brands? Watch our YouTube videos below:
2023 Compass AWD Class B+ R.U.V.
2023 Dazzle Class B Camper Van
2023 Gemini AWD Class B+ R.U.V.
2023 Rize Class B Camper Van