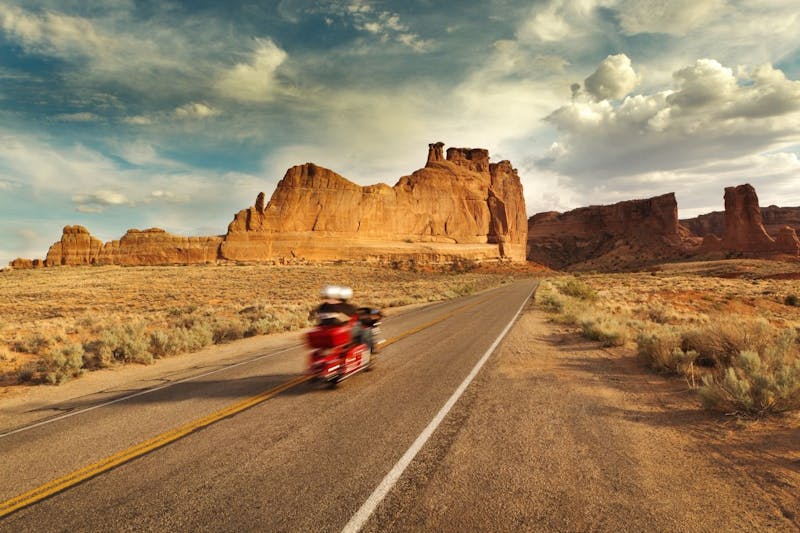 Taking a Motorcycle Trip
Open roads and freedom. That is what is so thrilling about a motorcycle road trip. Every year thousands make the trek to Sturgis for the annual bike rally but not everyone rides the whole way. There are only so many hotels there, that's why you will see what can only be described as RV "cities."
Class A, RUV™, Super C, Toy Hauler - there are so many types of motorhomes because there are so many types of RVers. The lifestyle includes many subcategories and age groups along with people experiencing different phases of their lives. Motorhomes may not be the first thing you think of when imagining the Sturgis bike rally but to this group of enthusiasts, the interests overlap.
There comes a time in life when your children are grown and you can focus on all of those things you wanted for years but simply didn't have the time. Well, that time is now and whether it's the motorcycle you've had your eye on for years or the luxury Class A you've dreamed about, or better yet both, it's time for some fun!
Challenger® features:
Residential refrigerator
King size Tilt-A-View® bed
10-inch touchscreen dash radio with Bluetooth®, RV navigation, and SiriusXM® capability
Click here for more about Challenger Class A Gas motorhomes.
The towing capacity of the Quantum® means you can tow multiple bikes anywhere and have a place to sleep. There are a limited number of hotels in Sturgis so that is why so many people bring their RVs. In fact, you will see so many RVs there during the bike rally that people have nicknamed them "RV Cities." Look no further for new friends with the same interests. The community of RVers and bikers is strong.
Quantum Class C Motorhomes
8,000 lb. trailer hitch
Electric stabilizing offered on select models
New front cap design with large skylight
Click here for more about Quantum Class C motorhomes. Don't forget about Quantum Sprinters too!
Did you think you could read about motorcycles and RVs and not hear about the Outlaw®? Even the name screams cool. These toy haulers are not for those who are happy playing it safe. The diamond plated flooring in the garage, killer sound system and extreme graphics are for the true road warriors. Don't expect the tough guy exterior of the Outlaw to skimp on comfort though. The tall ceilings and comfortable beds and large showers make deluxe living quarters. Even tough guys need a comfortable place to sleep.
Outlaw Class A and C Toy Haulers
Drop-down ramp door with snap-in patio system on select models
Optional jack knife sofas in garage
Residential kitchen upgrades
Click here for more about Outlaw Toy Haulers.