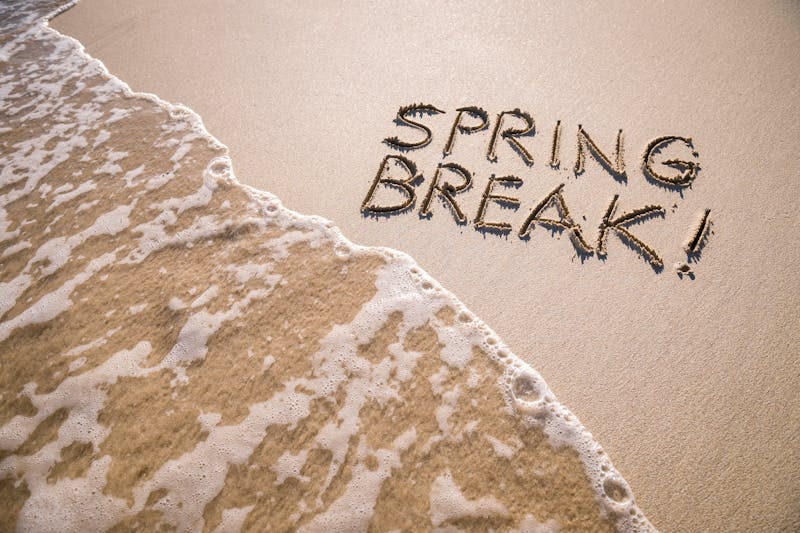 Six Spring Vacation Destinations You Need to Visit
Relaxing Spring Vacation Destinations in the U.S.
Are you feeling stuck in a rut and dreaming of a much-needed getaway? Well, good news - Spring break is just around the corner! It's the perfect opportunity to break away from the everyday hustle and bustle. Whether you're a stressed-out student or a weary parent, there are plenty of amazing destinations in the U.S. that offer the perfect mix of relaxation and entertainment.
Luckily, we've compiled the ultimate list for you. According to Travel + Leisure and Full Suitcase, these are the top spring vacation destinations in the United States:
Say "aloha" to paradise! Maui, the second-largest Hawaiian island, is a real treasure that will leave you in awe. Known for its world-famous beaches with crystal-clear waters and breathtaking scenery, Maui is a must-visit destination that will satisfy all your senses.
If you're an adventure seeker, Maui has got you covered. With snorkeling, hiking, and surfing opportunities aplenty, you'll always have things to do. If you're looking for a more laid-back experience, Maui still has lots to offer. Enjoy traditional Hawaiian culture, savor the local cuisine, and witness some of the most stunning sunsets you'll ever see.
Whether traveling with your family, friends, or significant other, you'll find activities that will keep everyone happy and entertained. So why not make Maui your spring break destination this year? Relax, unwind, and create unforgettable memories on this beautiful island that will leave you feeling rejuvenated and refreshed. Don't wait. Pack your bags and get ready for the adventure of a lifetime!
Are you looking for a sunny escape that caters to families and college spring breakers? Look no further than the fabulous Palm Springs! This desert gem boasts earlier warm weather than most places. It offers delicious food options, luxurious accommodations, fascinating museums, and quirky shopping spots.
For the ultimate adrenaline rush, ride on the Palm Springs Aerial Tramway and take in breathtaking views of the stunning cliffs, picturesque vistas, and vibrant valleys. If you want to get your blood pumping, the Coachella Valley is just a stone's throw away. It offers various exciting outdoor activities such as hiking, biking, and horseback riding.
Palm Springs also has a lavish selection of accommodations. From swanky hotels and luxurious vacation rentals, Palm Springs has something for everyone. It's the ultimate luxury spring break getaway for those looking to soak up the sun, adventure, and good vibes!
New Orleans is the perfect spring break destination for a one-of-a-kind experience! Known for its delicious food, vibrant culture, and lively music, there's something for everyone in the Big Easy.
For those interested in history and culture, New Orleans is home to countless museums, historic landmarks, and stunning architecture. Stroll through the French Quarter and immerse yourself in the rich history of this unique city. Beautiful parks, exciting swamp tours, and a world-class aquarium make it a go-to destination.
The best part of New Orleans is its world-famous cuisine. It's a food lover's paradise, from mouth-watering po'boys to succulent seafood. Don't forget to indulge in the sweet and savory flavors of beignets and café au lait at the famous Café Du Monde. If you're looking for a cool spring break spot, check out New Orleans!
Is your beach bag ready? It's time to head to Destin for the best spring break getaway. This sun-soaked paradise, located on the sparkling waters of the Gulf of Mexico, boasts some of the most stunning beaches in the country. From crystal-clear waters to the soft, white sand, it's the perfect place to soak up some much-needed vitamin D and unwind in the sun's warmth.
For adventurous souls, there are many outdoor activities to get your heart pumping, from fishing and kayaking to paddleboarding, parasailing, and jet skiing. Those seeking a more leisurely pace can take a relaxing stroll along the Destin Harbor Boardwalk and indulge in the local shops, restaurants, and entertainment. The nearby state parks offer stunning views, making it the perfect place to enjoy a picnic.
Better yet? Destin is relatively inexpensive. Unlike popular spring break destinations, you won't have to break the bank to enjoy Destin. There's something to fit every budget with various accommodations ranging from vacation rentals to beachfront hotels. So, what are you waiting for? Pack your sunscreen, grab your favorite swimsuit, and get ready to make unforgettable memories!
Charleston, South Carolina
Charleston is a fantastic spring break destination for those looking for a mix of history, charm, and Southern hospitality. With its stunning architecture, beautiful gardens, and picturesque streets, Charleston is a feast for the eyes.
Walk through the historic district and marvel at the beautifully preserved antebellum homes or visit one of the many museums to learn about the city's rich history and culture. Charleston's food scene is also fantastic! With the city's proximity to the coast, fresh seafood is always on the menu.
Take a scenic bike ride along the coastline, explore the marshes on a kayak tour, or simply relax on one of the nearby beaches if you're craving some outdoor adventure. Charleston also has countless boutiques and antique shops with everything from handmade jewelry to vintage furniture for those seeking some retail relaxation. It's the perfect spring break destination - Charming, relaxing, and fun!
South Padre Island, Texas
Flock to the sun-drenched shores of South Padre Island! This 34-mile-long barrier island is the ultimate destination for those looking to escape the stress of everyday life and let loose in a stunning location.
With crystal-clear blue waters and a warm tropical climate, South Padre Island is the perfect place to indulge in some much-needed R&R. You can soak up the sun on the island's gorgeous beaches or dive into a range of water activities, from jet skiing and parasailing to dolphin watching tours and fishing trips.
If you're looking for a more mellow vibe, take a sunset cruise, practice beach yoga, or play a game of beach volleyball with your pals. Whatever your style, South Padre Island has something for everyone. It's the perfect place to recharge!
From stunning beaches to charming historic towns, these destinations offer something for everyone. So why wait? Pack your bags and get ready to embark on the spring break of a lifetime!
Do you still need transportation and lodging? We've got you covered. Check out our Made to Fit® motorhomes!
Vacation-Ready Motorhomes
Dazzle® Class B Motorhome
Small but mighty – Dazzle is ready for any adventure! This camper van has easy-to-clean vinyl flooring, so you can leave the mess behind and focus on the fun. With spacious overhead cabinets, you can bring all your travel essentials without sacrificing precious living space. The best part? You can cook and keep your ingredients fresh while saving money on the road with Dazzle's two-burner gas cooktop and a single-door refrigerator. Whether you're whipping up a gourmet meal or just need to make a quick snack, this van has everything you need. Dazzle is the perfect spring break companion.
Easy to drive and easier to love - Axis isn't your average Class A Motorhome. This RV offers an optional solar charging system to escape the crowds and relax. When you're ready to fire up the grill and get the party started, simply connect to the external LP connection for some fun in the sun. The ceiling-ducted air conditioning system allows travelers to rest and recoup after a day of adventure. Axis also features a drop-down overhead bunk with a Cotton Cloud™ mattress and bunk ladder so everyone can get a good night's sleep before doing it all over again. Axis is the perfect way to make this spring break one to remember!
Which vacation destination will you visit this spring break?
Send photos of you and your loved ones enjoying your Thor Motor Coach RV, and we'll feature you on our social media pages! Text them to our happy camper line at 574-584-2074 or email them to web@tmcrv.com.