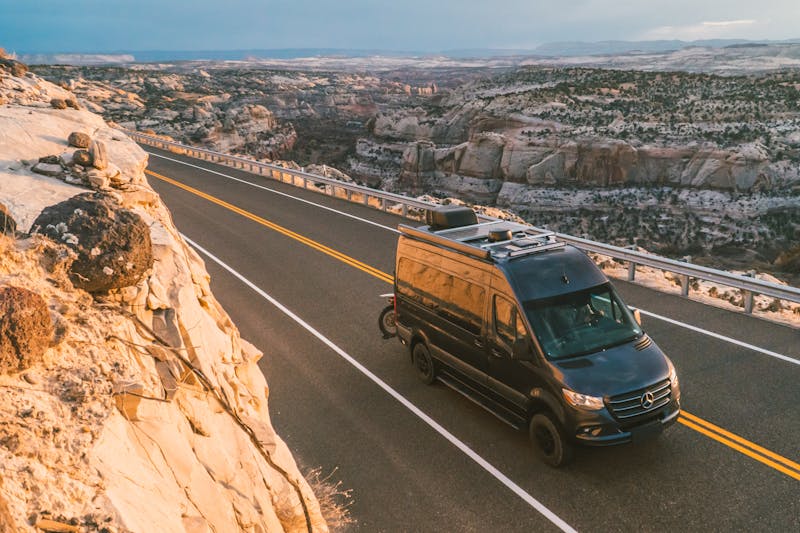 RWD Mercedes-Benz Sprinter
When we hear Mercedes-Benz®, a few things come to mind: quality, performance, luxury, and safety. This rings true for Thor Motor Coach's Mercedes-Benz® sprinters, whose features don't end at the chassis. Many people tend to go for the 4x4 sprinters, but some people prefer to be on the road than off it.
Did you know the Mercedes-Benz® sprinter features an incredibly capable RWD chassis? If you're not a big fan of taking the road less traveled, then don't count out the 4x2 sprinter. It's the ultimate cruiser, engineered for any on-road weather. Consider this van for the following reasons:
The 4x2 sprinter is priced less than its 4x4 counterpart. Spend that extra money on traveling for longer periods of time or vacationing somewhere you've always dreamed of exploring.
The RWD sprinter is fuel efficient and great for those going green! Save the planet and some cash along the way. This is especially nice considering the current gas prices.
No need to fret about weight with the 4x2 van. Its small weight is convenient when you need to carry and tow more for the ultimate camping getaway. Trips have never been easier!
The 4x2 sprinter requires less maintenance thanks to it not having a front differential and all the mechanics that go with it. You can spend more time adventuring and less time worrying.
Ride comfortably in the 4x2 sprinter. The steering and drivetrain are separate, so travelers can get agile handling and a smaller turning radius, perfect for city driving and parking!
Enjoy luxury on the go in this sprinter with top features, including:
·         Mercedes ESP (Electronic Stability Program)
·         ASR (Acceleration Skid Control)
·         Brake Assist
·         Heated Seats
·         Push-to-Start Button
·         Adaptive Cruise Control
·         Blind Spot Warning
·         Hill Start Assist
Where do you see your sprinter van taking you? Let us know!
Share photos of you and your loved ones enjoying your Thor Motor Coach RV with us to be featured on our social media pages! Text them to our happy camper line at 574-584-2074 or email them to web@tmcrv.com.