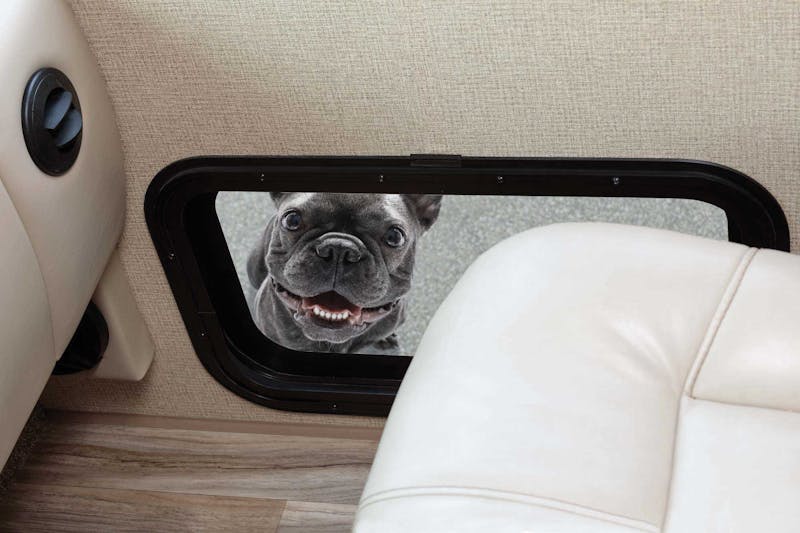 RVing Means Never Saying Goodbye to Your Pets!
Let's be honest, pets aren't just "man's best friend," they're part of the family. When you vacation in a motorhome, you never have to leave your fur baby behind. Think about it, not only will bringing your four-legged family member along for the journey add to the fun, it will also be more cost-effective and guilt-free. Plus, your pet deserves a little R&R too!
Benefits of traveling with your pet in an RV:
Bringing your pet with you means no boarding fees and no guilt. You'll save money and be able to wake up to wet-nosed snuggles every day of your vacation. Sure, your fur baby will have plenty of other animals to play with at the boarding facility, but who your pet wants to spend time with is you. Sleep soundly knowing that your four-legged friend is happy, healthy and by your side.
No need for a flight = less stress for everyone.
If you decide to bring your pet along for vacation without a motorhome, you'll find obstacles on the way. Getting a fly permit and tickets for your pet can be costly when planning a trip for the whole family. Plus, let's not forget that pets get anxious too. Even after going through the trouble of finding a flight, at high altitudes, strange people and confinement will cause stress for your little one and could mean barking or meowing, which no one on the plane will appreciate.

Avoid the fees.
Even if you do decide to fly, there's another obstacle when searching for a hotel or rental that allows pets. You might end up staying farther away from the location you wanted to be and pay additional fees. Because your motorhome is just that, a home, you can make your own rules. Permits, fees, obstacles and guilt can be avoided when vacationing in your RV.

Always have your companion by your side.
Here's the best part about bringing your pet along for the trip in your motorhome: you'll always have your companion with you. You won't have to go on your morning jog without your buddy; your kids will always have another protector around and, of course, pets are the perfect ice breakers. That's right, making friends at the campground just got so much easier.

Pet-Friendly Class A RV
If you have a big dog or multiple pets, a Class A motorhome will do the trick. A.C.E.®  is a complete pet-friendly model that your furry family member will love. The Birds Eye™ window is the ultimate place to watch for squirrels and birds. If you want to have companionship while you're grilling or relaxing under the powered awning, hook the leash to the Pet-Link™ multi-purpose tie-down. Don't worry about the food dishes sliding all over the place, because there's a built-in Kibble Station™ that easily slides in for the drive and back out for dinner time.
Diesel Class A motorhome: Your pet's palace
A Class A diesel pusher, like the Venetian®, is the perfect motorhome to live full-time with your pets. If your cat is shedding, there's an easy solution for cleaning up: the central vacuum system with a toe-kick dustpan, so you won't have to stress before entertaining guests. Venetian floor plans are all larger than 40 feet, which means you'll have plenty of room to set up a cat tower for your curious kitty or a nice, cozy bed for your dog. If your pet gets muddy after your hiking trip, simply give them a bath at the outside shower, so it doesn't track inside your home!
Thor Motor Coaches are made to fit all of your family members.
Avid RVers will attest to the fact that motorhomes have such a great appeal because they are centered on families. Thor Motor Coaches are made to fit you and are built with you and your family members - including your pets - as the blueprint. Never leave your pet behind while you vacation again. They will love it and so will you.