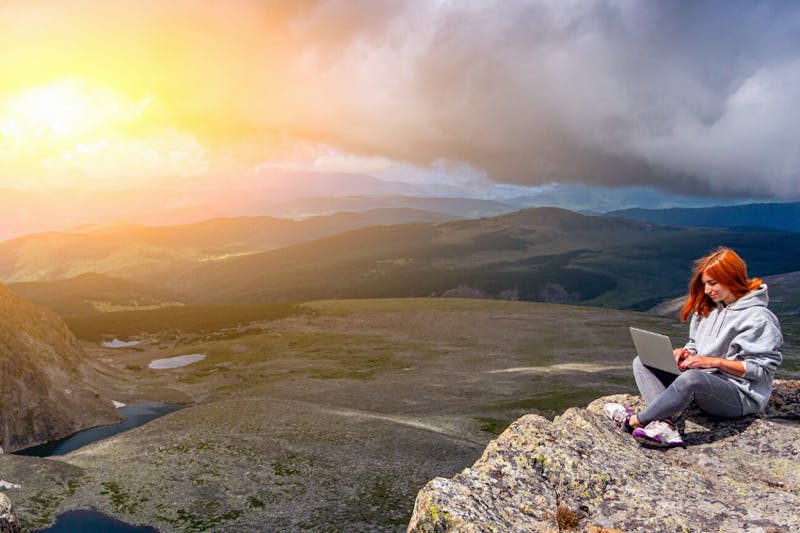 Redefining the Work-Life Balance
The evolution of the workplace is changing camping culture. The workforce is pushing for more opportunities that include flexibility and independence. The Covid-19 pandemic proved some jobs could be done without coming into the office. The autonomy workers crave has become a reality. It may seem too good to be true, but you can travel AND BE EMPLOYED.
Say goodbye to dull office views. 
Working remotely gives you the freedom to take your work wherever your heart desires. Trade in the noisy cubicle for the privacy of your own RV office. If you've been curious about visiting a new national park or campsite, now is the perfect time to seize the opportunity. Your Zoom call backgrounds will become the envy of the entire office!

What about an internet connection?
Many Thor Motor Coach motorhomes have the Winegard® ConnecT™ 2.0, an all-in-one secure Wi-Fi router, 4G hotspot, and a TV antenna. This system makes it simple to hop on a call or check your email wherever you may roam. Winegard brings you security and peace of mind knowing that you won't miss a video meeting with an important client. 
Boost your mental health. 
Your pet will be thrilled in the morning now that they can come to work with you. No rushing home to let your pup out on your lunch break is a guaranteed time saver! The most significant benefit our furry friends bring to us is stress relief. According to News in Health, "Interacting with animals has been shown to decrease levels of cortisol (a stress-related hormone) and lower blood pressure. Other studies have found that animals can reduce loneliness, increase feelings of social support, and boost your mood" (NIH, 2018).
Go it alone.
One perk with working remotely in a motorhome is a bathroom without your co-workers! Let's face it, not all of us are on the same page regarding the facilities. Your motorhome bathroom will allow you to avoid someone's mess on the counter or forgetting to flush, or toilet paper stuck to your shoe. This alone could be the biggest perk of time outside the office for many people!
Additional job opportunities. 
As companies continue to offer remote work, finding opportunities no longer requires a location within the immediate proximity of an office. Many employers are getting more work from their people when part of the day is not wasted sitting in traffic.  Inflation has a lesser effect on paychecks when the costs of fuel, vehicle expenses, and dining out are no longer needed on a daily basis.  A more balanced work-life balance can be achieved when you do what you love from a place you love to be!
Scope® Class B Van
The Scope is a compact camper van that easily fits in a typical parking spot, allowing early morning trips to Starbucks. Enjoy that cup of joe in the parking lot while catching up on the news with internet connectivity through the Winegard router. A tablet holder is ready to hold another screen, allowing double monitors in your workspace. The roof-mounted solar panel helps keep the batteries topped off and ready to power a laptop, cell phone, or printer. 
Maintaining a healthy lifestyle while saving money is easy, thanks to a two-burner gas cooktop with a glass cover and a microwave oven. Drive-thru lunch is no longer necessary. Head outside under the electric awning to catch up on your emails or spark creativity for your next presentation. If you find yourself dragging mid-afternoon, this camper van has a screen door and large opening side doors to allow fresh air in to refuel your mind or enjoy a short nap.
A.C.E.® Class A 
Start your morning sitting in the captain swivel chairs as you eat breakfast and caffeinate before the day begins. Take a seat at the Dream Dinette® and set up your mini office! The A.C.E. also features a flip-up workstation on the passenger side, providing the best office view wherever you may roam. A great living area with large windows provides plenty of natural light, making it the ideal place to improve the work-life balance or a quick yoga session on your lunch break.
The A.C.E. is truly the pet-friendly RV! Dogs will love the infamous Bird's Eye Window™ that allows them to see the world outside while you work. Let your fuzzy friend enjoy limited independence using the PetLink™ multi-purpose tie-down for a mid-day break, and a big helping of Vitamin D. Allow your best pal to enjoy mess-free meals with the pull-out Kibble Station™.