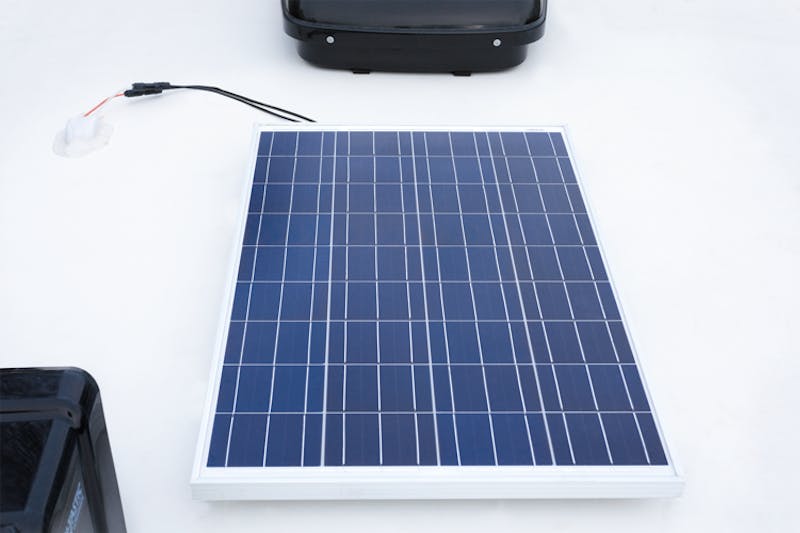 Power Without Plugging in
You may be camping without RV hookups available but that does not mean you have to forgo power. Here are tips to get the most out of your RV appliances when you can't plug in.
Generators
Generators offer a constant power source. One of the only drawbacks is the noise they make when you have close neighbors in crowded campgrounds throughout the night. But if you are camping off the grid or someplace that does not offer hookups, you probably will not be in a crowded campground. If you do have some fellow campers nearby, chances are they will also be depending on a gas generator.
The Windsport® Class A comes with a compact and efficient Onan® gas generator. Make sure to bring enough gasoline or conserve gas by only running your generator when you absolutely need it. 
Onan® gas generator
Solar prep (includes solar controller)
Inverter comes standard
Batteries
A second auxiliary house battery, like in Axis® RUV™ RVs, means you don't have to worry about draining your motorhome's crucial battery supply when you need it to start your engine and other important power needs. Simply use your solar panel system or generator to keep your batteries charged and ready to go when you are.
Double door gas/electric refrigerator
Solar prep (includes solar controller)
Second auxiliary house battery
Solar Power
Using the energy from the sun to power appliances in a motorhome is becoming a popular choice among RVers. That's why all Chateau® and Chateau Sprinter motorhomes come prepped for solar charging. A simple install of solar panels is all that is required to start putting those rays to work.
Onan® generators in gas, LP or diesel (depends on chassis)
Solar prep (includes solar controller)
Exterior LP connection