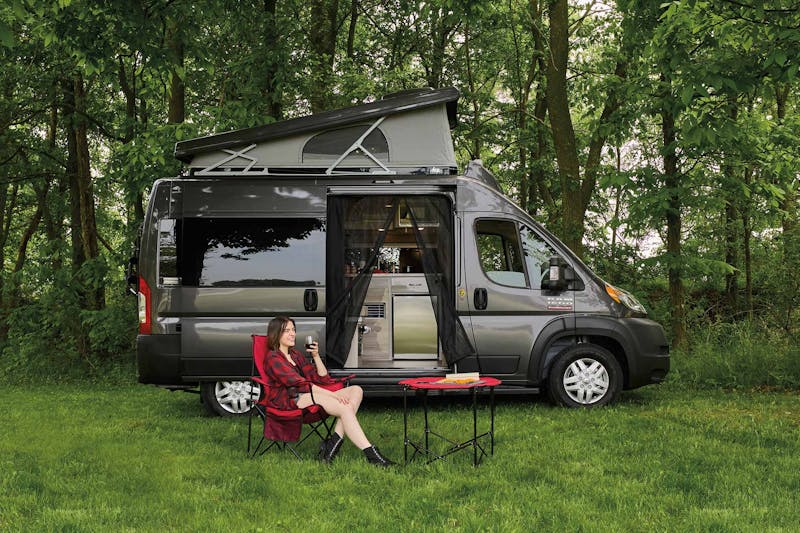 Our New Class B Motorhomes
The long-anticipated wait is over and the new camper vans from Thor Motor Coach are here! Joining the Sequence and Tellaro are the Scope and Rize Class B RVs. Below, we'll fully introduce our new explorer vans.
Scope and Rize Class B Motorhome Floor Plans
Scope and Rize are available in two different floor plans, 18M and 18T. These floor plans are perfect for different lifestyles. 18T is excellent for those who enjoy a weekend or day trip, while the 18M is ideal for those who want a small camper for extended stays. That distinction is because 18M comes with a fully-enclosed wet bath, while the 18T doesn't. But, both floor plans have a kitchen, sleeping area and plenty of adventure-friendly features.
New Class B Motorhome Features

Drivability
As some of the smallest motorhomes on the market at 18-feet, Scope and Rize drive similarly to a standard car, truck or SUV. The RAM ProMaster® 1500 XT chassis easily fits into a conventional parking space, providing peace of mind to first-time RVers. These new Class B vans come with a 7-inch touchscreen dash radio, with Apple CarPlay® and Android Auto™, which doubles as a backup monitor. There's even a 3,500-pound hitch for those who want to tow a trailer along for the ride.
Living Space and Storage
Don't let the Rize and Scope fool you with their compact size - they still come with a ton of camper van storage space. The TecnoForm® Euro-style cabinetry that runs throughout the coaches adds to the modern look and provides space for hiking gear, fishing necessities, or whatever activity you'll partake in at the destination. Once you're done for the day, relax on the bench-style seating or convert it into a sleeping area. There's a removable table to share meals or work on the road. The leatherette captain's chairs swivel to become part of the living area when parked, making space for guests. If you plan on traveling with guests or little ones, the 18T even comes with an optional pop-top sleeping area.
Kitchen and Bathroom
No matter which floor plan works for your lifestyle, there's a fully-equipped kitchen in Rize and Scope. A single-door stainless steel refrigerator keeps ingredients fresh. There's a two-burner gas cooktop and a microwave oven that make cooking on the road simple. The 18T floor plan even comes with a pop-up outlet for extra appliances. In the 18M floor plan, there's a wet bath, complete with a shower and cassette toilet.
What are the Differences Between Scope and Rize?
Rize and Scope are what we call "sister products." This means these explorer vans have the same floor plans, features, and specs but have unique interior decor options. Rize's interior decor uses cool tones in the "Modern White" cabinetry with a "Crisp Linen" color palette for a contemporary home away from home. Scope's decor creates a warm and welcoming feel with the "Miami Modern" cabinetry and "Miami" color palette.
How Do I Find a Scope or Rize Near Me?
If you have any questions or want to check your local dealer's inventory, our Coach Link® Sales Team is ready to help you. You can always go to our quick and easy-to-use Dealer Locator to find one nearest you. 

New to RVing? Check out our free Owners Guide. 

Are you searching for local inventory? We offer a convenient Dealer Locator.