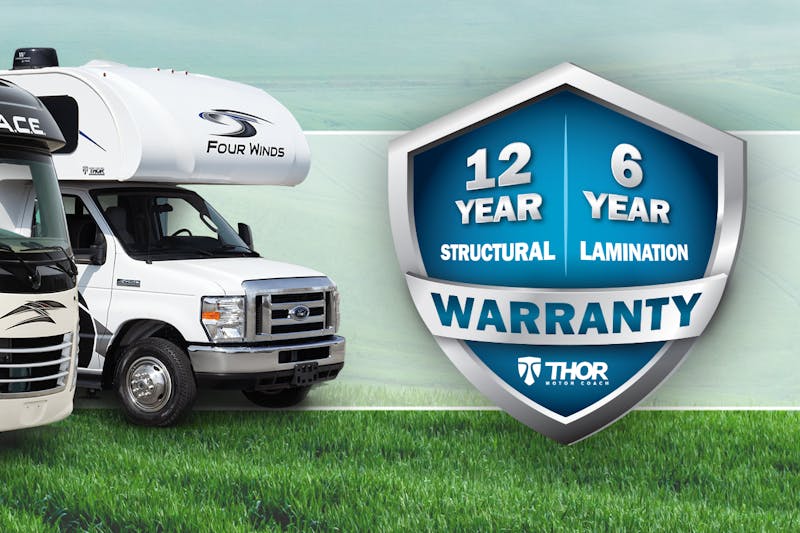 New Industry Leading Lamination and Structural Warranty
As part of the change to increase motorhome value and longevity, Thor Motor Coach is raising the bar for the warranty period on all 2021 Class A and Class C motorhomes. A new 1-6-12 warranty program provides an industry-leading 6-year lamination warranty and 12-year structural warranty, along with the 1-year limited warranty.
In an industry where the assembly of many parts and pieces are necessary to complete a final product, special attention to the structural integrity and lamination of the motorhome's house can be overlooked.  Currently, most structural warranties are limited to three years, without extended coverage for the laminated parts making up the roof, floors, and sidewalls. As of this writing, the most aggressive competitive coverage is 5-years on lamination and 10-years on the structure. The 12-year structural warranty is 300% better than most competitive offerings, increasing consumers' peace of mind when making their motorhome purchase decision. 
"We have spent the last 18 months improving the culture throughout our great organization.  The institution of better communication, visual management, and operational accountability have helped us transform the business," commented Jeff Kime, Thor Motor Coach President.  He continued to say, "The new warranty coverage is part of our commitment to building the most innovative, dependable, and longest-lasting motorhomes in the industry".
Searching for local inventory? We offer a convenient Dealer Locator.
Questions? Comments? Send a message to our Coach Link Sales Advisor.