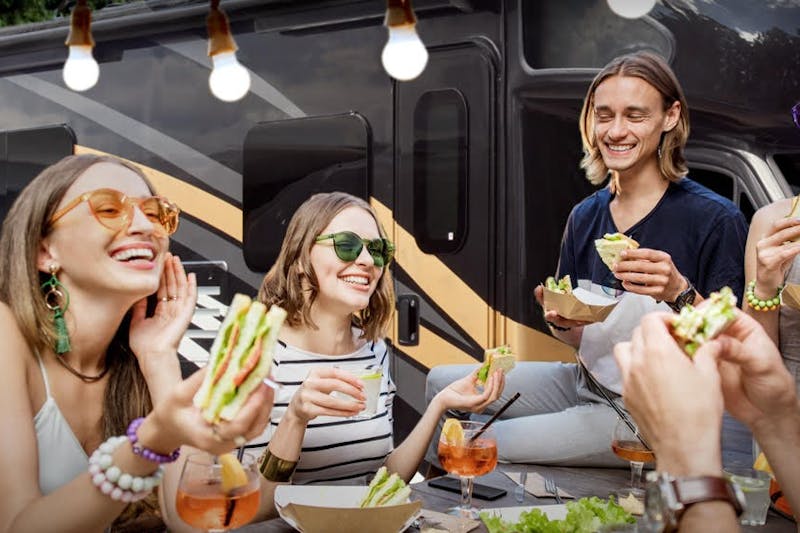 It's a Patio Party!
When we design TMC motorhomes, we think about the space around the outside of the coach as much as the inside. That's why our motorhomes are equipped with patio lights, exterior TVs, speakers and more!
Setting up your outdoor space personalizes your campsite and extends the living space from inside your RV. Whether you are happy once you extend your awnings or you go the extra mile with potted plants and vintage pink flamingos, the Quantum™ Class C RV helps you carve out that additional living space and make it your own.
Quantum Class C
Portable table in MEGA-Storage® compartment in RW28
Power patio awning with integrated LED lighting
Rapid Camp® wireless control system on select models
Read more about Quantum.


Class A motorhomes offer a longer awning to go over your patio, extending your outdoor space. Both the Tuscany® diesel pusher and Challenger® Class A gas motorhomes offer entertainment systems outside as well as WiFi extenders that provide strong signals on your patio. Other exterior features include:
Tuscany Class A Diesel
Patio light on both sides
Dual roof power awnings with integrated LED lighting
300-watt solar charging system with power controller
Read more about Tuscany.


Challenger Class A
Power entry door awning
Pet-Link™ multi-purpose tie-down
Winegard® ConnecT 2.0 WiFi extender + 4G
Read more about Challenger.

When it comes to outdoor living, Our Outlaw® Class A and Class C toy haulers are MVPs. They were designed to literally haul your motorized toys in the attached rear garages. But those garages readily morph into an elevated patio that can be enclosed to keep out bugs or even rain. Below is a small sample of Outlaw's features but to take it all in, you need to see them in person.


Outlaw C & A Toy Haulers
Garage drop-down ramp and patio system on select models
3-season patio door with screen on Class A
Bug screen curtain in garage in Class C
Read more about Outlaw Toy Haulers.