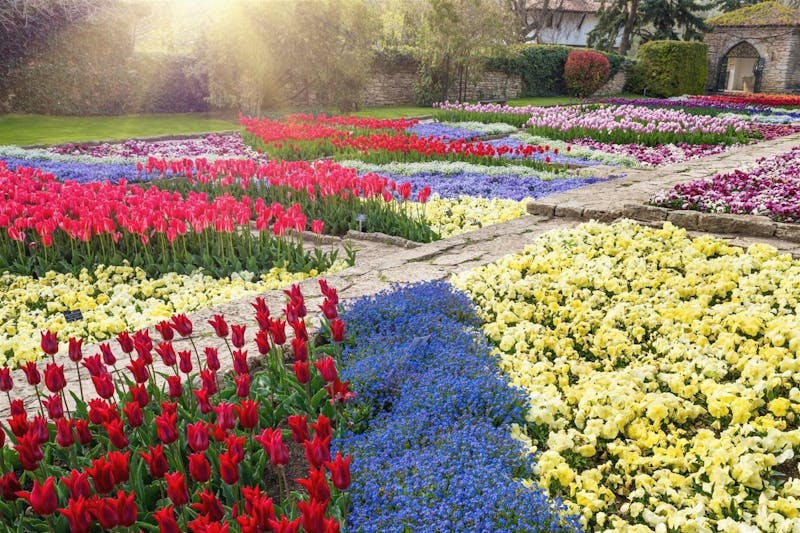 Iris-istible Botanical Gardens
Best Botanical Gardens in the U.S.
Summer is right around the corner! Everyone is antsy to get outdoors and enjoy the warmer weather. After all the April showers, we're finally seeing May flowers. Luckily, the U.S. is home to many extraordinary botanical gardens that you can visit for relatively low prices. In fact, there are tons of garden options for those who are willing to go the distance and those who wish to stay closer to home. Wherever you decide to go, we are positive you will find fascinating flora.
According to the Thrillist and Travel Channel, these are the best botanical gardens:
ABQ BioPark Botanic Garden – Albuquerque, New Mexico
A fun getaway for the whole family, this place has 36 acres of gardens, a zoo, and an aquarium. The two most popular exhibits are the Japanese garden and the children's garden, which a 14-foot topiary dragon guards. What kiddo (or adult) wouldn't want to meet a dragon?! It's a flower fantasy land!
Atlanta Botanical Garden – Atlanta, Georgia
Aside from Mother Nature herself, this botanical garden includes an orchid center with the largest collection of orchid species on permanent display in the United States; a garden pond filled with aquatic plants; and a children's garden with fountains, sculptures, and fun exhibits on botany and ecology. We're confident everything will have you ooh-ing and ahh-ing!
Chicago Botanic Garden – Glencoe, Illinois
At nearly 400 acres, this botanic garden is one of the largest in the U.S. Its collection of 185 bonsai trees is impressive, along with the groundbreaking plant conservation research done here. Less than an hour away from downtown Chicago, it's worth the drive if you're in the area!
Desert Botanical Garden – Phoenix, Arizona
With a distinct mission of focusing solely on desert plants, this garden's 145 acres showcase more than 50,000 plants, including a unique collection of cacti. The garden is great to explore year-round, but the current exhibit, Chihuly in the Desert, showcases Dale Chihuly's stunning, large-scale glass sculptures displayed among the desert plants. It's a must-see experience!
Kanapaha Botanical Gardens – Gainesville, Florida
The paths of this garden wind through swamps and a rose garden, rock garden, and butterfly garden. Among the park's two dozen collections are the state's largest collection of bamboos, the biggest herb garden in the southeast, and ponds full of giant Victorian water lilies. A total dream come true!
Lewis Ginter Botanical Garden – Henrico, Virginia
This garden's stunning classical domed conservatory houses an orchid collection and an annual butterfly exhibit that lasts from Memorial Day weekend through mid-October. There are more than a dozen themed gardens you can wander through, including a Healing Garden, a Rose Garden, a Cherry Tree Walk, and a Victorian Garden. There is also a giant accessible treehouse in the garden's interactive children's area. Talk about Southern Charm!
New York Botanical Garden – Bronx, New York
This 250-acre botanic garden is located in the middle of the Big Apple, so you won't miss the action. The New York Botanical Garden houses a sizeable Victorian-era glasshouse which provides visitors a tour of 11 distinct plant habitats, including a tropical rainforest and desert environments of the Americas and Africa. The garden even boasts its own printing company!
United States Botanic Garden – Washington, D.C.
The United States Botanic Garden is here to prove that D.C. is more than just cherry blossoms. Established by Congress in 1820, it is one of the oldest botanical gardens in North America. The garden is located adjacent to the Capitol. Though it's small, the park includes a conservatory and two outdoor areas that display a collection of some 65,000 plants, including rare finds such as ferns that date back to the garden's founding. Admission here is also free. Now, that's impressive!
No matter the location, we know there's a botanical garden that you and your loved ones are bound to enjoy. However, it's not always easy to get to the desired destination, especially for those with larger groups. We suggest looking into the following camper vans to ensure your trip blossoms into the best one ever!
Delano® Mercedes Sprinter
The Mercedes-Benz® Delano Sprinter delivers a smooth, stress-free ride for every journey. So, even long trips feel like a breeze. This motorhome comes with 100-watt solar charging with a power controller that works to keep the house battery full without overcharging. After a long day in the sun, your coach will be charged. You can spend all day in the gardens with your family and return to the camper for more fun or a good day's rest!
This Class B motorhome has all the features you love from a larger RV, but it's more compact and easier to drive. You can relax knowing you will be able to visit any botanical garden without the stress of parking elsewhere. You can also travel sustainably in the Tellaro with the size-conscious Go Power!® 190-watt solar panel with solar charge controller. This way, you can live in an eco-friendly manner while learning about our ecosystem.
Now, take a stroll through the gardens and watch the fun grow!