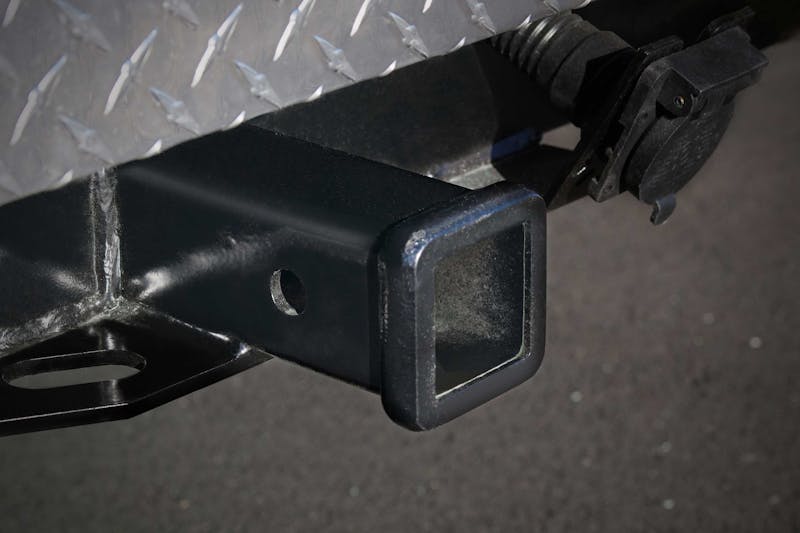 How Much Can My RV Tow?
You just purchased a Thor Motor Coach and are excited to hit the road! But first, you need to pack. For some, this means it's time to load up a trailer or car to tow behind you. It sounds simple, but to protect your motorhome and family, here are some things you need to know.
RV Towing Capacity
Towing capacity is the highest possible weight of the fully-loaded trailer or car that your Class A motorhome can tow.* Here is how your towing capacity is calculated:
Towing Capacity = Gross Combination Weight Rating (GCWR) - Gross Vehicle Weight (GVW)
*Note that towing capacity is based on a minimally loaded motorhome GVW.
What can I tow from my RV?
Most RVers tow a trailer or a car behind their toy hauler. Towables are an added benefit to the RV lifestyle. Your home on wheels has all of the comforts of home - a kitchen, bedroom, bathroom, and entertainment. A trailer allows you to bring activities for the destination, including a wave runner, golf cart, and more. Or, a car that takes you places that larger motorhomes cannot go, including some National Parks, or just through town.
Towing a Trailer from an RV
Trailers carry a portion of their weight on the trailer axle and the rest of its weight is carried through the trailer tongue by the motorhome hitch. You want to ensure that tongue weight isn't too heavy, as it may cause damage to the suspension, drivetrain and frame of the motorhome or trailer itself. Similarly, too little weight may cause instability. You'll find the maximum gross tongue weight listed on the Class C RV's hitch.

Trailer towing tips:
You must be sure the addition of tongue weight does not exceed the key towing weight limits - that's your Gross Vehicle Weight Rating (GVWR) and rear Gross Axle Weight Rating (GAWR). You can find GVWR and GAWR on the motorhome's Safety Compliance Certification Label. If you are above either of these limits, your safest bet is to go with a smaller trailer.
The way you have the trailer loaded might affect your tongue weight. If you have too much tongue weight, shift some cargo to the rear inside the trailer.

What not to do when towing a trailer:
When it comes to hitches, do not use a weight distributing (or load leveling) hitch with your motorhome. It cannot transfer any valuable weight from the rear axle to the front axle or limit up and down hitch movement. You could end up damaging the hitch, the receiver, the rear overhang of the motorhome frame, or the trailer frame itself.

Towing a Car from an RV
Towing a car from a Super C RV involves attaching a tow bar to the vehicle to roll along behind the motorhome on its own four tires (you may have heard it called four-down towing or flat towing). One pro of towing a car is that an automobile places very little tongue load onto the motorhome hitch, unlike a trailer. A con is that only certain vehicles are towable behind a motorhome, so you need to check the car's owner manual for all the details and specifications.

Car towing tips:
When towing, remember to always stay within your GCWR, GVWR, GAWR, and hitch ratings to safely tow a trailer or toad with your motorhome. 

Watch Thor Motor Coach's In-Depth Towing, Weights, and Capacity YouTube Video below:
Learn The Proper Way To Load And Tow With Your RV
Thor Motor Coaches that are great for towing:

Venetian Class A Diesel RV
Venetian has a hitch weight rating of 10-thousand or 15-thousand pounds, depending on the floor plan. This diesel pusher also comes with an Air-Ride™ suspension for a smooth ride to any destination. A 15-inch touchscreen dash radio comes with Bluetooth®, Garmin® RV GPS navigation, a backup monitor and updated speakers, so you can enjoy your favorite tunes and never get lost on the way.
Outlaw Class A Toy Hauler
This is the perfect Class A motorhome for true explorers. Outlaw already comes with a garage to fit all of your passions, plus it has an eight-thousand-pound hitch weight rating for a trailer or car. If your car or motorcycles need more juice - you're in luck - this toy hauler has a remote fueling station, with an auxiliary fuel tank, pump and nozzle. When you're ready to relax, Outlaw comes with a rear drop-down patio from the garage.
Definitions of RV towing terms used:

1. Gross Combination Weight Rating
The Gross Combination Weight Rating (GCWR) is the maximum allowable weight of the motorhome and the loaded trailer, or toad, that the motorhome can handle without the risk of being damaged. GCWR information for current model year motorhomes is on the Specs page of the Thor Motor Coach of your interest.
2. Gross Vehicle Weight
Gross Vehicle Weight (GVW) is the curb weight plus actual cargo, water, LP, and passengers. It is crucial to understand GVW is not a limit or a specification; it's the actual weight you have when the motorhome is on a scale.* This is simply how much your motorhome weighs as it travels down the road.
*Find a Cat Scale near you.

3. Tongue Weight
Tongue weight is the downward force from the trailer's weight onto the motorhome's hitch.
4. Gross Vehicle Weight Rating
You may have heard the term Gross Vehicle Weight Rating or (GVWR). This is the maximum allowable weight of a fully-loaded motorhome. This number – along with other weight limits and tire, rim size, and inflation pressure data – is shown on the vehicle's Safety Compliance Certification Label. You'll find this located near the driver's seat. GVWR information for current model year motorhomes is on the Specs page of the Thor Motor Coach of your interest.
5. Gross Axle Weight Rating
Gross Axle Weight Rating (GAWR) is the maximum weight to be carried by a single axle. On a motorhome, the rear axle GAWR is larger than the front axle GAWR. These numbers are also shown on the Safety Compliance Certification Label. The total load on each axle, GAW, must never exceed its GAWR.

Questions? Comments? Contact our Coach Link Sales Advisor.
Are you searching for local inventory? We offer a convenient Dealer Locator.