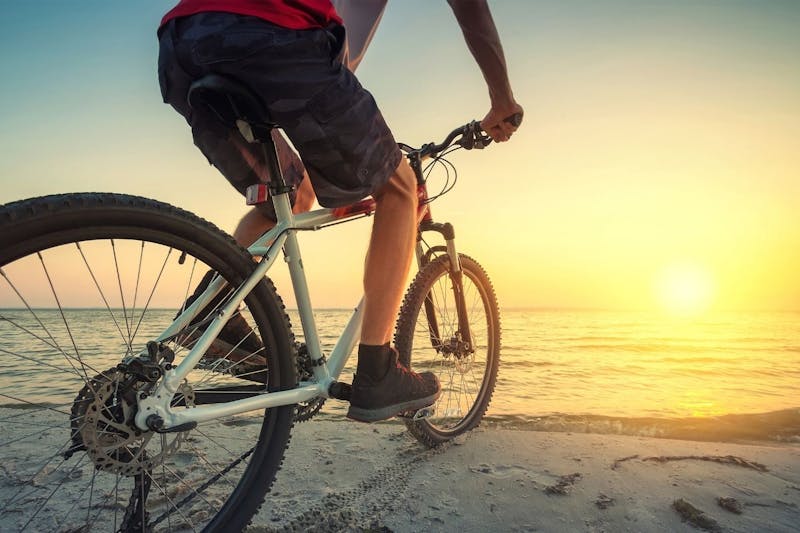 Hiking and Biking the American Discovery Trail
Of all of the fun activities to enjoy while RVing, hiking and biking are among the most popular. The American Discovery Trail (ADT) boasts 6,800 miles of trail with campgrounds along the way. Let your Compass® RUV™ point you in the direction for a nice long trail ride.
The only coast-to-coast non-motorized trail in the US, the American Discovery Trail, features 6,800 miles through 15 states. With more campsites along the way than you can count, you can enjoy this trail in sections or as few have accomplished - crossing the country in its entirety.
Hiking is an adaptable activity that ranges from a leisurely stroll on a flat paved trail to an intense adventurous trek that is quite literally off the beaten path. Before you hike anywhere, it is important to research the trail or area before you go and bring a fully charged cell with extra battery if possible. Other safety tips include, bringing someone with you, or at least letting someone know where you will be hiking and the approximate time when you will return.
The Compass® RUV™ or Synergy® are great motorhomes to cure your desire for adventure over a weekend. Long days at a desk in your office in the city can be decompressed by taking your RV out in nature and hiking in the fresh air. Since the ADT can be picked up in several states and connects to other local trails, finding a place to hop on could be relatively close. Whether for a weekend or a longer trip, your RUV or Sprinter is a great base camp for your journey.
Ford® Transit or Mercedes-Benz® chassis
Rapid Camp+™ multiplex wiring control system by BMPro®
Adjustable shelving for all your gear
Mercedes®-Benz® chassis
Optional full-body paint packages
Bluetooth® coach radio system
Biking is another fun activity for all ages and fitness levels. The ADT goes through diverse terrain as deserts, mountains, cities and rural areas. On-road or off-road, your biking trip is as relaxed or challenging as you want it to be. When choosing a bike rack for the back of your A.C.E.® or Hurricane®, make sure it is reinforced and made to withstand the movement of travel. If you are towing a car, the bikes can also be put on a rack on the back of your toad. Another option is a ladder mount rack. Just make sure not to cover any turn signals or lights. Palazzo® diesel pushers have plenty of room underneath with the pass-through storage bays.
NEW 33.1 with theater seating
Pet-Link™ multi-purpose tie-down
Bird's-Eye™ window
33X with theater seating
Rapid Camp+ multiplex wiring control system by Firefly®
King size beds in all floor plans
Air-ride™ suspension
10,000-lb. trailer hitch
NEW Bird's-Eye™ window
The American Discovery Trail provides non-motorized trails for both hiking and biking and winds through the heart of America. What better way to enjoy your Thor Motor Coach this summer? To share your adventures, send us your photos to our new text line at 574-584-2074!