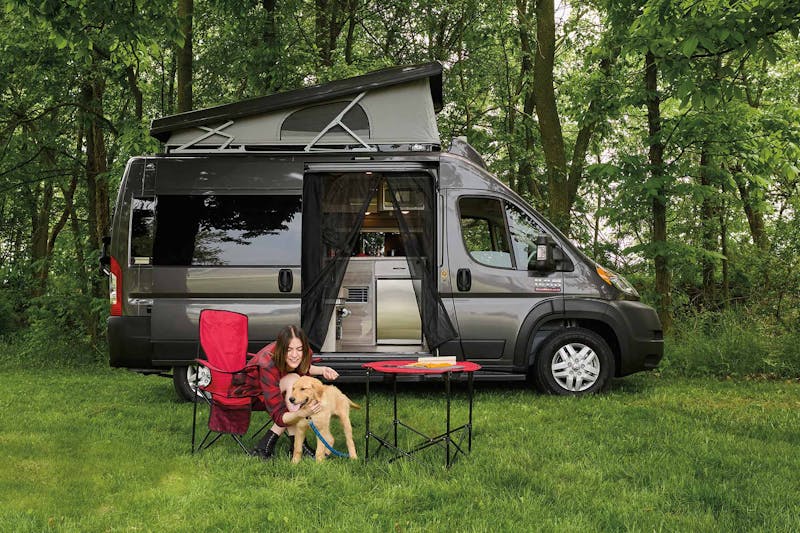 Here's Why Traveling in an RV with Dogs is Better than a Hotel
by Vanessa Bouchet.

For dog cat lovers, traveling with your furry friends is the only way to do it. Thor Motor Coach has many blogs about traveling with pets and the benefits of doing it in an RV. As an experienced RVer who travels with dogs, I'm sharing my perspective on the benefits of traveling with pets in an RV versus a hotel.
Traveling with Dogs in an RV
They Know Your Smell
We all have a scent to us and our furry friends pick up on that. For our dogs, they know our RV is their "house" because it has our smells. That's not to say it's a bad smell, but a familiar scent. The familiar scents help reduce travel anxiety for our dogs because they know the RV is safe. Also, having some everyday items in the RV can help, too, like dog beds or blankets that they enjoy. These items help remind them they're safe and sound.
Any Place is an Excellent Place to Stop
If you're thinking of full-time RV living, finding a place to stop for bathroom breaks can be an issue. When traveling in our Quantum, we stop anywhere for a pet and people bathroom and stretch break. Some movement is good for them after a long stretch of driving. Also, since you travel in your "home," the dogs feel less stress during experiences in new places. Simply put, the outside looks different, but the inside "house" is still the same.
Find Pet-Friendly Destinations
One con to traveling with pets in an RV is that not everything is pet-friendly. For example, if families visit a local museum, their pets will probably not be welcome -- unless they are a service animal, which ADA protects. Keep in mind; your animal will be left alone in the RV when visiting some destinations, so having a crate or way to keep the animal safe and comfortable is essential. Another important thing to remember is that most campsites aren't accepting of excessively barking dogs. If your dog is a barker while you're away, this may cause another problem.
Traveling with Dogs in a Hotel
All by Myself
Much like leaving your pet at home in an RV, you'd do this in a hotel as well. If you stay in an RV, you feel safe knowing no one else will access it. However, if you stay in a hotel, hotel staff may enter and disturb your animal or accidentally let them out of the room. I wouldn't stay in a hotel with my animal unless I planned to stay in the room the entire time because I wouldn't want to risk them getting out.
Fees
Some hotels' fees, rules and restrictions are challenging to navigate with dogs. For example, before we purchased our Quantum, we stayed in a hotel with just one dog. This specific hotel in Maine required a $50 pet fee, had breed restrictions and wouldn't allow animals on any furniture. We just wanted a place to sleep and get cleaned up, so we made it work, but that may have turned out differently if we stayed more than one night.
Hotel Restrictions
Most hotels only permit a maximum of two dogs per room, with a size restriction. This typically prohibits large and medium dog breeds or dogs over 30 pounds from staying in a hotel. Some even have breed-specific conditions for "any aggressive breed," which leaves the requirement open to interpretation. I've seen German shepherd, bull mastiff, Doberman, Staffordshire terrier, French bulldog, rottweiler and many other breeds included under the "aggressive breed" umbrella for certain hotels.
For us, a couple who travels with three big dogs, hotels are off-limit and we prefer traveling by RV. But, as always, travelers should research their destinations and do what is right for them.