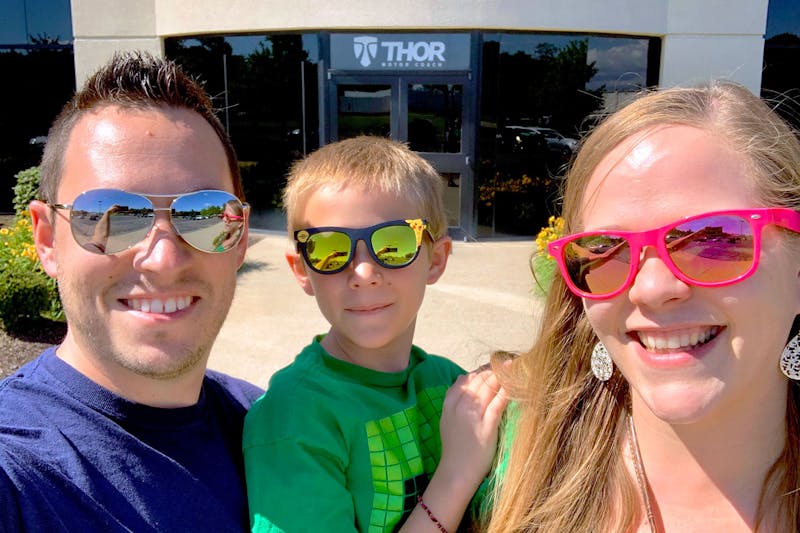 Hangin' with the Hagens on a Factory Tour
Guess what! Thor Motor Coach's factory tours are back up and running! This was so exciting for us to realize when we made our way into Wakarusa, Ind. We brought in our Venetian for some warranty work and now had something we knew we wanted to do for the day. The factory tour has been on our travel bucket list since we purchased our rig a year and a half ago.
Before the Factory Tour
We did have to make sure to do a few things before we headed over. First, we found a place for Dixie to hang out during this time. We were able to book her a spot at a wonderful and loving doggie daycare. Secondly, we made sure everyone had closed-toed shoes. And lastly, we headed to the website to choose the tour we wanted to take. Your rig or the tour you're interested in determines which building you visit.
When We First Arrived
The tour did not disappoint us at all! In fact, it was quite the opposite! When we first arrived at the office to sign in for the tour, Rachel greeted us. It was so refreshing to see such a fun-spirited lady greeting each person that walked in. She quickly became one of our favorite people that day as she recommended different places to go, including Rise'n Roll donuts. For those of you in the area -- we completely agree with her -- this is something you do not want to miss!
Our Tour
We did luck out just a bit as we were the only ones there that day for the tour. Dave came out to greet us and we were on our way! His knowledge of all the different rigs and the interior components blew us away. Each step, process, and additional information we received about our rig instilled more confidence in our purchase. We learned about the different types of insulation and why Thor has chosen it. Travis loved seeing the chassis and learning how Thor partners with MORryde® to make an amazing frame.
Seeing the Process
To see each set of the process unfold was like unfolding our own Class A diesel motorhome. But one of the things I noticed as we walked was a sign hanging at different points throughout the factory. It felt like an encouraging message to owners and a motivational message to the great group of employees working there each day. "Thor Motor Coach will Produce the Highest Quality Recreational Vehicle... NOBODY WILL BUILD THEM BETTER." Even with our rig not far away, having some warranty work done, I realized that Thor stands behind this thought. Yes, our rig has had some problems, but Thor has worked hard to make them right. They stand behind their quality and aim to be the best out there.
So if you find yourself driving through the area, try to swing in and say hi! There are so many welcoming faces waiting for you.