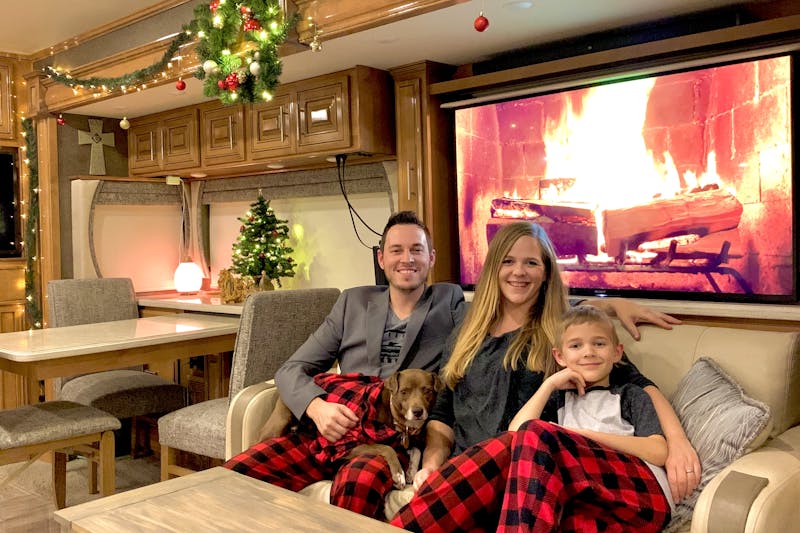 Hangin' with the Hagens for the Holidays
Our family, much like yours, has holiday traditions; living in our RV has not changed that. Last year was our first official full-time RV family Christmas. After a family meeting, we decided that the holidays would still incorporate tradition but expand as the years (and miles) go by.
Making new traditions for Christmas
After Christmas last year, we discussed where we wanted to be for Christmas this year. We dreamed of a white beach sands Christmas or maybe a ski vacation up in the mountains. Since 2020 has thrown a lot at all of us, we decided to stay put for Christmas this year, but we've made traditions that do not require us to be at "home base" to enjoy!
Decorating for Christmas
We decorate for the season. This is an important step for me. I don't know that it feels quite like the Christmas season without the lights and decorations. Last year, we did a small amount of decorating, only having a small tree in front of our Venetian and a few light strands. It felt like something was missing. This year, we went bigger, which is why we made the call to sit still a bit for the holiday season. It allows us to enjoy the decorations more without them being as big of a fuss for travel days. It took some additional time to tear down and set up when we moved earlier in the month, but there's nothing much more comforting than a cup of coffee or hot cocoa while looking at the decorations.
Matching pajamas for Christmas
We celebrate with family pajamas! This little tradition may be slightly silly and totally momma-enforced, but it is a special thing that we can do regardless of where we find ourselves in the world. Lou is still at the age where we can match, and I will be taking in this tradition for as long as he allows (or this momma makes him do it). This year, we included extended family in the matching pajamas and we can all enjoy matching even though we're miles apart.
Favorite foods for Christmas
Is it even the holiday season if we don't talk about the food? We celebrated Thanksgiving (although a bit late due to a quick change in plans the week of) complete with turkey, green bean casserole, homemade stuffing and pumpkin pie. But it just doesn't feel like Christmas in our Venetian without Chex mix. Most years, I enjoy the mix that Grandma makes. This year, Lou and I decided that it couldn't wait until Christmas and decided to make it ourselves. We turned this into a fun-filled day of Christmas baking and included sugar cookies as well. Lou did a fantastic job decorating and encouraging the frosting process the whole way through with his creativity. Come Christmas morning, we will enjoy some donuts too. This was a new family tradition we decided to start last year. After our family meeting last year, we realized that we would be able to find donuts anywhere in the country. We don't often get donuts, so this special treat feels perfect for the holidays. Lou's anxiously waiting for his donuts!
"Something big" for Christmas
Probably one of my favorite traditions we have as we celebrate the season started before Travis and I were dating. At the time, I didn't realize that this was a family tradition that I was a part of and was far from expecting to continue for many years to come. Each year, we like to do something big to celebrate the season. It started with Travis' parents and a Christmas program put on by a local church in Wisconsin. A few years ago it was really something big and we went to Disney World. This year, we went to Santa's Wonderland.
Santa's Wonderland in Texas for this year's Christmas
Santa's Wonderland celebrates Christmas, Texas-style!  We were able to enjoy a hayride full of lights and sounds of the season. We had gone many years before when Lou was still a toddler. This year, we realized how much they had grown and how much Lou has grown! We enjoyed hot cocoa in the wonderful company of grandparents. Travis and Lou went tubing down a snow hill (in Texas!). Lou and I were able to do a little ice skating. Lou had never been on ice skates before, but he was really getting the hang of it by the end of our session. He asked that we go ice skating next year to celebrate as well. Maybe a new tradition blooming?
From our son's perspective:
"I was worried about Santa not being able to find us. I wasn't sure where he would be able to put the presents or get in, but he found us and a spot for my presents. This year, I'm wondering if Santa will be able to find us again and I wonder if the presents will be underneath. I'm really excited about the donuts. I enjoyed Santa's Wonderland a lot and would like to go back next year. My favorite part was being able to go with Gaga and Bumpa. My favorite part about holidays in our RV is that we can celebrate with our family that's all over the United States," Lou said.
Merry Christmas and a Happy New Year
We expect to enjoy New Year's Eve in style as we round out the year, although we're not quite sure exactly what that style may look like. Last year we were able to enjoy it with friends as we counted down. This year we will, at minimum, be enjoying Lou's favorite part of the night - staying up past midnight. 
As the years roll on and traditions change and mold, I am beyond grateful that we have a beautiful home that we can put anywhere to celebrate our traditions. Our home on wheels has allowed us some magical memories and being able to celebrate with friends and family all over the United States! We hope that this finds you all well and enjoying (and maybe making) some family traditions of your own.