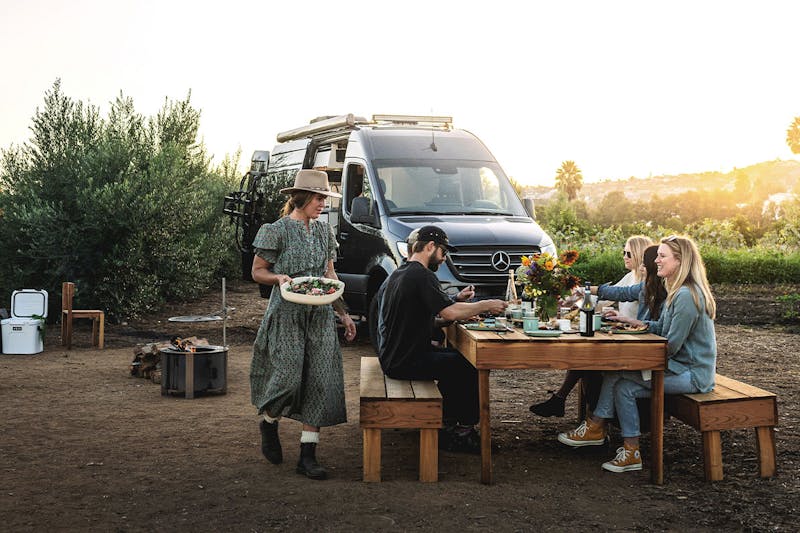 Glamping 101: Guide to Glamorous Camping
Have you ever wanted to camp and enjoy nature without the hassle of pitching a tent or sleeping on the ground? Well, now you can, by glamping! It's the perfect solution for less outdoorsy people who still want to spend time with Mother Earth. Discover the beauty of luxury camping and try it for yourself!
Experienced glamper or first-timer? Planning any camping trip is difficult, especially when you don't know what to expect. There is no single way to glamp, but we're here to guide you in the right direction. So, before you get ready, here is a crash course on all-things glamping.
According to REI, Outdoorsy Diva, and Camping Tips for Everyone, this is the glamping 411:
Glamping, as you probably figured out, is a combination of the phrase glamorous camping. It's a style of camping with amenities and, sometimes, resort-style services which are usually not associated with traditional camping. Glamping provides people with modern conveniences and maximum comfort while letting them interact with nature. People have glamped in tents, yurts, cabins, treehouses, teepees, and RVs. Anywhere that combines luxury with nature can be considered glamping.
The big difference between camping and glamping is the comfort level. When you're glamping, you're not roughing it like you usually would on other camping trips. That said, there are no rules to this whole glamping thing. Depending on your location and interests, your glamping experience could be different from the next! The best thing about luxury camping is that you can define your level of luxury. One man's glamping is another man's "roughing it." Luckily, there are tons of glamping options for everyone!
Of course, all-inclusive glamping trips are often the most expensive. Some people like booking a glamping getaway where providers set up the campsite for you and offer luxuries such as spa-like private showers and campfire concierges. It's tempting to let service professionals plan everything so that all you have to do is show up and chill out. People who want high rewards with little effort should consider this option. To find these types of all-inclusive glamping experiences, look at glamping-specific travel services or seasoned travel providers who have added glamping to their trip offerings.
When you think of glamping, most people think of rentals. Those pretty Instagram pictures with #glamping typically include yurts, fancy tents, trailers, and tiny houses, to name a few. Regardless of the rental, you'll find options that fit various budgets. Glamping sites also include plenty of traditional accommodations, like lodges or cabins. You can find rentals on sites such as Glamping.com and Glamping Hub. Upscale camping has become so common that you are bound to find locations anywhere in the world!
On the other hand, DIY glamping is also possible for those looking to save money. DIY glamping can be as simple as adding a larger tent, a plusher mattress, or gourmet cookware. If an artsy rug, a French coffee press, a string of LED lights, or an elegant chair speaks to you, then use it to get your glamp on. The sky's the limit when you do it yourself.
Unlike traditional camping, luxury camping requires unique amenities that make your camping trip feel like a home away from home. The point is to feel relaxed and as comfortable as possible to make the most of your trip! We suggest the following as must-haves for the ultimate luxury camping experience:
No glamping site is complete without comfy bedding! A cot or sleeping bag is not enough. It should be as close to your everyday bed as possible to look and feel truly luxurious. An air mattress is acceptable, but a real bed is the goal. You will also need sleeping and decorative pillows, sheets, and many blankets!
This one depends on the individual. A touch of home can mean anything from a plant, picture frame, and rug to the whole Home Goods store! It's up to you and your decorating style. Don't bring anything too fragile that you'll worry about ruining. Above everything, remember to have fun and be creative!
Again, this depends on how much technology you want or feel you need for your trip. People have brought coffee makers, refrigerators, microwaves, and grills to glamping sites or had these provided for them. Today, having a phone charging station is also a must. At the very least, you need electricity to be a true glamper.
Port-a-potties and doing one's business in the woods will not cut it here. If you're glamping, having access to an actual toilet and running water is key. All-inclusive glamping sites usually provide a full private bathroom and shower, but sometimes there are shared bathrooms. Make sure to bring toiletries in case your site doesn't offer them.
Glampers have a slew of options, but nothing beats an RV! Enjoy transportation, comfort, amenities, and luxury all in one. Thor Motor Coach offers a variety of motorhomes Made to Fit® your family, lifestyle, and loved ones. Discover our top picks for the ultimate glamping getaway!
Aria® Class A Diesel Motorhome
Experience luxury travel like never before in Aria. In some models, you can enjoy theater seating, large sofa beds, or entertain guests near the electric fireplace. In the bedroom, there's a Denver Mattress® King-size Tilt-A-View® bed for travelers to unwind. USB ports are conveniently placed in the nightstands to charge smart devices. Every model also has a stackable washer and dryer for laundry on the road. It's every glamper's dream!
Magnitude® Super C Diesel Motorhome
Magnitude's versatile layouts make for the ultimate RV experience! The large exterior roto-cast storage compartments allow you to store all your glamping essentials. Some floor plans offer an exterior kitchen, perfect for sunny days. Complete with a refrigerator, sink, and propane connection, the kitchen makes it easy to share a meal outdoors with friends. Hang out under the power patio awning with LED lighting and watch your favorite shows on the 32-inch TV with a built-in Bluetooth® soundbar.
What glamping adventures will you take this summer? Be sure to use #tmchappycamper on your photos or send them to our happy camper line at 574-584-2074 for the chance to be featured on our social media pages.