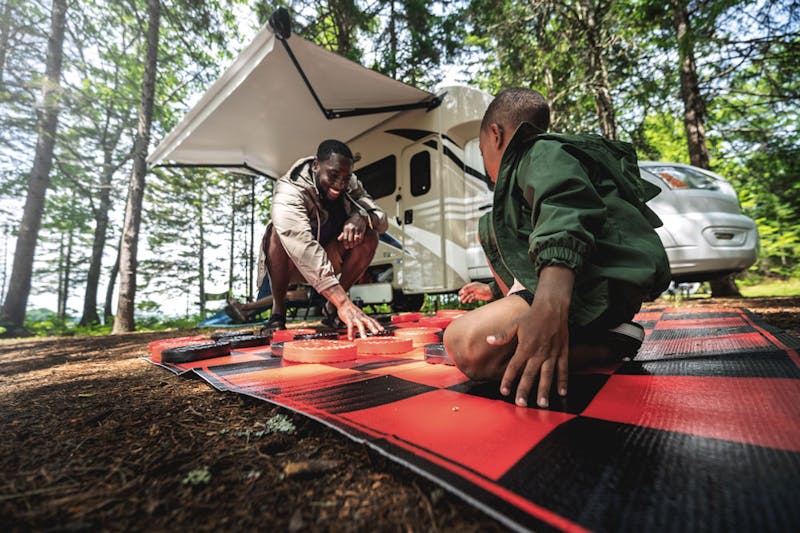 Fun Family Outdoor Games
Camping is always fun, but what do you do when you've roasted all the marshmallows, sighted every bird in the book, and hiked every trail? It can be hard to think of something fun that the whole family will enjoy. That's why we've compiled a list of fun family outdoor games that are sure to make your trip even better! 
According to the Strategist and Amazon reviewers, these are some of the best outdoor games you can buy: 
Joyin® 4-Players Potato Sack Race Bags Outdoor Lawn Game
A childhood classic, this game is bound to get the family jumping! It's a great way to bring everyone together and an exciting alternative to your typical board game.
GoSports® Giant Wooden Toppling Tower
Otherwise known as Giant Jenga®, this game is sure to entertain everyone! It even includes a premium carry case, making it excellent for all RV travel. 
Volleyball with a twist! This game is easy to set up and put away, perfect for RVers! It's also convenient to transport, durable, and designed for up to four players.
Win Sports® Store 3-in-1 Giant Checkers and Tic Tac Toe
A less expensive, but equally fun option. This game consists of a machine-washable rug and plastic pieces that make for easy cleanup and storage. This is an excellent option for those with little ones!
GoSports® Cornhole Pro Regulation Size Bean Bag Toss Game Set
Who hasn't played cornhole?! Described as the "Cadillac of cornhole boards," this game is praised for its quality. It's a must-have at outdoor gatherings, and yours can't be the exception!
Capture the Flag REDUX®: The Original Glow-in-the-Dark Outdoor Game
A great game that will get the whole family moving! People of all ages can play, and it's incredibly fun! Everything you need to play fits perfectly in a box, making it suitable for any kind of travel.
BucketBall™ Beach Edition
It's basically a giant beer pong, according to one reviewer. Though this game is intended for people 21 and over, it can be adapted for any gathering as alcohol isn't required to enjoy this game. People of all ages can play this, even at campgrounds!
GoSports® Giant Wooden Playing Dice Set
Made out of real wood, this dice set is perfect for Yahtzee® or any other fun outdoor activity and will last a long time! According to reviewers, this dice set can take a beating, making it ideal for any outdoor trip!
Best Family-friendly Motorhomes
No matter the age or destination, there's an outdoor game that's bound to make everyone happy. Though we're sure most of you will play nice, we know it's not always easy to travel as nicely. We suggest looking into the following family-approved campers for maximum comfort!
You'll feel right at home with this versatile Class B+ RV! Park your solar-prepped Compass AWD at your favorite campground and keep the games coming. Then quickly set up camp with the powered patio awning and find a comfy spot for your camping chairs, so you don't miss the fun; hook a grill up to your external propane connection and enjoy a beautiful day among the trees with family and friends.
Kick back with your loved ones in a Windsport and have some fun! This Class A Motorhome has plenty of large storage bays to store all your favorite outdoor games. Pull up a few chairs in front of the 32-inch TV on a swivel with Bluetooth® soundbar and extend the powered awning with integrated LED lighting for a perfect day outdoors.
Now, let the games begin!