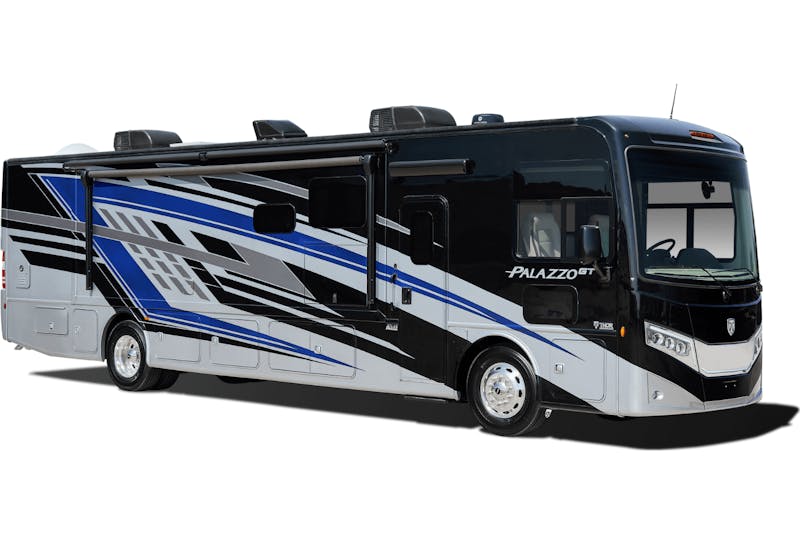 From Off-Roading to Luxury: Thor Motor Coach Introduces Innovations Across RV Classes
The future of RV travel just got a whole lot more exciting! We're proud to present new motorhome designs that will ignite your wanderlust.
With Class A models that are the epitome of luxury and opulence, Class B vans designed to conquer any terrain, Class C creations that combine comfort and functionality, and Super C rigs that are true titans of the highway, there's something for every outdoor enthusiast's taste in this electrifying lineup.
Here's a glimpse of the new head-turners:
Four Winds® and Chateau® 24LV and Quantum® GL24 – Your Perfect Getaway:
Imagine the perfect escape with your friends, and now envision it with the 2024 Four Winds®, Chateau®, and Quantum® Class C Sprinter® motorhomes, powered by Mercedes-Benz®. Tailored for unforgettable group getaways, the revolutionary 24LV and GL24 floor plans feature twin beds that offer comfort and flexibility. The twin beds also transform seamlessly into an oversized King bed for those planning a romantic weekend. Experience enhanced luxury with the new optional full-body paint package featuring a protective mask for your motorhome investment. That's not all – with maximized exterior storage, you can bring items such as foldup e-bikes and scooters, turning every camping trip into an adventure beyond compare.
Quantum® LP27 – Convenience On the Go:
Unleash your sense of adventure with the 2024 Quantum® LP27, a Class C RV built on a Ford® E-Series Chassis that redefines the boundaries of luxury on the go. Boasting abundant space to stretch out and unwind, this motorhome offers a rear entertainment center with a generously sized TV on a swivel mount for a cinematic experience. Smartly designed wardrobe and kitchen storage create ample room to stow away luggage and stock up on delicious meals for those unforgettable road trips.
Palazzo GT™ – Diesel Delight on a Dime:
Your ticket to affordable luxury on wheels is here. Meet the 2024 Palazzo GT™. This new budget-friendly diesel motorhome keeps quality high while trimming the frills. Inspired by the original 2011 models, it offers essential comforts for those on the go. Choose from sizes ranging from 34 to 37 feet, and embrace RV life without breaking the bank.
Luminate™ and Indigo™ – Lavish Layouts:
The Luminate™ and Indigo™ hit the market less than a year ago, capturing the attention of gas motorhome enthusiasts. This season, dealers are in for a treat with two new floor plans crafted for luxury seekers. The MM30, the lineup's most wallet-friendly design, boasts a dinette perfectly positioned to view the patio awning area so your campsite remains within sight. For culinary enthusiasts who value ample kitchen space, the DD35 design offers a roomy split kitchen layout, ensuring partners can whip up dishes together without tripping over each other.
Outlaw® Wild West Edition – Refined Ride:
Discover the 2024 Outlaw® Wild West Edition, the ideal choice for those eyeing a top-notch toy hauler without the hefty cost. This motorhome impresses with an expansive garage, perfect for carrying ATVs and motorcycles. Budget-conscious adventurers can now experience motorhome travel minus the unnecessary extravagance.
Palladium™ and Talavera™ – Transit Trailblazers:
Introducing the Palladium™ and Talavera™, two all-wheel-drive transit vans built on the advanced Ford® Transit Trail™ Chassis. Boasting off-road capabilities, these Class B RVs are equipped with a lift kit, rugged wheel and tire package, and superior exterior detailing. Powered by a gas engine and augmented with enhanced traction modes and rock slider step bars, this is the ultimate van for those eager to venture off the beaten path.
Sanctuary® and Tranquility® 24C – Camper Van Luxury with a Pop of Ruggedness:
Dive into unparalleled comfort with the Sanctuary and Tranquility Mercedes-Benz® Sprinter® Vans. The new 24C floor plan is the most expansive in the Sanctuary and Tranquility series, boasting an additional row of captain's chairs, making it a prime choice for group trips. Travelers will benefit from its expansive sleeping quarters, abundant interior storage solutions, and robust solar charge controller with a 200W solar panel.
Magnitude® and Omni® AX29 – Reimaging Compact Luxury:
Introducing the AX29, the latest addition to the Magnitude® and Omni® diesel motorhomes. Despite its modest length of just over 30 feet, this floor plan, built atop a Ford® F-550® chassis, offers a spacious feel with a full-wall slide-out living area and a rear bathroom. There are also multiple sleeping spaces for your whole travel crew to relax, including a roomy cab-over bunk, a comfortable dinette, and a rear Murphy bed.
Inception® and Pasadena® 34XG – Spacious Surprise:
Responding to popular consumer demand for a more compact Super C design on the Freightliner® S2RV chassis, the 34XG is the ideal coach solution. Though it's the smallest model in the Inception® and Pasadena® range, it doesn't compromise on space, boasting a generous kitchen for campfire meals, a large refrigerator to stock all your road-trip snacks, a king-size bed to catch some z's, and premium theater seating for cozy movie nights.
From new camper vans, budget-friendly diesel choices, and innovative floor designs, there's something for everyone in this amazing lineup.
This isn't just a motorhome; it's your passport to a life less ordinary. So, gear up and get ready for a ride that will leave you intrigued. Get behind the wheel and make your escape because the road is calling, and we are leading the way!
For more information, visit www.thormotorcoach.com.