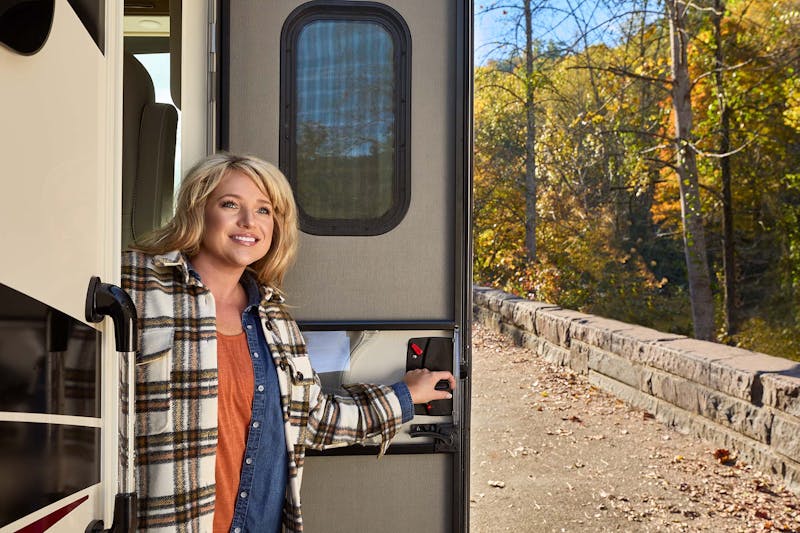 Forecasting Entertainment
We have thoughtfully looked at the entertainment needs of today's RVers and loaded in just the right combination of advanced products to keep everyone happy in their Class A Hurricane® by Thor Motor Coach®.
Have you ever counted down the hours to your vacation destination by how many movies you can watch? - "We'll be there in two movies!"
You don't have to have small children with you to desire on-the-road entertainment.
The Hurricane from Thor Motor Coach earned its name from being a force of nature. Our classic Class A not only has a new floor plan but in addition, has the latest in home theater style entertainment so you never have to miss your favorite shows just because you're away from home.
The Hurricane as well as our other two featured RVs, Four Winds® and Aria® offer:
Big HD TV screens. Living rooms immerse you in the movie with TVs. Almost every bedroom has a TV.
Theater seating in the 34R so everyone has the best view.
The entertainment continues outside under the patio awning, typically with TVs and Bluetooth® sound-bar systems.
High-end cab systems. The driver also gets to enjoy touchscreen dash radios, some with Bluetooth connectivity to mobile devices.
And more! Blu-ray players, digital TV antennas, and cable ready systems are packed into these and many other models. Check out the details in today's featured motorhomes.
 Hurricane Class A Motorhomes
All models have at least three TVs standard: one in the living room, one outside with Bluetooth sound bar and one in the bedroom. The 34R model has two living room TVs!
Blu-ray player in the living room and digital TV antenna.
WiFi Ranger/WiFi extender.
10-inch touchscreen dash radio with Bluetooth connectivity.
To learn more about Hurricane RVs, click here.
Four Winds Class C Motorhomes
TV in the living room or overhead bunk area.
TVs are optional for the bedroom and outside under the patio awning.
Blu-ray player in the living area and digital TV antenna.
Touchscreen dash radio.
To learn more about Four Winds RVs, click here.
Aria Diesel Class A Motorhomes
Some models have theater seating and retractable TVs.
All living areas enjoy Sony® Blu-Ray players.
Most models have a TV up front in the cockpit overhead.
Winegard® ConnecT 4G/WiFi system.
To learn more about Aria RVs, click here.