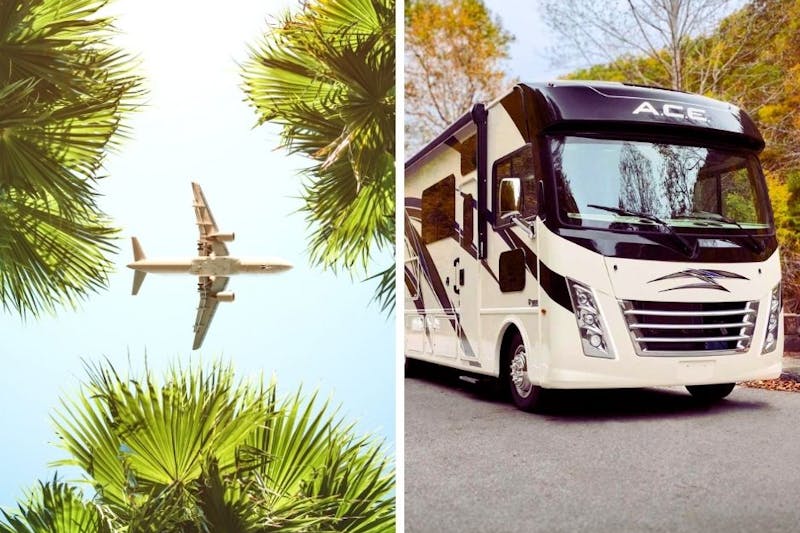 Flying vs. RVing
You're eager to get to your vacation destination, so you book a flight - we get it. But you must know, you're missing out on a huge opportunity to experience all that you're passing over when riding in a plane. After reading this blog, you'll want to visit tucked away diners in small towns, be in awe of various landforms of the U.S. and even experience those classic tourist attractions. We'll compare flying to taking the RV for you below.
Crowded vs. Private
If you frequent planes, there's one thing on your mind, "I hope I'm not in the middle seat." Average airlines have seats for about 40 passengers, which leaves you stuck sitting near strangers for hours at a time. When you're in a Class A motorhome, you have yourself, your loved ones and your four-legged friend. You have a private bathroom, access to your own snacks and family bonding moments as memories that will last a lifetime.

Views vs. Experiences
It's undeniable that an airplane's views can be breathtaking, but here's something better than an aerial view: an experience. When you travel in a Class B motorhome, you aren't confined for an extended period. You can get a better perspective of the gorgeous landscape, try the corner bakery that caught your eye or decide to set up camp in the small town near the local art museum. As you learn something new about every place you visit, you'll wish you would've ditched the plane tickets sooner.
Compact vs. Comfortable
Many people dread the lack of storage and legroom on a flight. You don't need to possibly lose your luggage or shimmy a carry-on next to a stranger's as there's plenty of room to store your vacation must-haves in your motorhome comfortably. Once it's time to take off, you can relax in the captain's chairs in your Class A Diesel RV while your family gets cozy in the back.
Time Consuming vs. On Your Time
Although you can get to your destination quickly, vacationing by plane can be very time-consuming. Booking all of your family members together, sitting at the airport for hours during layovers, going through security and waiting for your luggage can all be avoided when you take a toy hauler. You can sleep in late or wake up early, get off the beaten path or stick to the GPS - it's all up to you because you're on your time.

Spending Money vs. Investing Money
Odds are, if you're flying, you're going to rent a car to take your family around town and book a hotel as somewhere to stay. Rather than spending money on a one-time adventure, you can invest in a home-on-wheels that lasts for years. If you travel often, an investment in a Super C motorhome will provide endless trips and memories for the whole family.
Propel Yourself into a New Adventure with a Thor Motor Coach
Delano Mercedes Benz Sprinter RV
Another benefit to RVing is that you're the one in control. When you're behind the wheel of the Delano, you'll have peace of mind knowing that you're safe. This Mercedes Sprinter RV comes with the Mercedes-Benz Safety Package, which includes a braking assist, lane-keeping assist, attention assist and more. Your 10.25-inch dash radio with Bluetooth®, navigation and SiriusXM® doubles as your back-up monitor. Plus, you can go completely hands-free of the dash radio with the steering wheel's controls.
Aria Class A Diesel Motorhome
You won't feel cramped in this gorgeous Class A diesel pusher. When you decide to get off the road to explore a small town with charm, you can do it in style. Aria has a spacious master bedroom with a King-size Tilt-A-View™ inclining bed, and unique floor plans so you can choose the living room layout of your choice. Airline food doesn't even compare to the delicious meals that you can create in your kitchen with a residential refrigerator with an ice maker and a large stainless steel sink with a pull-down sprayer.