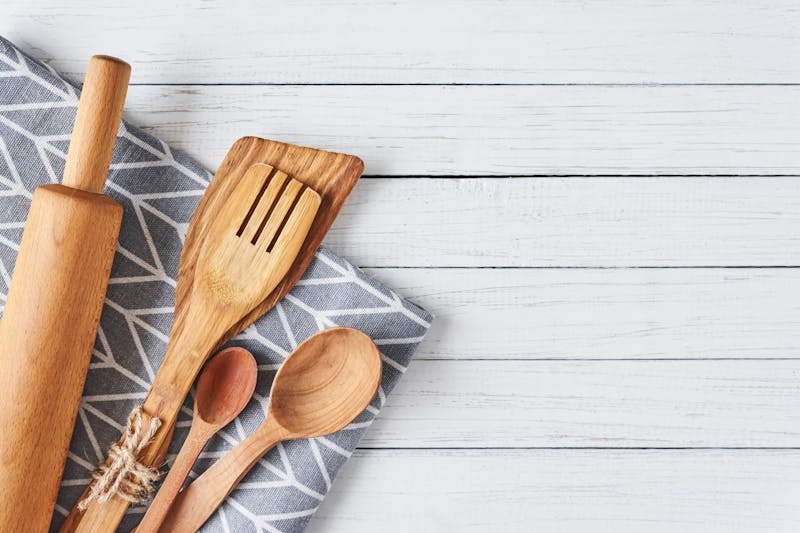 Essential Kitchen Items for RVers
by Vanessa Bouchet.

When you plan an RV trip, there are some must-have items that every family should have on their packing list for a smooth vacation. In this blog, I will explore the must-have items in your RV's kitchen. As you examine the following recommended kitchen items, think of your family's needs and then add or take away products depending on those needs. Remember, you might not bring all of your supplies with you if you are downsizing from a house kitchen to an RV kitchen. This is why you must prioritize "must-haves" over "luxury items." Must-have items are needed for everyday use, while luxury items are those extra items that are not daily necessities (like a coffee pot or toaster oven).
Daily Utensils
Daily utensils include those items for everyday meals. These consist of forks, spoons, knives, plates, cups, coffee mugs, and bowls. Most RVs do not have excessive storage options for big stacks of utensils, so it is crucial to bring what is necessary for your family. If you are a family of four, you should have four of each of the items listed above.
Propane or Charcoal
These items are for internal and external cooking. When it comes to propane, it is vital to make sure your RV propane tank is full so that you don't run out of hot water or the ability to cook on your gas cooktop. When it comes to external cooking items, it is essential to have one or two small propane tanks for your grill. If you prefer charcoal, travelers should have charcoal and lighter fluid for an external grill.
Pressure Cooker/Slow Cooker
A pressure cooker or slow cooker may seem like luxury items; however, when planning for long days of exploring new places, the last thing you may want to do is cook dinner. When preparing dinner, a slow cooker can come in handy. We have an Insta-Pot pressure cooker and a slow cooker to prepare meals.
Pots and Pans
Pots and pans might seem like a simple item to bring with you. It is essential to consider the type of pots and pans you are getting and what kind of cooktop you will be using. Our RV features an induction cooktop as well as a propane cooktop. When using the stove's induction side, it's key to have magnetic pots and pans so the induction top will work properly. If you don't have any magnetic pots and pans, you can get an induction adaptor plate for your pans, if you prefer.
Miscellaneous Items
Odds and ends are smaller items that, depending on your family's desires, could be helpful. Some of these items include measuring cups, strainer, large serving utensils, and pizza slicer if desired. The pizza slicer may seem like an odd item. However, we have found that a small Tostito's Pizza will fit into our convection oven. Other miscellaneous items include outside things like a lighter, hot dog fork, and a grill brush. Final items to be included in this section would be storage items such as aluminum foil, cling wrap, Ziplock bags, Tupperware containers (only one or two), and oven mitts and towels. When packing these items, it is essential to remember that less is more, and families may not need each item listed.
Baking Items
The final section of items essential to an RV is baking items like a casserole dish or baking sheet. Some of the smaller RV's do not feature an oven. If your RV doesn't offer an oven or convection microwave, you may not need these baking items.
This blog provides a good basis for things to consider that might be very beneficial for your next adventure, but not all of them will help all families. Each family needs to assess their own needs and add and subtract this being your guide. And, it's always helpful to do an audit between trips. What did you use? What did you regret not having? Before planning any more extended trips, make the adjustments that work for you and your family. Don't forget to download the printable essential kitchen items checklist below before you pack. Happy traveling!


Download and Print the Essential Kitchen Items Checklist: