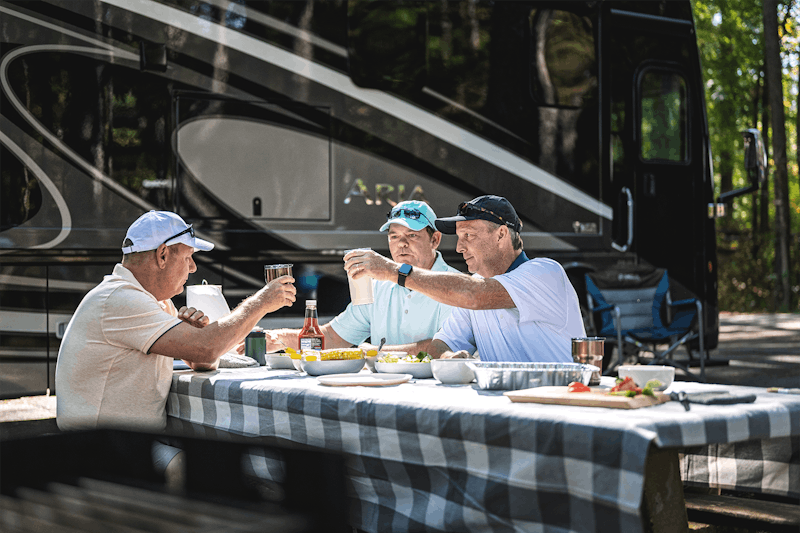 Easy Camping Meals
There's nothing like a home-cooked meal, and we agree! Especially when home is where you park it (RV living), or you're away on your yearly camping trip. Though we enjoy baked beans like anyone else, camping food doesn't have to only consist of canned goods. There are plenty of simple and delicious meals for on the go! That's why we've compiled a list of camping meals that are easy to make and even easier to love!
According to Fresh Off the Grid and The Spruce Eats, these are the easiest camping meals:
Simple & Tasty Camping Meals
Camping food should be just as enjoyable as your trip; these options are no exception!
What's more simple than tossing together tortilla chips, melted cheese, beans, salsa, and all your favorite nacho toppings and calling it dinner?! We know these nachos will have you scraping the plate.
Pineapple Chicken Skewers
Aside from being simple to make, these kabobs are so tasty that you'll be begging for seconds! The hardest part of the process is chopping the ingredients. Once that's done, marinate the meat, assemble the kabobs, grill, and enjoy!
Cast Iron Brats with Onions and Peppers
Upgrade your boring hotdog for this yummy dish! Start by sautéing onions and peppers in a griddle or skillet with some brats, then serve on a bun. It's as easy as that! You can make this meal anywhere with a campfire or stove.
Who doesn't love pizza?! Enjoy this classic meal on the road with this recipe. You only need store-bought pizza dough and your favorite toppings to savor this campfire meal. Let guests make their own and watch the fun unfold!
A healthier alternative to the red meat option, these sloppy joes will taste as good as they make you feel. If you have little ones, this is an excellent option for them. It's lower in saturated fat and just as delicious! Perfect for picky eaters.
Country Breakfast Skillet
Breakfast always hits the spot, regardless of the time of day. All you need for this meal are eggs, potatoes, bacon, and cheese! Add chopped peppers and onions for extra flavor. It's super filling, easy to make, and perfect for the camping lifestyle!
Hurricane® Class A Gas Motorhome
Hurricane's kitchen handles everything from prepping big meals to throwing a few items together. Keep ingredients fresh in the double-door refrigerator. Solid surface countertops provide plenty of space for meal prep. Create tasty camping meals with the three-burner gas cooktop and over-the-range microwave oven. Clean-up is quick, thanks to the double bowl sink with a pull-down sprayer. This way, you can spend less time in the kitchen and more time making memories with your loved ones.
Quantum® Class C Motorhome
Save money on the road with home-cooked meals! Quantum's kitchen has a gas cooktop, a large stainless-steel sink with a pull-down sprayer, and a double-door refrigerator. Some floor plans include a flip-up countertop extension, microwave or convection microwave, pop-up outlet, and kitchen pantry. Keep an eye on your little ones through the large kitchen window while you prepare their favorite camping meals. Life, especially food, on the road has never been this good!
Which tasty camping meals will you try this summer?
Be sure to use #tmchappycamper when posting photos or send them to our happy camper line at 574-584-2074 for the chance to be featured on our social media pages!