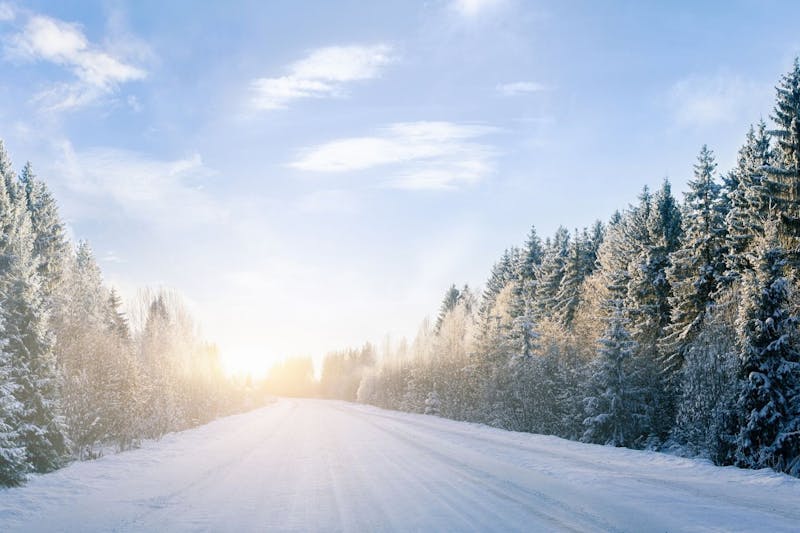 Driving an RV in Winter
Many consider winter to be the most wonderful time of the year, but unfortunately, that's not always the case for road trippers. Traveling during wintertime means snow, ice, sleet and slush, and, let's face it, it's stressful. An abundance of caution and these helpful tips will aid you in your winter trip.
Change your plans, if necessary.
Never forget, you're traveling in a Thor Motor Coach, which means you can be flexible with your plans. Sure, it isn't always fun to delay a trip, but it can keep you and your loved ones safe. If you know that there's a heavy snowstorm coming your way, leave the next day or change your route.
Familiarize yourself with your motorhome.
It may sound obvious, but it's worth repeating for new Class C owners: familiarize yourself with how your motorhome handles. Although it may not be your maiden voyage, it may be your first trip with slippery roads, so it's best to be as prepared as possible. Remember that your motorhome won't drive exactly how your car or truck does in the snow, and continue reading for extra tips on handling.
Handling your motorhome in the winter:
Go at a comfortable pace; there's no shame in driving slowly in inclement weather. Gently ease into braking and, because it's not only your driving you need to worry about, leave plenty of space between your Class A and the car in front of you. Bring snow chains for your tires for those heavy days and an extra tank of gas for an emergency. If you feel uncomfortable on the road at any point, pull over your camper van to a safe place and wait to leave until you're ready.
Motorhomes ready for the winter drive:
All Wheel Drive (AWD) Class B+ Motorhomes
Gemini AWD and Compass AWD are great options for driving in the winter months. Thanks to all-wheel drive, these Class B+ RVs aren't likely to get stuck in the snow. Features to enjoy during the cold months include deluxe heated and remote mirrors, holding tanks with heat pads and a tankless water heater.


Super C 4x4 Motorhomes
If you're driving in deep snow, you're going to want the Omni or Magnitude. These Super C RVs come in 4x4 floor plans, making the perfect fit for winter sports enthusiasts. Features that will keep you safe are automatic headlights, voice recognition for your SYNC3 dash radio, and side and back-up cameras.