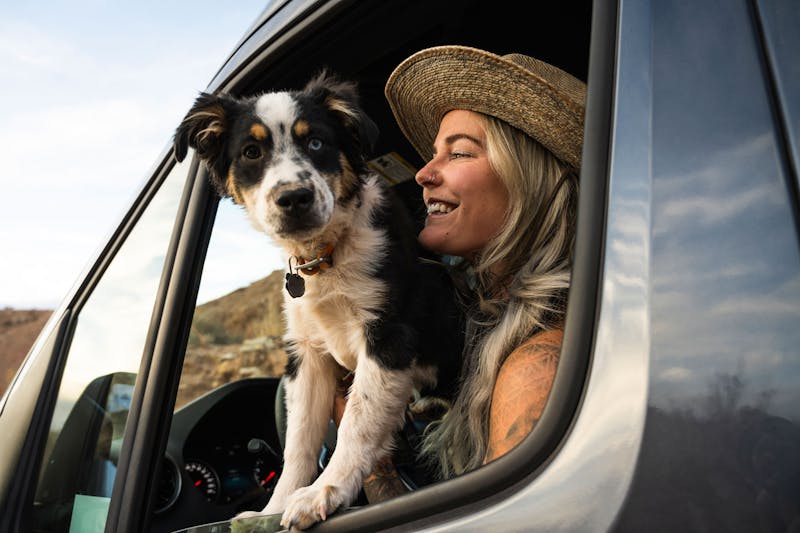 Dog-Friendly National Parks
Best Dog-Friendly National Parks in the U.S.
There's nothing like bringing your pup along on vacation! Unfortunately, it's not always possible, especially if you enjoy the camper lifestyle. Finding safe and viable options can be ruff! Luckily, we've discovered an array of dog-friendly U.S. national parks, so no one gets left behind.
According to Go Pet Friendly and Outside, these are great national parks to visit with man's best friend:
Acadia National Park – Maine
Located on the coast of Maine, Acadia welcomes pets on nearly all 120 miles of hiking trails and 45 miles of carriage roads within the park. The only places your pup can't go are Duck Harbor Campground, Wild Gardens of Acadia, Echo Lake Beach, and Sand Beach. However, your dog is welcome to join you everywhere else, even on the free shuttles that run around the park!
Congaree National Park – South Carolina
Congaree is a haven for four-legged friends who want to roam through the country's largest old-growth bottomland hardwood forest. Leashed pets can join you on all trails, including the boardwalk and in the campgrounds. Carolina Outdoor Adventures welcome dogs that fit and stay in kayaks on their guided trips.
Cuyahoga Valley National Park – Ohio
This Ohio park made 2021's list of the country's top 10 most-visited national parks! Following the Cuyahoga River, pets are welcome to join you on all the 125 miles of trails in the park. Please note that visitors should steer clear of the East Rim Mountain bike area and the Scenic Railroad if they are with pets.
Great Sand Dunes National Park – Colorado
These dunes are considered the tallest dunes in North America! Pets are welcome up to the first high ridge, between the High Dune and the Castle Creek Picnic Area, and throughout the adjoining Great Sand Dunes National Preserve. Guests can also enjoy a splash in Medano Creek with their pals!
Hot Spring National Park – Arkansas
This park is popular for the steaming water that trickles from the lower west slope of Hot Springs Mountain. Your pet is welcome to join you on the half-mile stroll down Bathhouse Row and along the Grand Promenade. Travelers can also hit the 26 miles of inter-connected trails with leashed pets! However, pets cannot go inside park buildings or bathhouses.
Northern Cascades National Park – Washington
Are you looking for stunning turquoise waters and glaciers? Visit this park! Dogs can't go on most trails in North Cascades, but the few they can hike are incredible! Pets are welcome along the park's 18 miles of the Pacific Crest Trail. Leashed pets are also allowed in the adjoining Ross Lake and Lake Chelan National Recreation Areas!
White Sands National Park – New Mexico
These shimmering dunes are made of gypsum, not sand. In fact, this dune field is the largest in the world, covering 275 square miles. The best part? You and your pet can explore the entire park together! There are nine miles of trails you and your doggo can check out. The hiking is strenuous, but the views are priceless!
Yosemite National Park – California
At Yosemite, dogs can join you in all developed areas! Pets can also explore the 2.25-mile Wawona Meadow Loop and are welcome in all campgrounds except walk-ins and group sites. Pets cannot go on shuttles or lodges, but there's a dog kennel in Yosemite Valley from approximately late May through early September.
A.C.E® Class A Gas Motorhome
When you're enjoying a road trip, you want your pet to tag along too! A.C.E. is perfectly designed with your furry friend in mind. This RV comes ready with a PetLink™ multi-purpose tie-down and easy-to-clean residential vinyl flooring. There's no kicking the water bowl around because each model comes with a pull-out Kibble Station™. This way, your pet can enjoy a hassle-free meal. Afterward, your best pal can go back to squirrel-watching through the Bird's Eye Window™.
Sequence® Class B Motorhome
Pets make travel fun, and you need your sidekick for every adventure! Sequence comes with a hideaway food and water dish, along with a drawer to keep toys and food in one spot. Fabrics and leatherette materials are resistant to dander and claws to preserve your furniture's appearance and protect your investment. Residential vinyl flooring (no carpet) makes for easy clean-up and less wear and tear. Camping with your fur babies has never been easier!
National/International Dog Day is on August 26. Celebrate by taking a road trip with your furry friend this summer! Which dog-friendly national park will you visit?
Be sure to use #tmchappycamper when posting photos or send them to our happy camper line at 574-584-2074 for the chance to be featured on our social media pages!