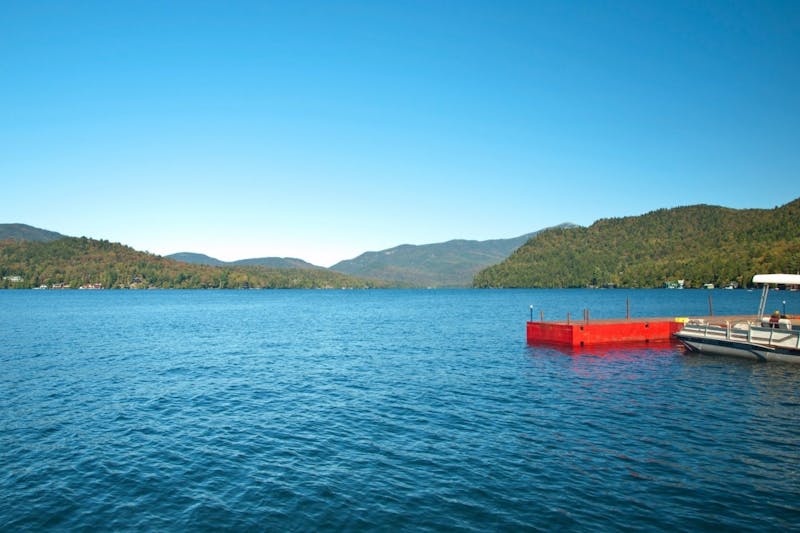 Destination Spotlight: Adirondacks and Lake Placid
by Vanessa Bouchet.

Last year for my birthday, we decided to visit Lake Placid in the Adirondacks of Upstate New York. Why, you might ask, would we want to go to Lake Placid? Well, for those of you who have known us for a while, you know we are huge movie fans, and most of our vacations center around a movie location or inspiration. The 1999 movie inspired this trip to Lake Placid by the same name starring Betty White as a sweet old lady who raised man-eating crocodiles in the lake. We didn't run into any man-eating crocodiles, but we did have a lovely relaxing week in Upstate New York.
On the way to our travel destination
The drive up to the campground we stayed at, a KOA in Wilmington, New York, was stunning. The adventure featured small towns nestled in the foothills of the Adirondacks with twisting and turning mountain roads. The campground was easy to find, and the back end of the property had plenty of space between each RV site. The grounds were very wooded, clean and offered plenty of privacy. One bonus for this specific park is a hiking trail that's right off the campgrounds that provided stunning views of the campground's river and woods.


Travel destination: Lake Placid
Lake Placid is known for its fantastic recreational opportunities all year round. We went in late August, so hiking was our main focus on the trip. However, if someone were to visit in the winter, Lake Placid is in the Whiteface Mountains, which offer Alpine and Nordic skiing. For those brave enough to climb the Whiteface Mountains, this is also available to those trained in climbing. Lake Placid also hosted the 1932 and 1980 Winter Olympic Winter games.
Activities at our travel destination
There are plenty of tourist attractions in the Lake Placid area, including many Olympic and hiking opportunities. The Brewster Peninsula Nature Trail offers excellent views of the lake and easy walking trails for hikers and visitors to this majestic area. The one thing that I would advise is to be cautious of the time of year you plan to visit this area, as it is in the mountains, and during the winter months, you may only be able to access certain places with a four-wheel-drive vehicle.
Making friends at our travel destination
We mostly stayed on the campground location during our week-long trip and went on daily hikes on the trail attached to the grounds. The days were filled with relaxation and decompressing from busy work weeks and stressful jobs. We enjoyed sitting at our site and watching the beauty of nature, including the sun peeking through the trees and the birds chirping in the background. We did make a friend while we were camping for the week. He visited our campsite on the second day, and he made regular visits every day that we were there. We named our friend Rasputin because he was known in history as "The Mad Monk," and our visitor was a chipmunk. Rasputin would visit us every day, walking right up to our table and look for crumbs or snacks to steal. We made up a whole story about Rasputin and his family and what he was doing running around the campground, creeping on people who were camping. This story may seem silly, but it's one thing that we do on most vacations when we find something unique and create an entire scenario of the animal.
Make Lake Placid, Adirondacks your next travel destination
The place we stayed at offered minimal cell phone service, which was spotty at best, that pushed us to unplug from the busy life we usually lead and enjoy the quiet time and time spent with each other. We cooked out on the grill nightly and enjoyed time in the evenings by the campfire. The other people in the campground were gracious and allowed for privacy and quiet time. I would recommend a visit in the late summer to this area of New York, as it is peaceful, quiet and allows for plenty of time for relaxation and reflection.