Wellness Podcasts You Won't Want to Miss on Your Next Trip
July 9, 2020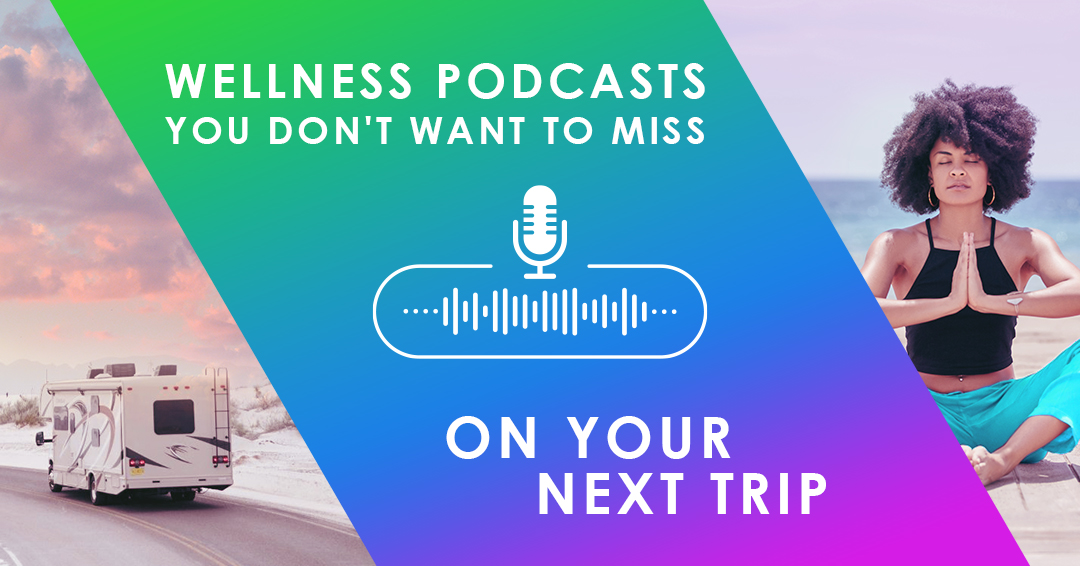 Mental health, fitness, nutrition - you name it - we're all more mindful about our wellness this year. Those seeking tips and motivation will benefit greatly from listening to relatable anecdotes and hearing directly from experts. With summer road trips commenced, we wanted to share some informative and entertaining podcasts that empower and equip listeners with the knowledge needed for their wellness journey.
Mental Health Podcast
A great podcast regarding mental health that you need to give a shot while traveling in your Class A RV is 10% Happier with Dan Harris. After having a panic attack live on "Good Morning, America," Dan Harris began what he calls in his book an "unplanned odyssey" for self-help. After adopting healthy coping mechanisms for daily stressors, including meditation, Dan Harris explores what happiness means from various perspectives.
Guests on the show are experts in their field, including meditation teachers, scientists, celebrities, and researchers in social anxiety, bias, creativity, productivity and relationships. If you want to begin your voyage into self-discovery, it's worthwhile to give this podcast a listen.
Fitness Podcast
As you cross the country in your Class B RV, you might need some inspiration to get you up and moving during the thick of the summer months. Check out Hurdle with Emily Abbate. A fitness fanatic who works as a writer and editor by day and as a certified trainer, run coach, spin instructor and, now, podcaster by night, Emily's well-spoken series inspires people to live a happier and healthier life. After a personal struggle with her weight, unhealthy relationship with food and lack of confidence, Emily wants to help others get over their "hurdle."
Featuring hard-working entrepreneurs and athletes, as well as Emily's testimonials, listeners are motivated to become the best version of themselves and will be inspired to embrace wellness into their routines. There's never a wrong time to invest in yourself, and what a fun way to begin by giving this podcast a try.
Nutrition Podcast
Your Class C RV has a fully-equipped kitchen for you to prepare delicious mobile meals, so why not get some nutritional tips from The Doctor's Kitchen Podcast with Dr. Rupy Aujla? After a long day of treating patients on a 12-hour shift at the hospital, Dr. Ruby, now a general practitioner, ended up being admitted himself for a heart condition. In hopes of putting off an invasive operation, he took his mother's advice and analyzed his diet. Once ingredients were researched, deficiencies in his diet were tackled and more, Dr. Rupy's health issues ended.  
With a belief that "what you put on your plate is one of the most important health interventions," as he mentions in the introductory episode, Dr. Ruby set out to educate listeners about the medicinal effects of a healthy diet. If you want to gain the knowledge to implement healthier choices in your meals, listen to this podcast. He and his expert, scientist-background guests collaborate ideas and send listeners off with advice on how to execute these in everyday life.
Your Thor Motor Coach promotes healthy living on the road, but with the knowledge these podcasts motivating you to work on all aspects of your wellness, you can truly enjoy the journey of life.
Gemini AWD™ just got a brand new 8-inch touch screen Sync® 3 audio system for 2021, featuring voice recognition with Apple CarPlay® and Android Auto™, making it simple to listen to any of our recommended podcasts. The tilt steering wheel in this Class B+ RV has audio buttons that allow for hands-free control of the dash radio to keep you safe. Ease your mind and soak in all of the podcast knowledge, because Gemini AWD comes equipped with the Ford® safety system, including lane departure warning, pre-collision assist and so much more.

One of our favorite healthy-living features of the 2021 Miramar® is the new Contoure® residential refrigerator with Rapidcold™ technology that will keep all of your recommended recipes from The Doctor's Kitchen cold and frost-free. Play Hurdle on the exterior 39-inch TV with Bluetooth® soundbar and radio as she inspires you to start your work out. Take a minute to meditate with 10% Happier's advice, on your King-size Tilt-A-View® bed.


Questions? Comments? Contact our Coach Link Sales Advisor.
Searching for local inventory? We offer a convenient Dealer Locator.