Vaccinated Travel
June 1, 2021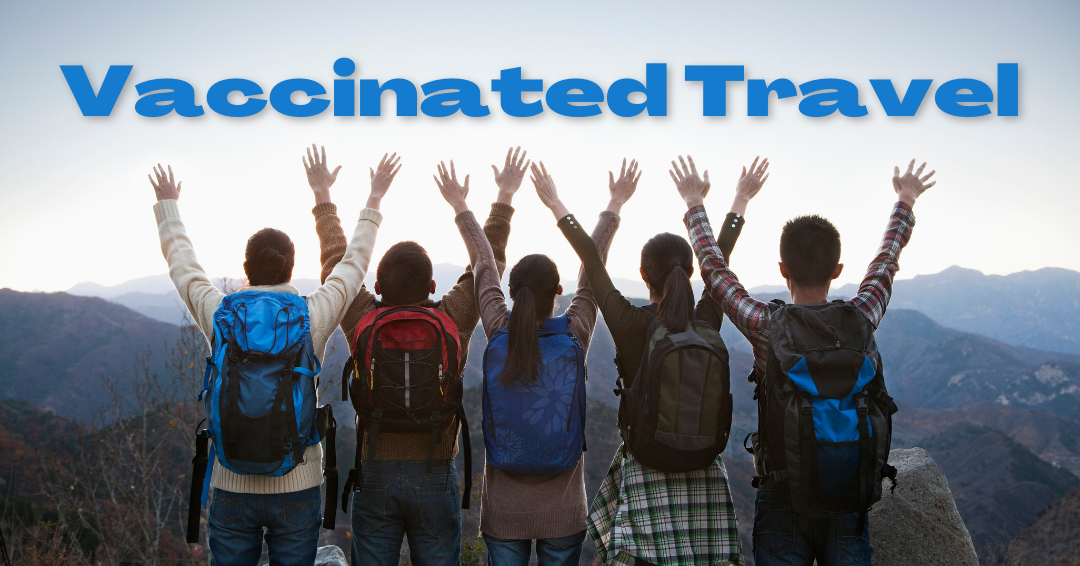 by Vanessa Bouchet
For the past 15 months, just over a year, the world has been navigating the COVID-19 pandemic. This pandemic was unprecedented, nearly halting travel altogether. As things begin to open back up, travel is still more complicated than it used to be, especially between different countries. There are still precautions in place to keep citizens of every nation safe. Today's blog takes a look at the guidelines and safety protocols that you might not be aware of, that are still out there.
CDC Travel Recommendations Within the U.S.
Most travel is permitted now by plane, cars and RVs, within the U.S. Each state has guidelines and rules in place to follow the Centers for Disease Control and Prevention (CDC) recommendations for masks, social distancing and other ways to prevent the spread of COVID-19. Whether traveling domestically or internationally, the CDC suggests delaying travel until you're fully vaccinated. You're considered fully vaccinated two weeks after receiving the second dose of a two-dose vaccine, or two weeks after a single-dose vaccine. There are plenty of resources for finding a vaccination site near you. 
Follow Your Destination's Guidelines
We recently made a trip to upstate New York and didn't run into any problems traveling. As the dog wrangler, I didn't wear a mask at some points outdoors because I wasn't near anyone. Nobody seemed to mind, as I maintained social distance while outdoors. When I registered at the campsite, I wore one to follow New York's mandate. As of a few weeks ago, New York lifted that mandate for those who are fully vaccinated.
Traveling Outside of the U.S. to Canada
One of our favorite places to visit is Canada. The country is beautiful, and there are so many unique places to see. However, the precautions for international travel are a little bit more complex than travel within the U.S. Although, as of May 2021, the official statement from the Canadian government is as follows: "All travelers, regardless of vaccination status, must follow entry restrictions, testing or quarantine (including a 3-night hotel stopover)." Canada also has different restrictions for arriving via car or plane.
Entering Canada by Motorhome
Before entering Canada by motorhome, travelers must identify if they are permitted to enter Canada using ArriveCAN. There's a short five-question form to determine entry. I completed the form as a leisure traveler from the US to Canada and the statement read: "You will not be allowed to enter Canada, even if you have tested negative for COVID-19 or have received a COVID-19 vaccine. The Canada/U.S. temporary border restriction implemented on March 21, 2020, continues. All discretionary/optional travel remains prohibited." The result may change if you were traveling for work or school.
Determine Eligibility Before Planning a Trip Outside of the U.S.
If you're crossing the U.S./Canada border headed to Alaska, the permissions may differ. If you're allowed to go into Canada, you must have your ArriveCAN receipt, negative test results, and quarantine plan ready for inspection by the Canada Border Services Agency (CBSA). It also sounds like you'll need to get tested and follow the quarantine procedures to remain in Canada. Therefore, I'd strongly recommend any travelers research and determine their eligibility for entry into Canada before planning a trip. 
As for travelers traveling to Mexico, there are two separate limitations for travel to our neighbors to the south. The U.S. Department of State is requesting that all non-essential travel to Mexico be avoided for safety concerns and to reduce the risk of spreading the virus. Similarly to travel anywhere, if you must travel to Mexico, the CDC recommends getting fully vaccinated, stay six feet from others, avoid crowds and wash your hands.
Research Your Destination Ahead of Time
Travelers should make some calls and research their destination ahead, to determine if they are able to travel to those locations and determine if there are any risk factors or requirements. As always, happy traveling!


New to RVing? Check out our free RVing How-To Guide. 
Questions? Comments? Contact our Coach Link Sales Advisor.

Are you searching for local inventory? We offer a convenient Dealer Locator.