Traveling with Dogs in a Class C RV
September 9, 2020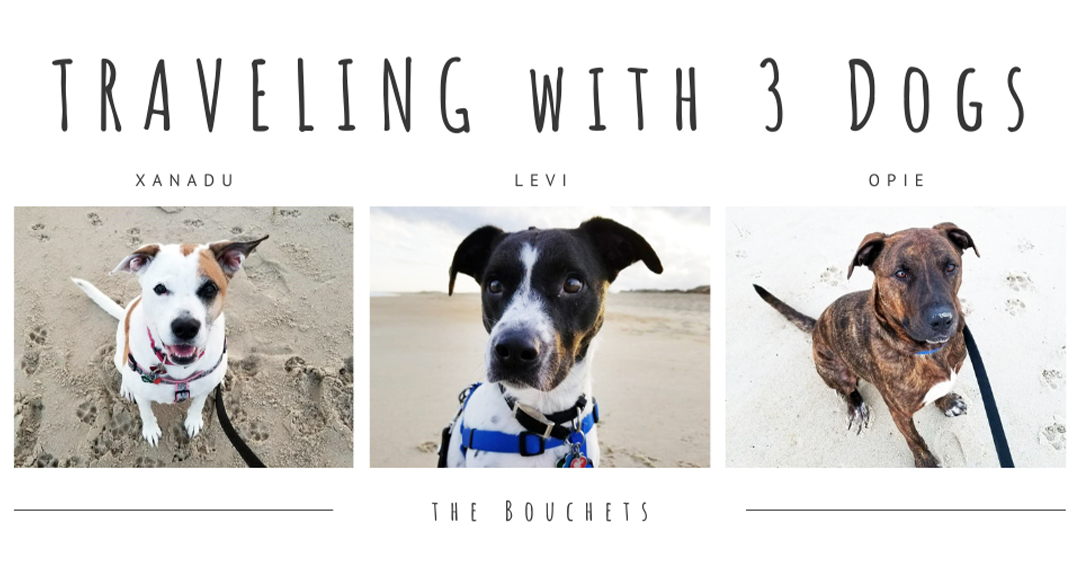 by Vanessa Bouchet
My husband and I are nomads at heart, and we have always traveled with our dogs. We always joke about "going on vacation with the kids" to family and friends. We have three rescue dogs from our local shelter. Two of the dogs we adopted as puppies and have only ever lived with us, but the third one had a pretty rough start (unfortunately, he was returned to the shelter twice before us), but we stuck it out, and he is part of our Wolf Pack. Let me introduce you to our "kids." They each have a story, and they are each unique in their way.
Our Travel Dogs
Xanadu, our "Trail Greeter"

Xanadu is the oldest. She will be 13 in February of next year (we tease that she is the house's grumpy old lady). Her name is inspired by a movie (1980's Xanadu, starring Olivia Newton-John). She is a ball of energy at 12, going on 13, and is usually the official "Trail Greeter" when we explore because she is so social with other people.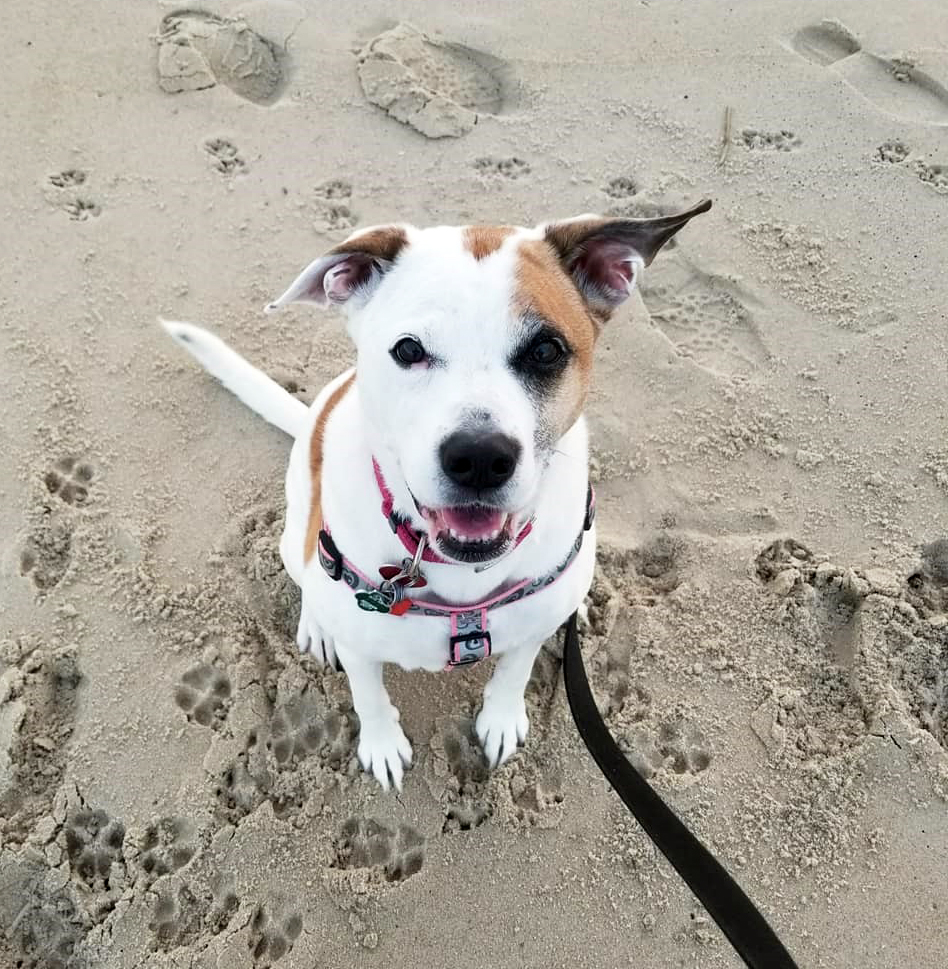 Xanadu Bouchet


Opie, our Gentle Giant
Opie, our middle child, is going to be 8 in May. Opie was named after the supporting character Ryan Hurst plays in the show Sons of Anarchy, "Opie," the gentle giant who is also the back up in case of emergencies. His bark is worse than his bite because he is the group's biggest baby, a total couch potato.



Opie Bouchet


Leviathan, our Unique Youngest
Leviathan, aka Levi, the youngest child, is going to be 6 in September. He is unique because he has a permanent mohawk and what looks like a pitchfork of white fur on his head. Levi has separation anxiety (another reason for the RV), so he is not a happy camper when he is separated from the group. Leviathan's name was inspired by the 1989 movie Leviathan about a crazy sea monster. Leviathan also gets the prize seat when we travel as he is usually in the passenger seat (at 40 pounds, it is not exactly comfortable on long trips, but he, like the other two, are spoiled rotten).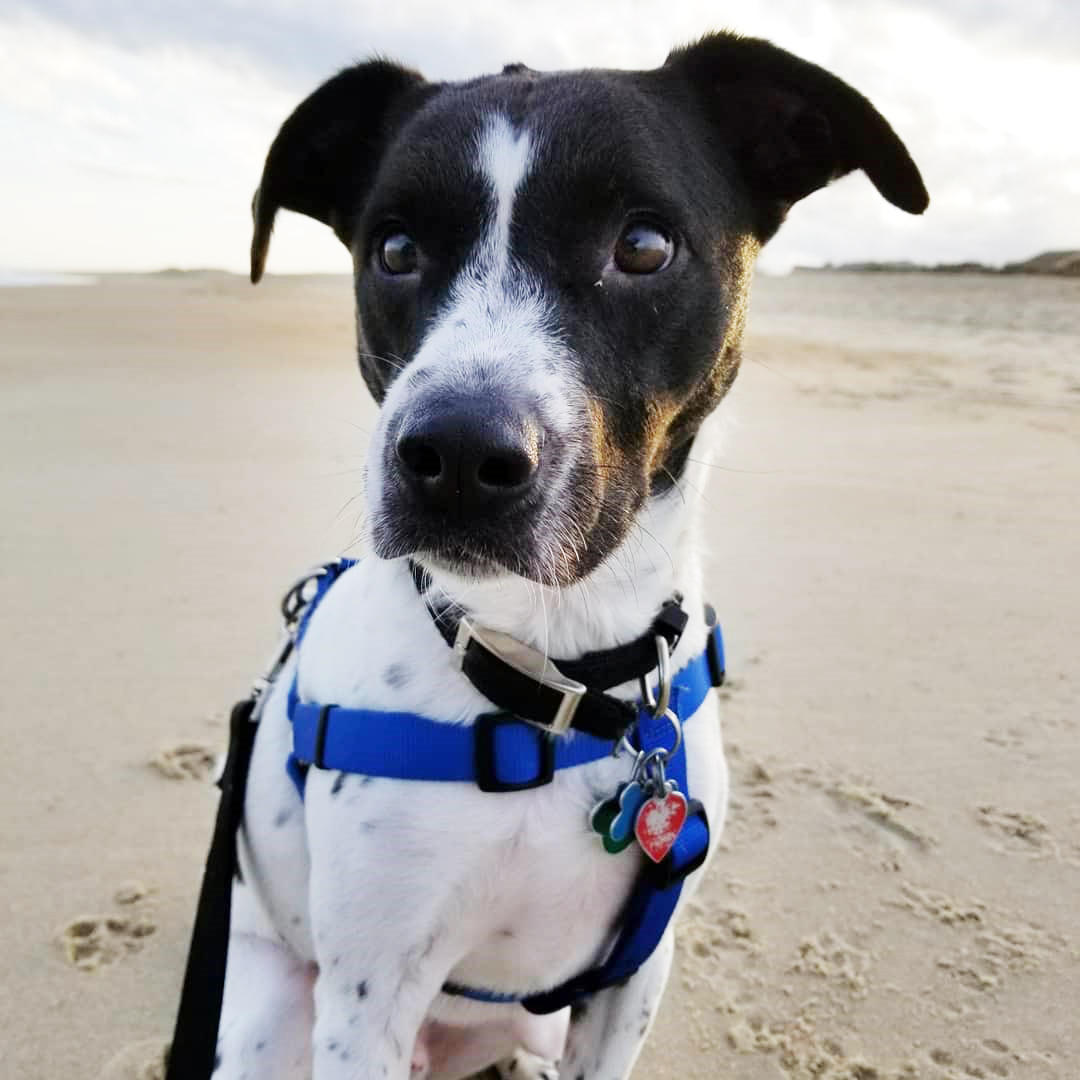 Levi Bouchet


Our Traveling with Dogs Experience
We have always loved traveling both by car or RV and by air. There is something to be said for exploring the country. Our oldest, Xanadu, has ever traveled with us; she is excellent in the car when traveling. Usually, she will curl up between the seats in the front between the driver and the passenger.
Opie is a pretty good traveler as well. He loves to look out the windows and "chase" tires and things on the road's side. During our last trip, on the way home, believe it or not, he opened the emergency window on the dinette table area…while we were driving down I-77 doing 65 MPH! It was terrifying because we thought we would lose the window (thankfully, we did not).
Levi, on the other hand, is a terrible traveler. He gets too anxious when we are driving and tends to "yell" at the other two, which is why he is always upfront with us (so things don't get out of hand). He isn't mean or anything when we are parked. It's only when we are driving. We think it is fear of being stepped on by the big dogs.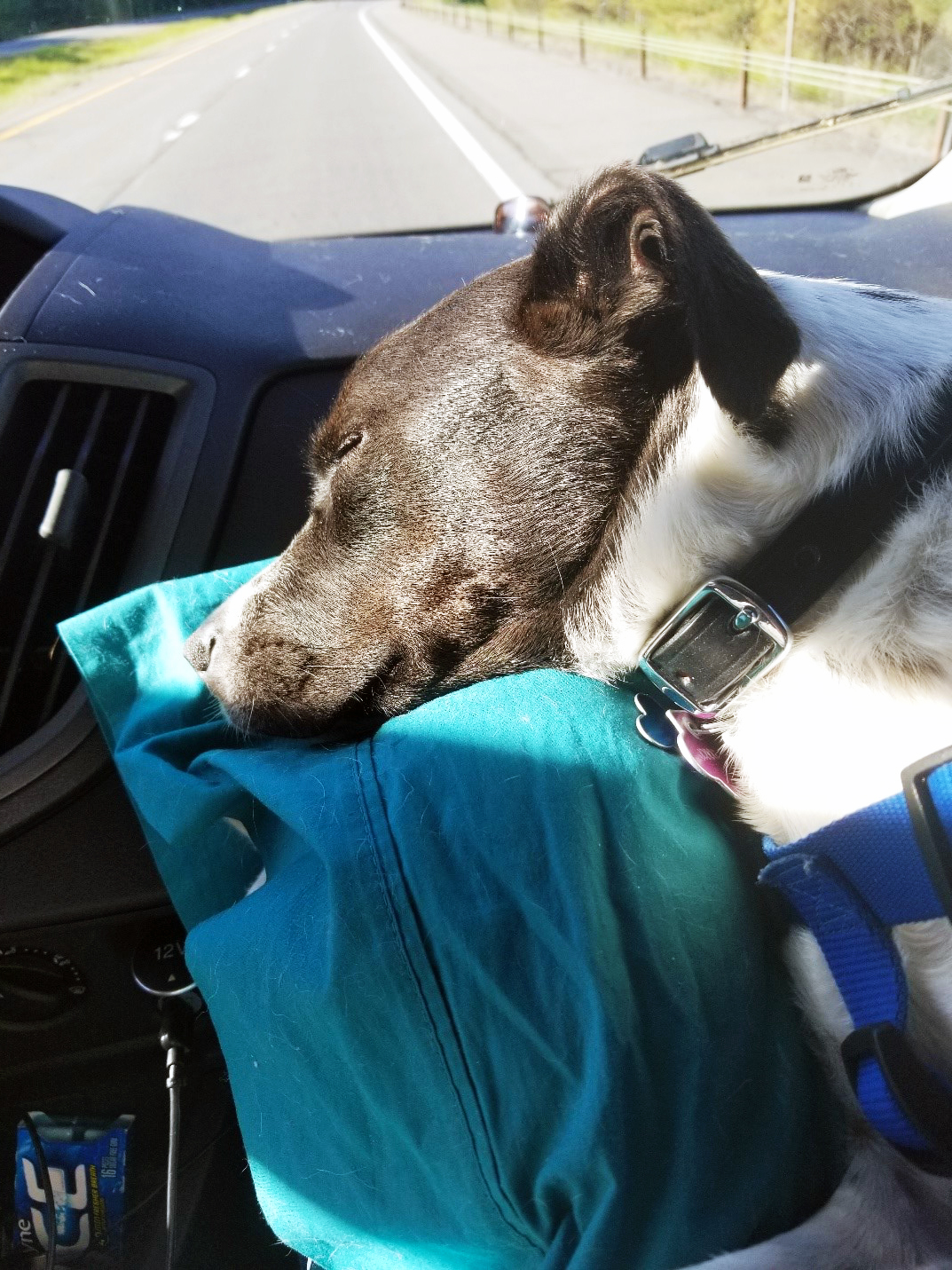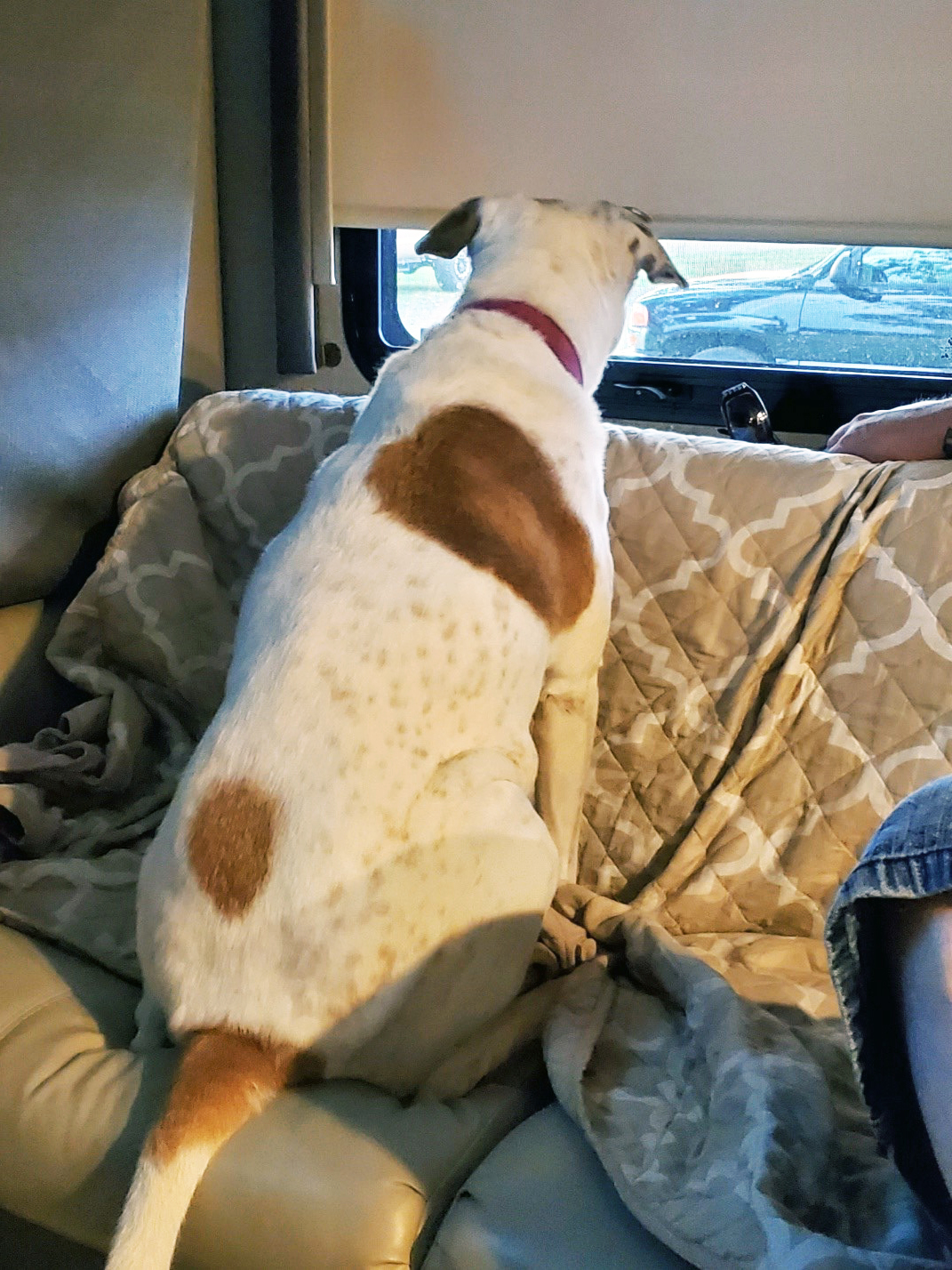 Levi (left) resting upfront on the road; Xanadu (right) on doggie watch

Benefits of Traveling with Dogs
We generally always have them with us when we go exploring. The best thing about traveling with dogs is helping them see everything too. We have a 31-foot Thor Quantum, so there is plenty of room for us and the dogs. Usually, they will all be in their places (Opie on the dinette, Xanadu on the floor, and Levi on the couch). Sleeping is a struggle, as they usually sleep in the bed with us at home because we have a huge super king mattress. On the other hand, in the RV, it's a queen, so it is pretty cramped, but we make it work. It is like a giant puzzle.
Realities of Traveling with Dogs
As you may have guessed, traveling with dogs can be both fun and stressful. Each of our dogs takes medications, some daily, and some monthly. Our dogs take Interceptor (heartworm) monthly, Brevecto (fleas and ticks) quarterly, and two of the dogs take CBD oil as a supplement every day (this helps with the seizures and anxiety). Before starting any medications, I would consult your vet—another thing to consider before your adventure would be the Lyme Disease Vaccine for your furry friends. (There is an initial dose and a two weeks' follow-up booster. After that, it's a yearly vaccine.)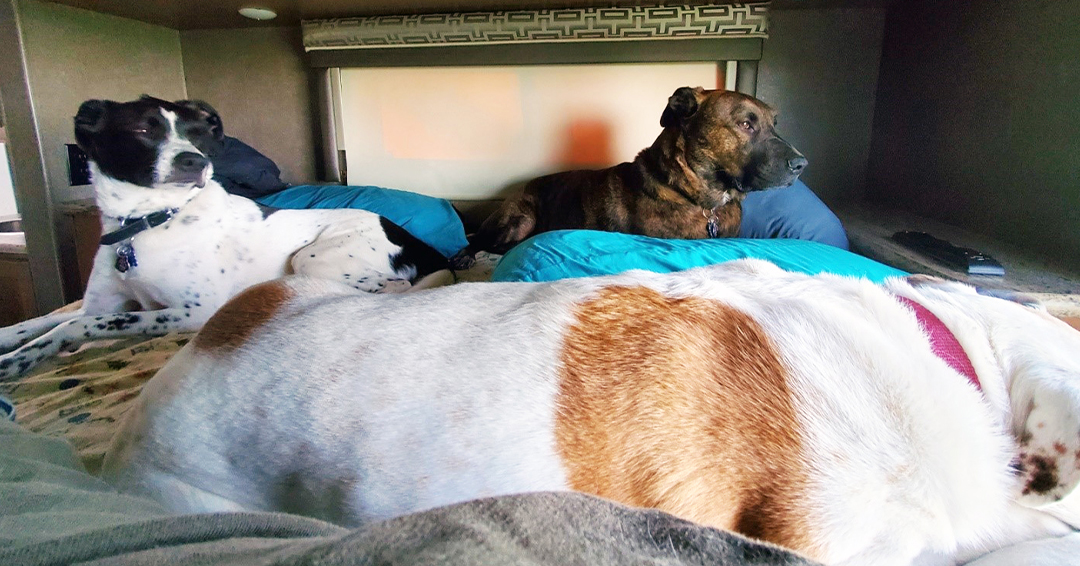 Essentials for Traveling with Dogs
It is also essential to consider a "doggy first aid kit" when traveling, as it is always best to prepare. The first aid kit can be purchased as a prepacked kit (on Amazon), or you can create one yourself.
Some essential over the counter items for this kit may include:
Tweezers and a lighter (If you do get a tick, you can remove it and burn it to kill it).

Benadryl (In case of allergies – consult your vet for dosing).

Cortisone cream (For itches).

3mg Melatonin (Anxiety and nervousness – consult your vet for dosing).

In a worst-case scenario, Quick Blood Stopper (This is a powder that stops heavy bleeding, usually available from a vet).

One other item to consider is Zymox Otic Pet Ear treatment (This is for dogs with droopy ears to prevent a funky build up in the ear, also available from a vet).
Most of these items are under $25 and are a must if you plan to be away from home for more than a few days. It is essential to plan for medications and make sure you have enough for your trip.
Plan Ahead for Traveling with Dogs
A final thought is to be aware of different rules and breed-specific legislation regarding them in the location you visit if you plan to travel with dogs. Avoid any place with breed-specific legislation that could impact you, and always have your papers from your vet that show the rabies vaccination and certificate of live animals (this second paper is more for crossing into Canada or Mexico).
A little forethought can go a long way in keeping you and your pet stress-free and safe.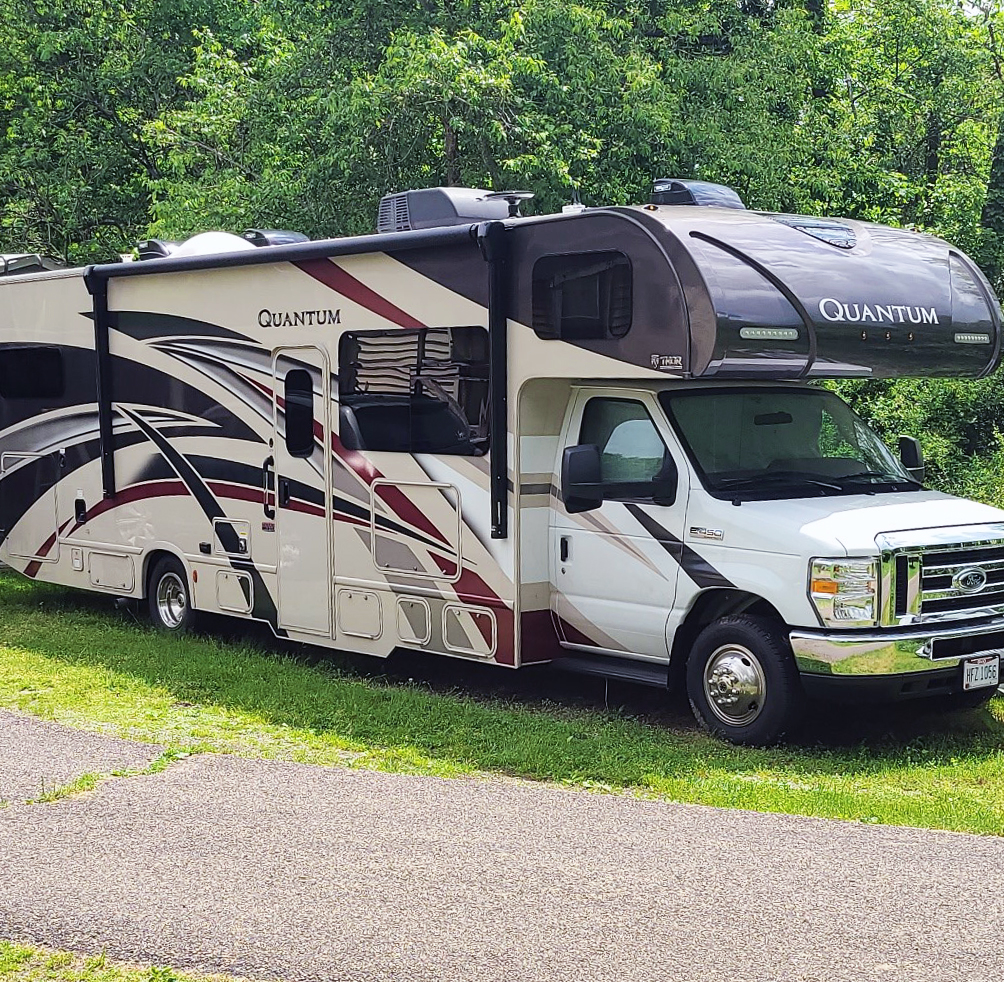 Searching for the perfect motorhome Made to Fit™ your family? We offer a convenient Dealer Locator. Questions about a Thor Motor Coach? Contact our Coach Link® Sales Advisor.