The Hagens' Talk Storage in their Venetian
April 16, 2020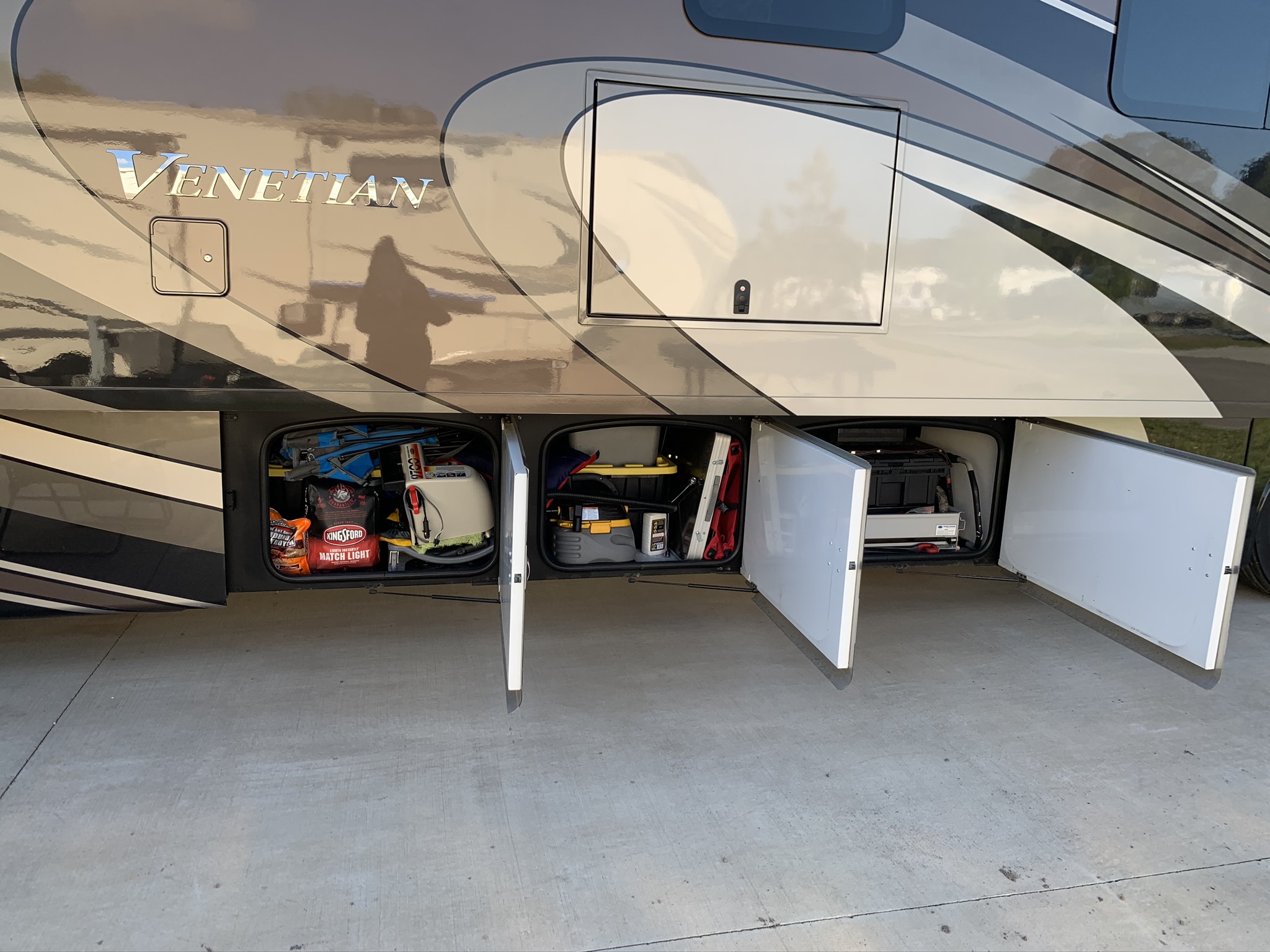 As we navigate a pandemic and the need to stock up, you might wonder how that works for full-timers living in a motorhome. Hangin' with the Hagens talk about how their space works for them. 
There are a lot of decisions to make when you decide to live in an RV full time. We went through the normal process of what we wanted to do and not do. We had decided early that selling our house and moving into the RV was not a short-term fix. We figured that if worse came to worse, we could always look for a house and get new furniture but we did not want a storage unit with a bunch of items that we weren't using for the foreseeable future.
This required a lot of downsizing. We sold or donated all of our furniture. We sorted and arranged what we had multiple times. I was absolutely floored by the number of doubles and triples we had in our kitchen utensils. But, if we weren't going to use it, it was going away.
Storage matters! That's what we realized. Everything needed to have a place and stay in its place. Total chaos can happen quickly in a small space. In a house, I didn't notice the disorganization slowly change. It was easy to close a closet that I didn't use often and walk away to not think about it. In tiny living, you have the essentials and use them frequently. Life becomes very difficult when something is not in its place. Y'all, I've walked around our RV (even recently) saying over and over, "This place is too small to just lose something! How can we not find it? There's not that many hiding spots!" The organization is key.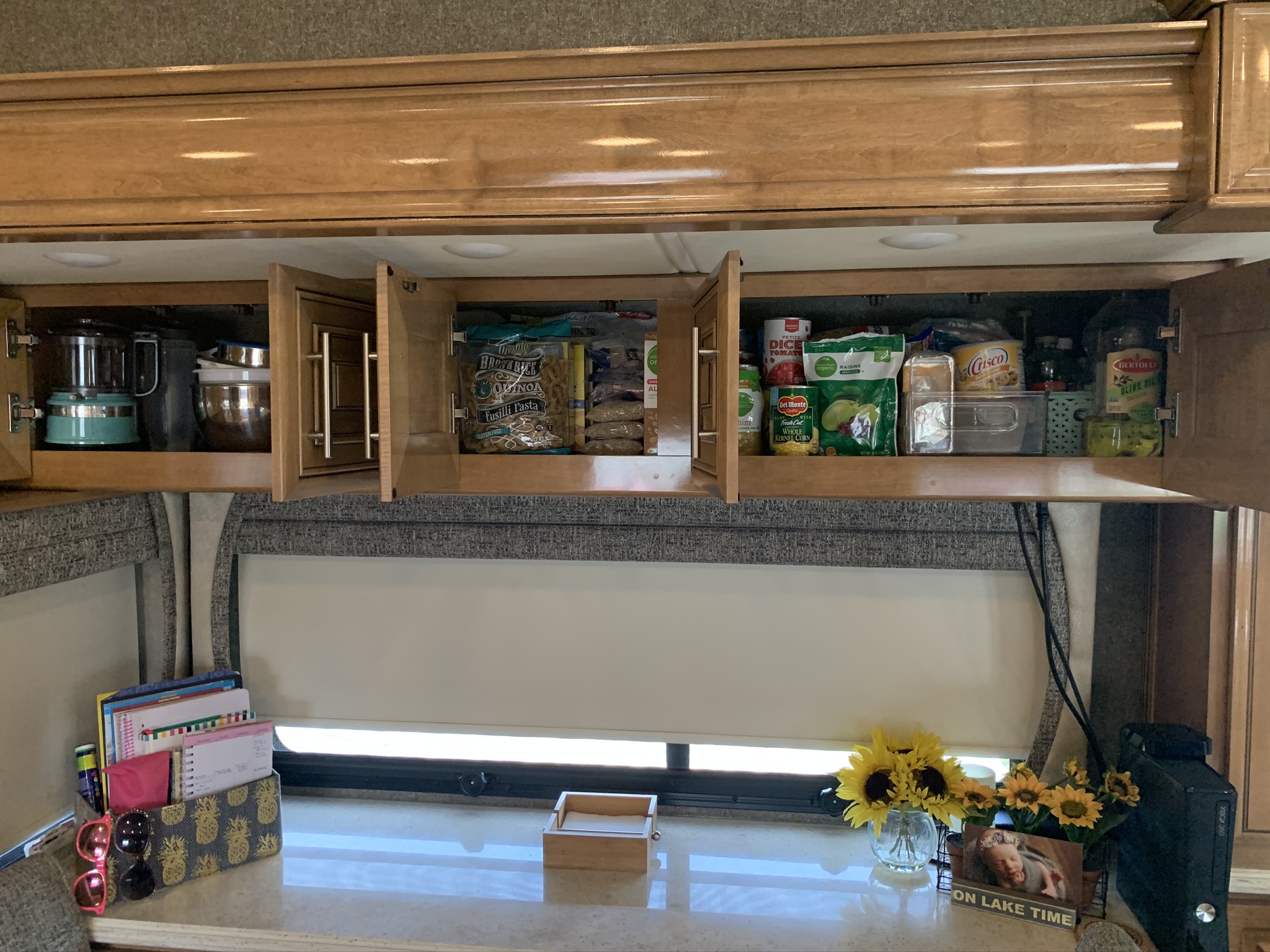 Our Venetian has been a huge blessing for organization and storage! When we started looking at different options, I told Travis that there was no way that we could get all the things we needed into the Class A. The pantry was my main concern. How could we house all the food that we needed? I didn't want to go to the grocery store two to three times a week. But, I'm quickly realizing just how much space I truly have. I've been reorganizing all of our cabinets and drawers since we have the time right now during our stay-at-home restrictions.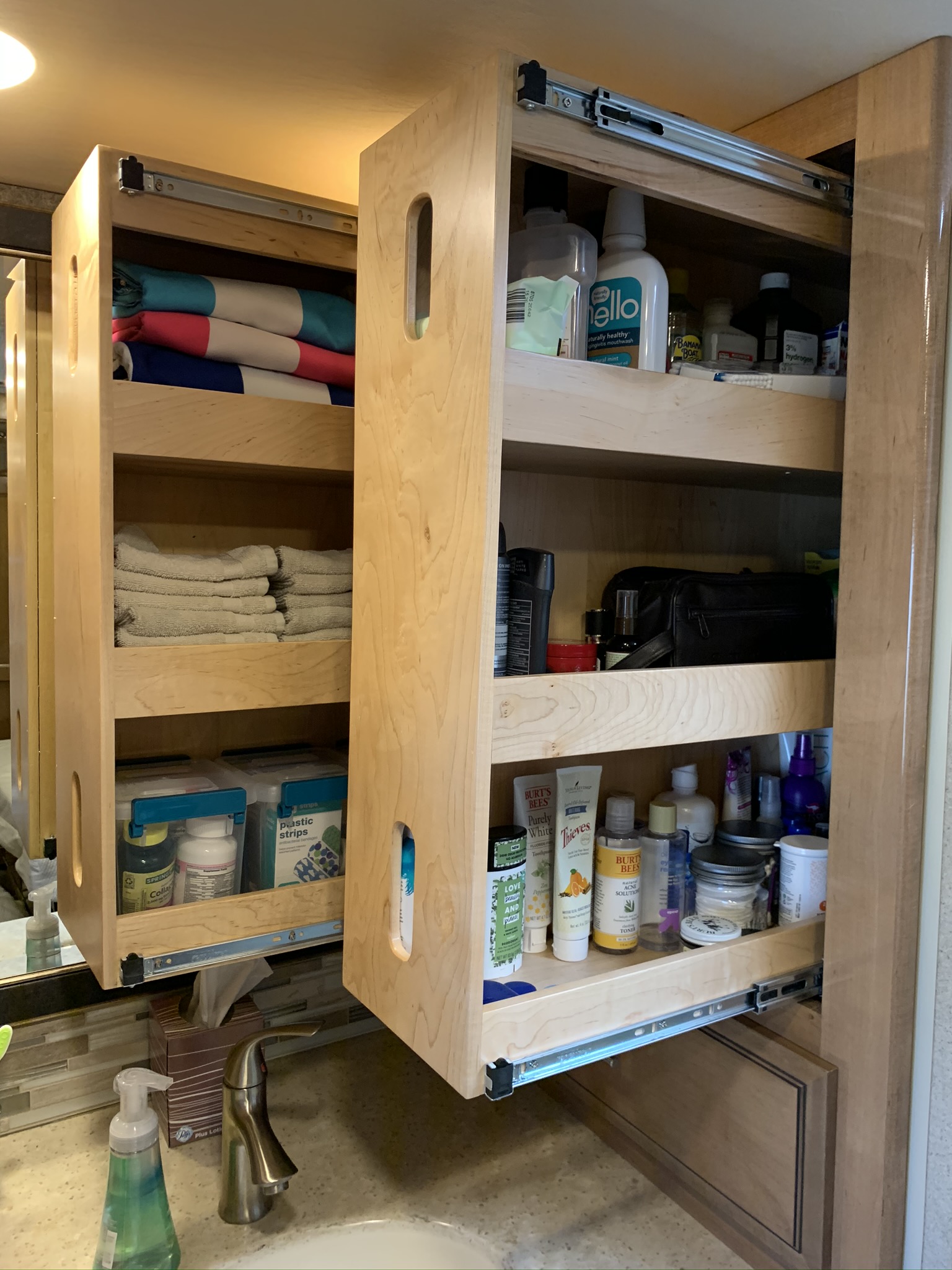 While organizing I realized that we have a ton of space! I have more than enough food in the house for a week at a time. In fact, if we get creative with meals and space I'm betting we could find space for food up to a month.
And the refrigerator! I knew without a doubt that I would love our refrigerator. I didn't think it was a necessity, but now that we have it back, I may need to rethink that. Seriously, it's been such an awesome place for storing all our food. In addition to the pantry and cupboards we're using for food, it houses even more fresh foods (which we prefer).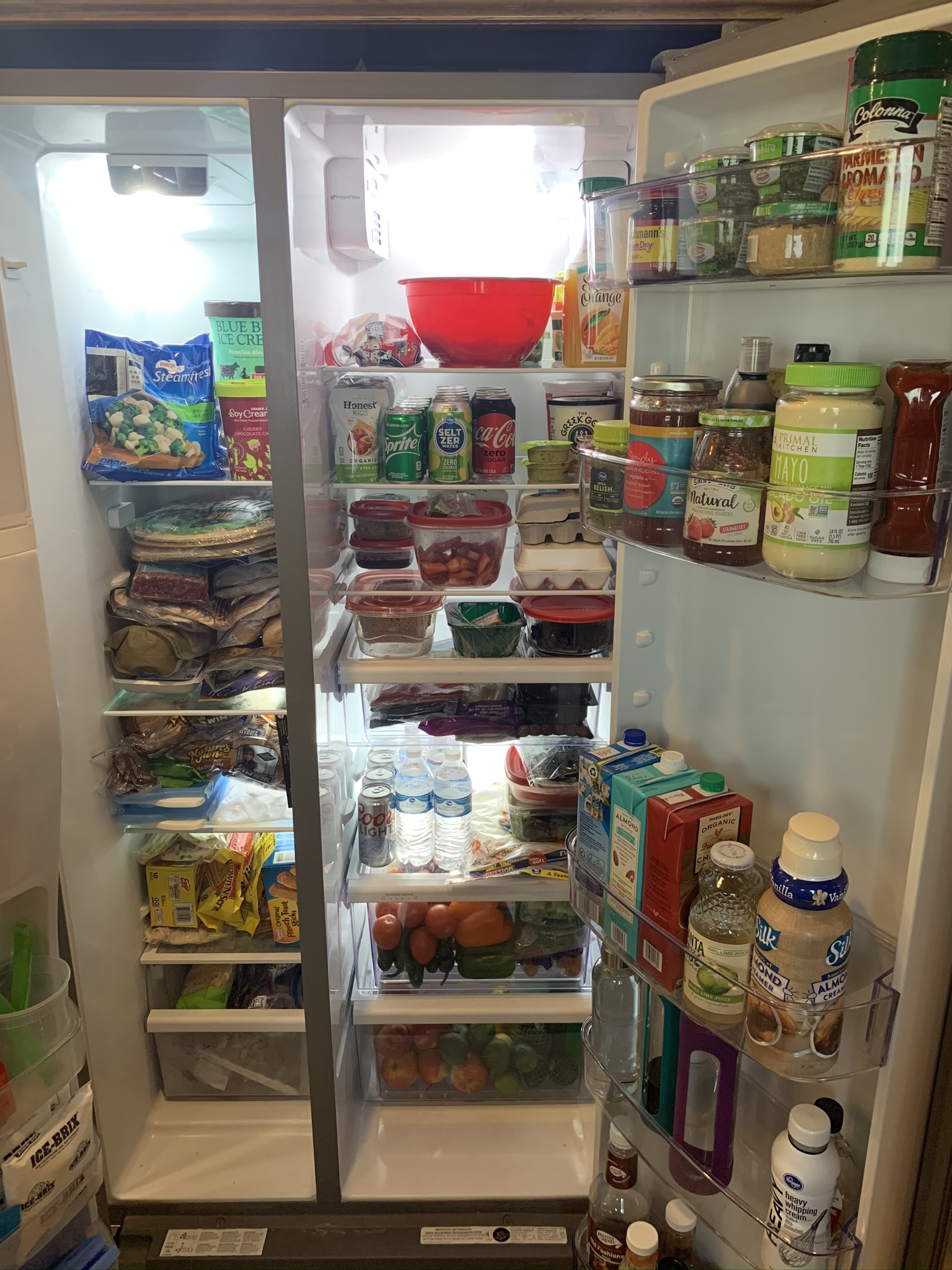 As if the storage in the living room and kitchen aren't enough, we use all of the storage that the master bath offers. We love the pull-out cabinet above the sink. We use one as our linen closet and the other for everything else. I'm constantly amazed at just how much space these drawers offer!
One of our favorite storage places in our rig is in the master bedroom. Behind the TV is an awesome cabinet that we've taken to be our electronics cabinet. We don't have to leave out our computers or printer on valuable countertop space any longer!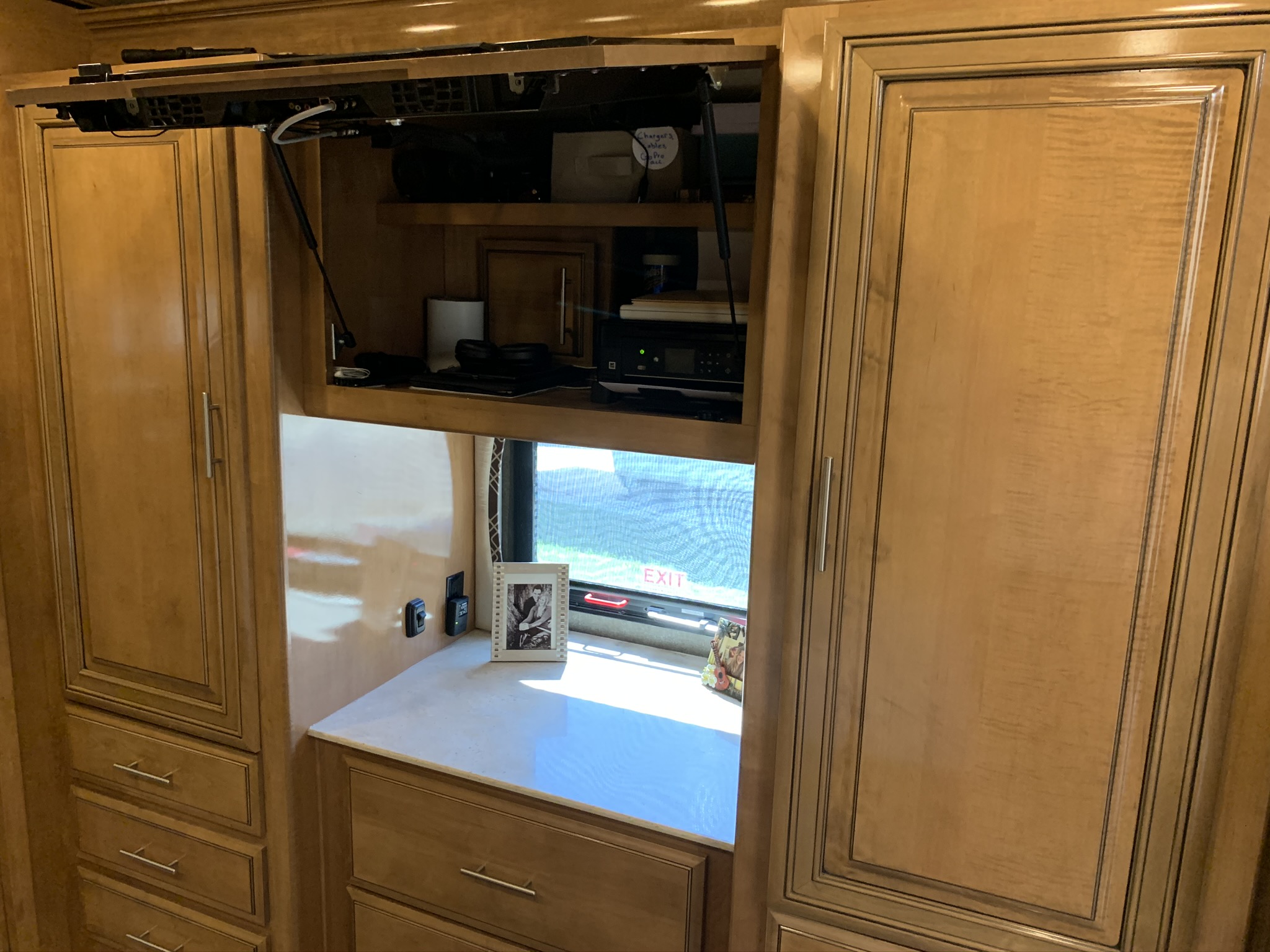 And if the inside storage isn't phenomenal – we are extremely impressed that our whole lives fit into the "basement" of our rig. We originally had a small storage shed at our seasonal site when we started almost a year ago. Since purchasing our Venetian, we were able to prioritize and downsize (again) but now everything fits! We love that we have all of our files and anything that we could ever need when we hit the road.
We have been so happy with each and every aspect of our rig when it comes to space. Lou has his own set of cupboards in his "room". But we did notice that we had a lot of LEGOs and other small toys. We initially had put them in the basement, but then Lou didn't play with them. He didn't want to ask often for some of his toys and some of them were just out of sight, out of mind. We were looking for additional options for a workspace as well. So Travis built us our current favorite piece of storage – our coffee table-desk-LEGO table-toy box combo!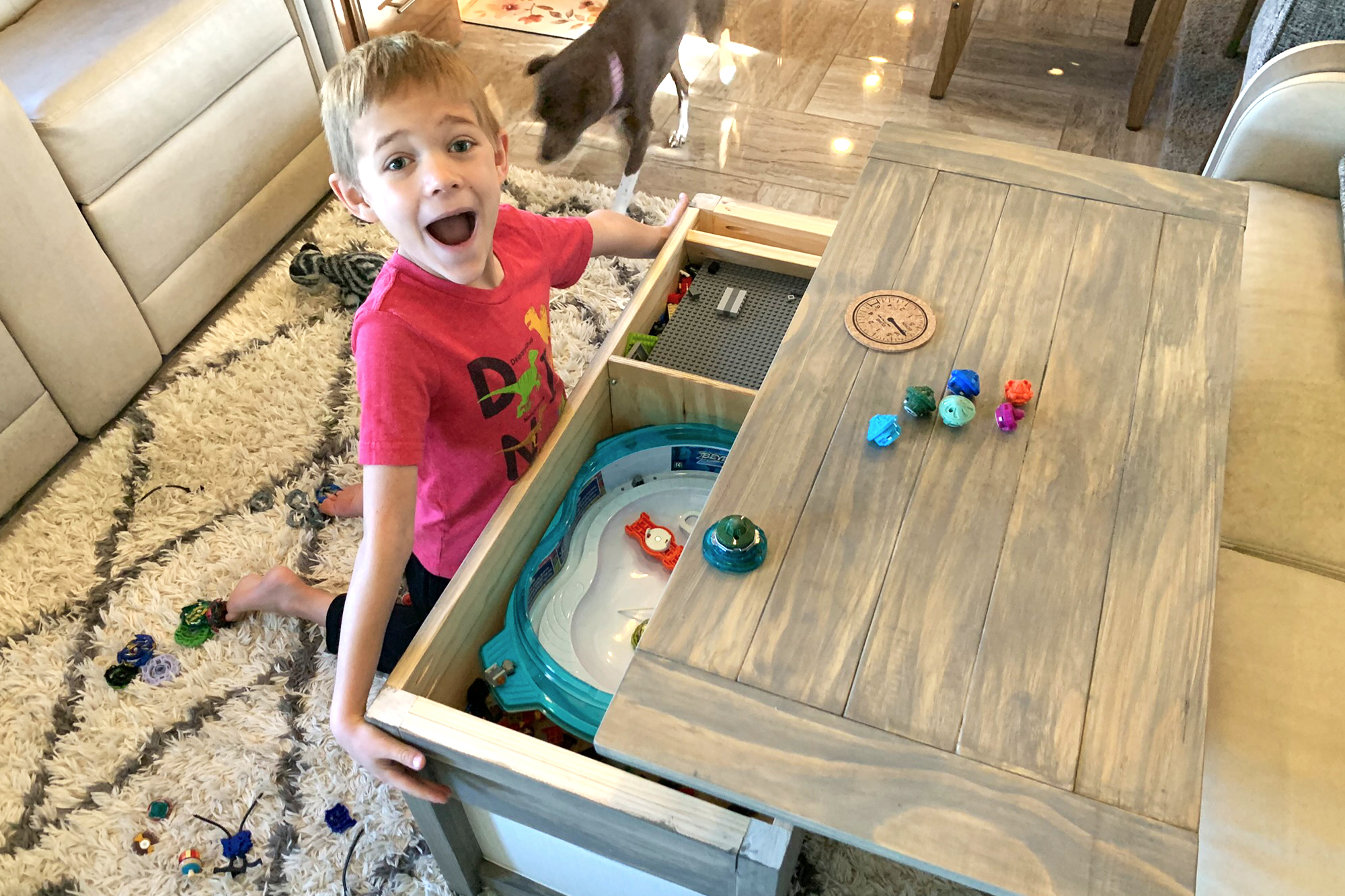 All in all, it's so neat that we're able to fit our whole lives in our Venetian. The storage available has been nothing short of amazing.

Questions for the Hagens?  Text them to us, and we'll get those answered, 574.584.2074 (our #TMCHappyCamper line) or message us on Thor Motor Coach's Facebook page.
Follow #HanginWithTheHagens on Social Media
Facebook Page: Hangin' with the Hagens
Instagram: @HanginwiththeHagens