Thanksgiving in Your RV
November 19, 2020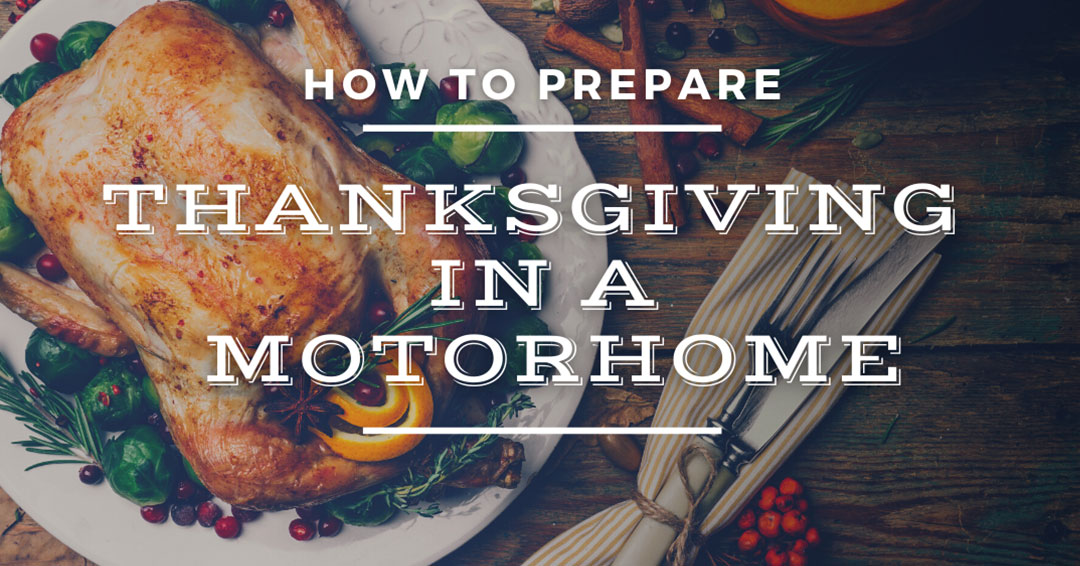 It's the time of the year to gather with the ones you love, remember what you're grateful for and, of course, fill your belly with an assortment of dishes. You may be thinking to yourself, "I've got the first two down, but how do I prepare a Thanksgiving meal in an RV?" Continue reading to find out.
Tips Before Cooking Thanksgiving in Your RV
Because of COVID-19, you may not be cooking for as many people this year but that doesn't mean you can't have fun with it. First things first, clean out your Class B+'s refrigerator to make room for all of the ingredients. Cooking some dishes ahead of time will allow things to run smoothly on the day of. Some examples of Thanksgiving favorites that you can make ahead of time are the sides.
Thanksgiving Sides
For many, sides are what make the Thanksgiving meal what it is. Two best-loved dishes to accompany the main course are mashed potatoes and green bean casserole. Luckily, you can cook instant mashed potatoes by merely getting water to boil on your toy hauler's stove while the green bean casserole cooks in your convection microwave. This tasteful side is perfected with only a few ingredients.
Ingredients:
1 can cream of mushroom soup
½ cup milk
1 teaspoon of soy sauce
Dash of black pepper
4 cups of cooked cut green beans
1 ⅓ cups of French fried onions
Instructions and Tips:
If you used canned green beans, we recommend using the cut style because they are firmer and the texture is preferable to the French style. Plus, everyone's favorite is the French fried onions for that satisfying crunch, so feel free to use your best judgment. Simply preheat your Super C RV's convection microwave oven to 350 degrees and let it cook for about 25 minutes, checking on it every once in a while to get it to the golden-brown of your choosing.
Thanksgiving Turkey
Now, we're onto the main course, turkey, which doesn't feel right to most without some stuffing. Because it's the day of, you may want to opt-in for stovetop stuffing to make your life a little easier. It tastes just as good as a passed-down homemade stuffing but saves you time and, of course, leaves plenty of room to begin cooking your turkey. If you can, go to your nearby market to get a non-frozen turkey or make sure you've given it enough time to thaw. Remember that you're cooking in a Class A RV oven, so it's best to get a smaller turkey.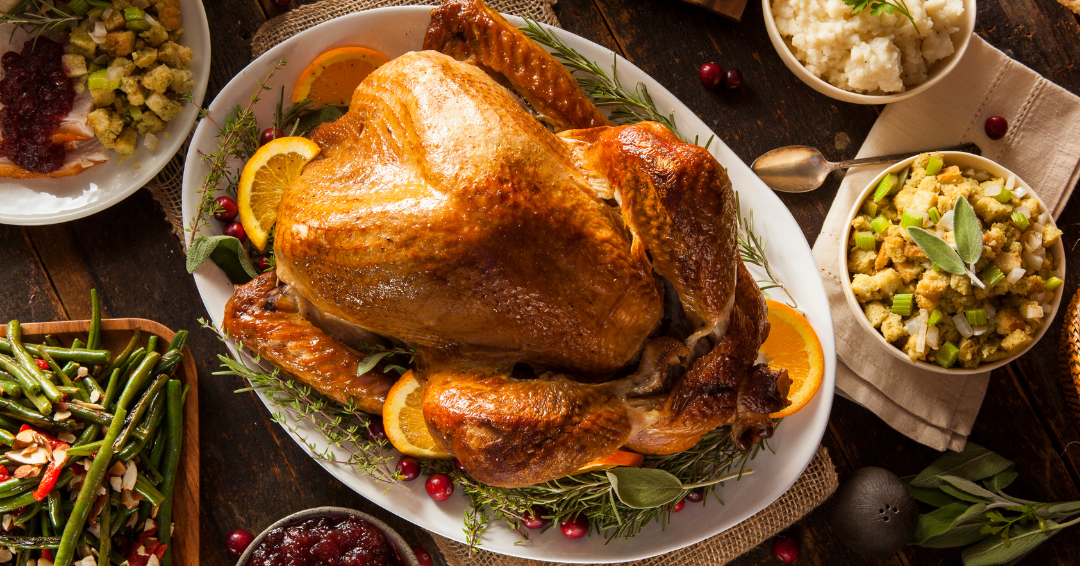 Instructions and tips:
You will want to have an aluminum cooking tray on hand because it easily conforms to the size of your Class C RV's oven. Get your bird dried with a paper towel and ready to go in the oven. Your turkey's weight will determine the duration and cook time; however, no matter your size, there are a few tips you should follow. Rotate your turkey often, about every 15 minutes. We highly recommend having a thermometer on hand to make sure the meat cooks to 165 degrees. Once it's ready, you can slice for your loved ones.
Thanksgiving Desserts
The best part of a savory meal is having something sweet to complement it. Some people love cranberry sauce right from the can, but we'll share a simple recipe for you to try with your family.
Ingredients:
12 oz cranberries
1 cup white sugar
1 cup of orange juice
Instructions and tips:
Once you get your stove warmed to medium heat, mix your orange juice and sugar. Once the sugar dissolves, add in the cranberries and cook for about 10 minutes. When you hear the "pop," remove your saucepan from the heat and place your sauce in a bowl to thicken as it cools. Put a little orange zest on top as a garnish and now, you have a pop of flavor in your Thanksgiving meal as well.
A fun tradition for Thanksgiving pies is going to your local market and finding a couple that catch your eye, if you feel safe. At this point in the day, your turkey-tired will be hitting and you won't want to deal with your camper van's convection microwave oven for the evening. It takes the pressure off of being in the kitchen all day so you can spend time with your loved ones.
Ready to Begin Your RV Thanksgiving Tradition?
Tuscany Class A Diesel Motorhome
If you're looking for a motorhome with that residential feel to begin your RV Thanksgiving tradition in, you've found it in Tuscany. This Class A Diesel Pusher has solid surface countertops and a hardwood pull-out storage compartment that doubles as more counter space. You'll have plenty of room for all of your Turkey Day ingredients, thanks to the stainless steel residential French door refrigerator with an ice maker and water dispenser. Once the meal is complete, clean up is easy with the residential drawer-style dishwasher.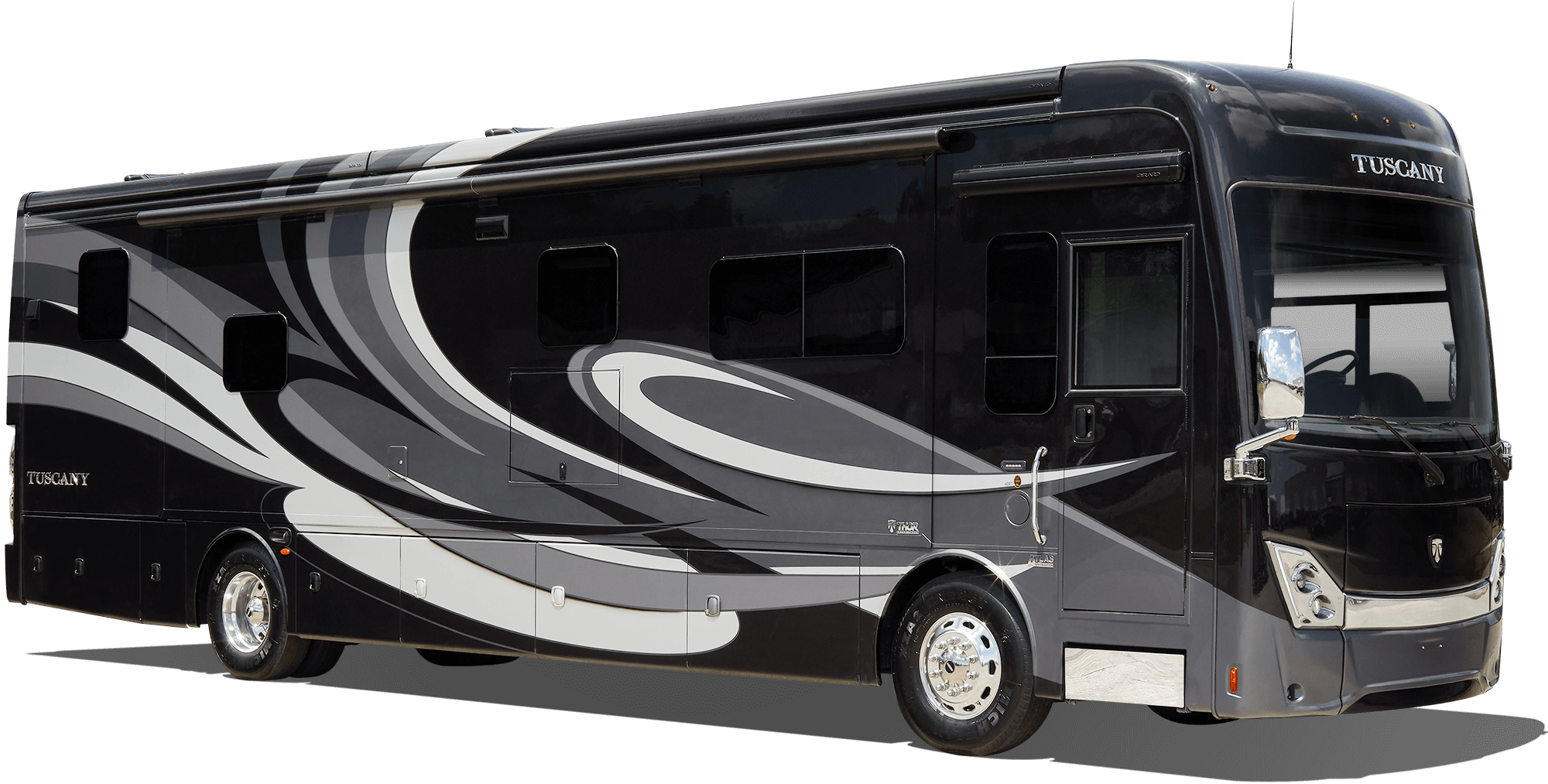 Tuscany | Shadow Mountain | Color Options                   45MX Floor Plan | Portofino | Gallery

Challenger Class A Motorhome
Challenger has everything you need to have an exceptional Thanksgiving holiday. This Class A motorhome has a 30-inch stainless steel over-the-range convection microwave oven, fit for your turkey of choice. You can get your instant mashed potatoes started quickly on the 2-burner high-output gas range with a single induction cooktop. Plus, clean off your cranberries with ease in the stainless steel double bowl sink with a single handle faucet and pull-down sprayer.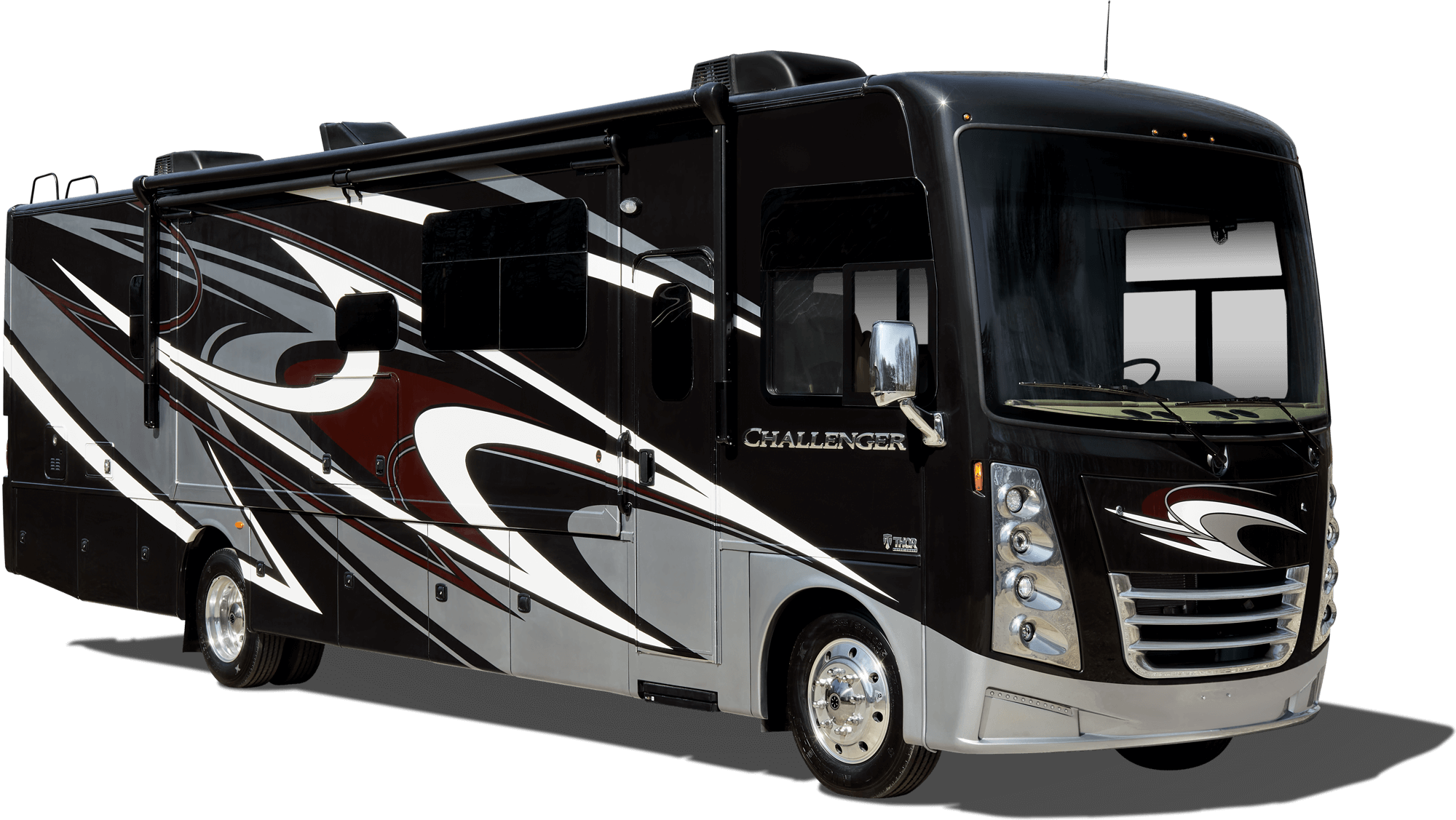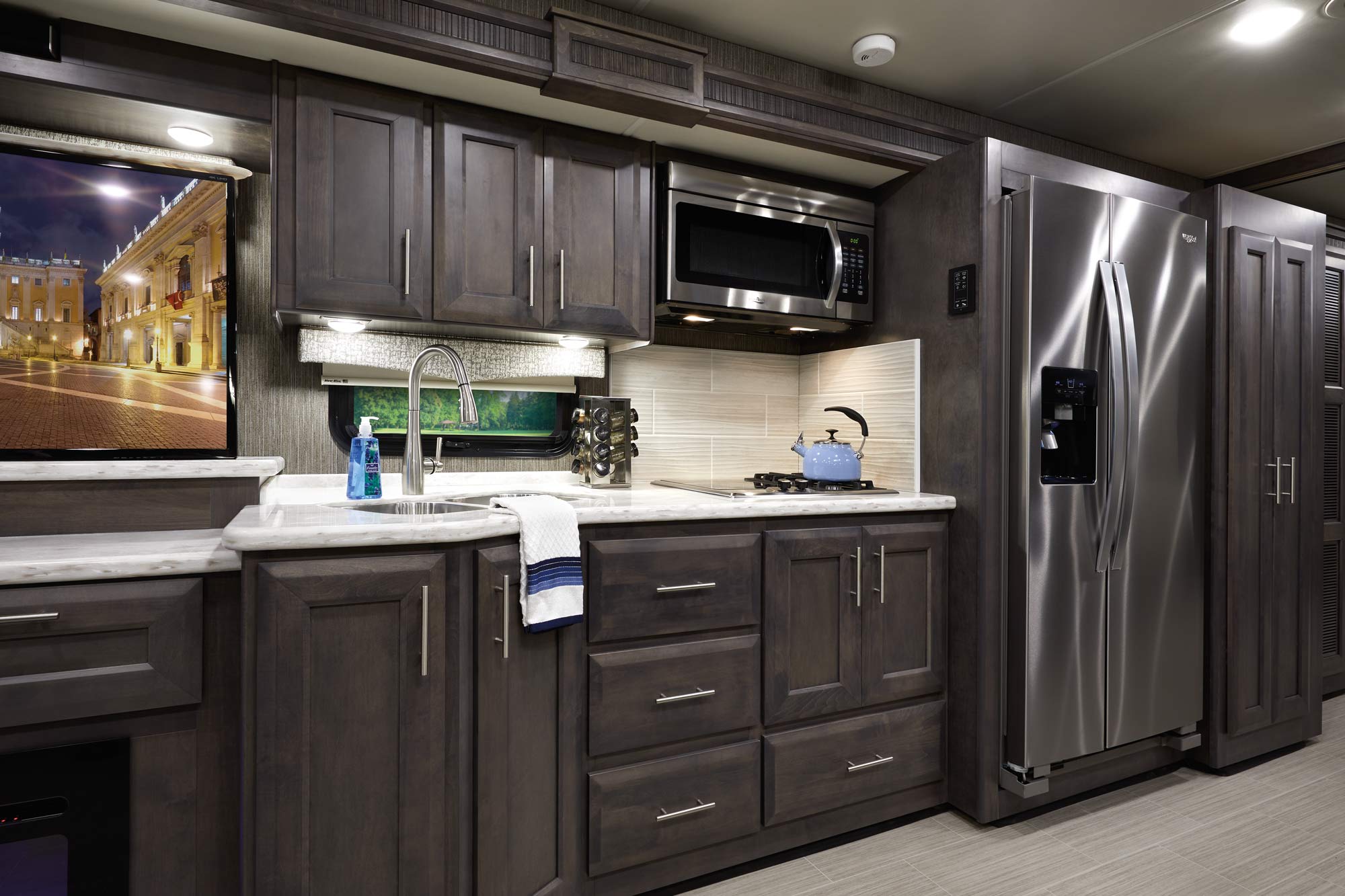 Challenger | Rio Red | Color Options                                37FH Floor Plan | Shoreline | Gallery
New to RVing? Check out our free RVing How-To Guide. 
Questions? Comments? Contact our Coach Link Sales Advisor.

Are you searching for local inventory? We offer a convenient Dealer Locator.