Staying Healthy on the Road: Tips & Tricks
June 19, 2020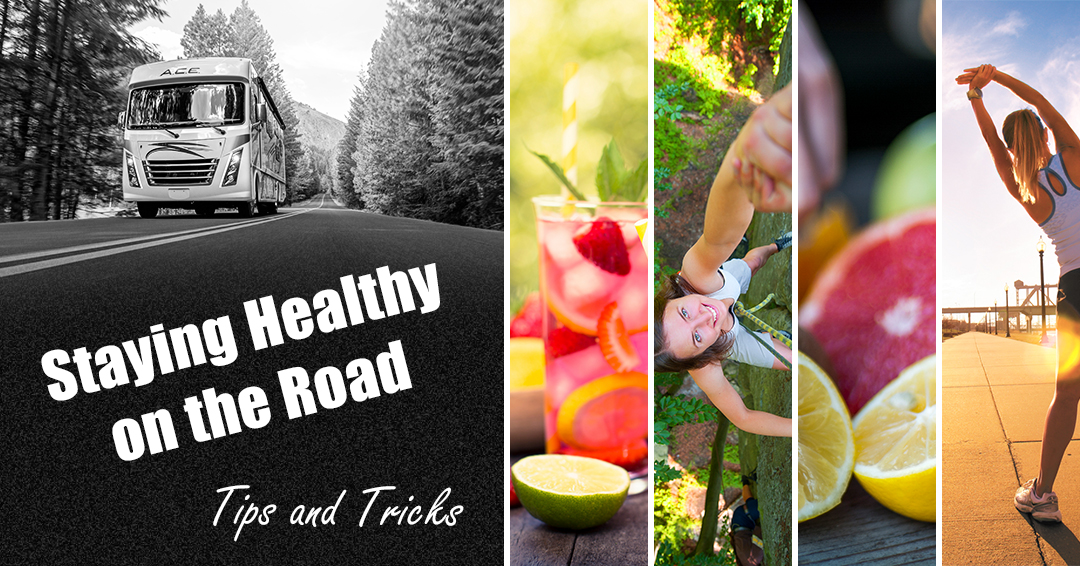 You've chosen the RV lifestyle for the ability to live your life to the fullest. You want to go where you've never been, do things you've never done and, most importantly, learn and grow. To live out your adventure's full potential, it's imperative that you protect your physical, mental and social health. Here are our best tips and tricks for staying healthy on the road.
1. Be mindful of what you put in your body.
One of the many perks of RVing is preparing home-cooked meals in your very own kitchen, so why not take advantage of it? Create a weekly menu, and make a grocery list with only those ingredients. Grab some healthy snacks and, of course, always make sure you get plenty of water. Planning your meals ahead of time will eliminate the urge to splurge at every pit stop. If you need inspiration or just want to switch it up, check out the Mobile Meal episodes on our YouTube channel for some healthy ideas.
2. Get moving.
You may not have the luxury of workout equipment while traveling, but you have something even better: the great outdoors. Take the walking path through the woods, take your dog for a jog near the ocean, hike the mountains and ride your bike around the lake. Your Class B+ RV can take you anywhere, which is better than a boxed-in, crowded gym. Also, don't rule out rainy days. You can still get your morning stretches in, yoga mat sprawled across the motorhome floor and work the same muscle groups you would using a machine with resistance bands.
3. It's true: your body is a temple. Treat it as such.
Treat your body like the temple it is with sleep and comfy clothes! These two things go a long way. When you're vacationing in a Class C motorhome, there's not a check-in or check-out time, so you can get as much sleep as you'd like. Luckily, you won't have to deal with a hotel lobby and can even go completely remote. This means no one will see you; be sure to dress comfortably. Jeans are appropriate for going out on the town but sweatpants and an oldie-but-goodie t-shirt are perfect for the drive. 
4. Your brain needs to stay active too.
A cross-country drive means long car rides and more time to spare. Go ahead and listen to a podcast, audiobook or favorite playlist and sing along. Every Thor Motor Coach comes equipped with Wi-Fi connectivity, which allows you to download apps on your phone that are designed for brain stimulation. Additionally, this much time on the road is the perfect opportunity to play question-based games with your family to bring you closer together. For example, "Who is one person living or dead that you would like to have dinner with and why?" is a perfect conversation starter. 
5. Make time for your hobbies.
Of course, while you're out on an adventure you'll want to experience new things, but it's nice to do something near and dear to your heart. Get creative with photography, writing, sketching or DIY crafts. Get your mind stimulated with crosswords, chess or puzzles. Studies show that being outdoors is beneficial to your mental health and you can enjoy one of your favorite pastimes like fishing, motocross or bird watching. Living in your toy hauler provides endless possibilities to engage in your passion.
6. Stress management is key.
Most of us don't like it when things don't go according to plan, but the allure of Sprinters is the ability to create your own schedule. Try to be flexible if your itinerary isn't exact. The previously mentioned healthy diet, physical and brain activities or hobbies can also help take your mind off of or even relieve stressors. Other relaxation methods, including meditation, prayer and simply venting to a loved one can help aid you in a time filled with worries and anxieties.
7. Meet new people.
Even if you're not a social butterfly, getting out of your comfort zone to meet new people on the road is advantageous to your social health. If you're staying at a campground, talking to your neighbors or signing up for group activities could lead to a life-long friendship. You may find a new friend to join you for your morning jog. Of course, don't forget to give your friends and loved ones at home a call or video chat.
8. Do what's best for you.
As important as social interaction is, it's also important to balance that with your alone time. Don't take on too many things at once or agree to plans that lead to burnout. Be assertive, not passive or aggressive. If you're feeling like you need some alone time, just let your friend know. In the long run, they'll appreciate your honesty more than if you skip out on plans or are moody from a lack of me-time.
9. Give back.
There truly isn't a better way to spend your free time than to give back. Studies show that volunteering with and for others corresponds with happiness, health and social bonds. Your goal was to travel the country and live life to the fullest. You can use your ability to travel anywhere to help communities across the country. Lift up and inspire hope in others.
Feeling inspired to travel the country in one of our 2021 motorhomes?
Compass AWD™ has all-wheel drive and Ford® safety systems, including AdvanceTrac® roll stability control, so you have a stress-free drive. Safely maneuver through the winding roads for the ultimate hiking trip. The upgraded dash with an 8-inch SYNC® 3 infotainment system will be perfect for everyone to enjoy the newest podcast episode. The new interior Home Collection™ will be the perfect icebreaker at the campground because you'll want to show off its crisp and modern aesthetic.
Sequence® camper van may be compact, but it has a fully-equipped kitchen with a two-burner gas cooktop and convection microwave oven to prepare delicious and healthy Mobile Meals. Bring along two adult-size bikes for the trip around the lake on the Thule® bike rack. Want some alone time? No problem, the Sequence has a 190-watt solar panel with an optional Re(Li)able™ lithium battery system, allowing you to distance yourself from the crowds.
Searching for local inventory? We offer a convenient Dealer Locator.
Questions? Comments? Send a message to our Coach Link Sales Advisor.