So You Decided to RV with Three Dogs
August 17, 2020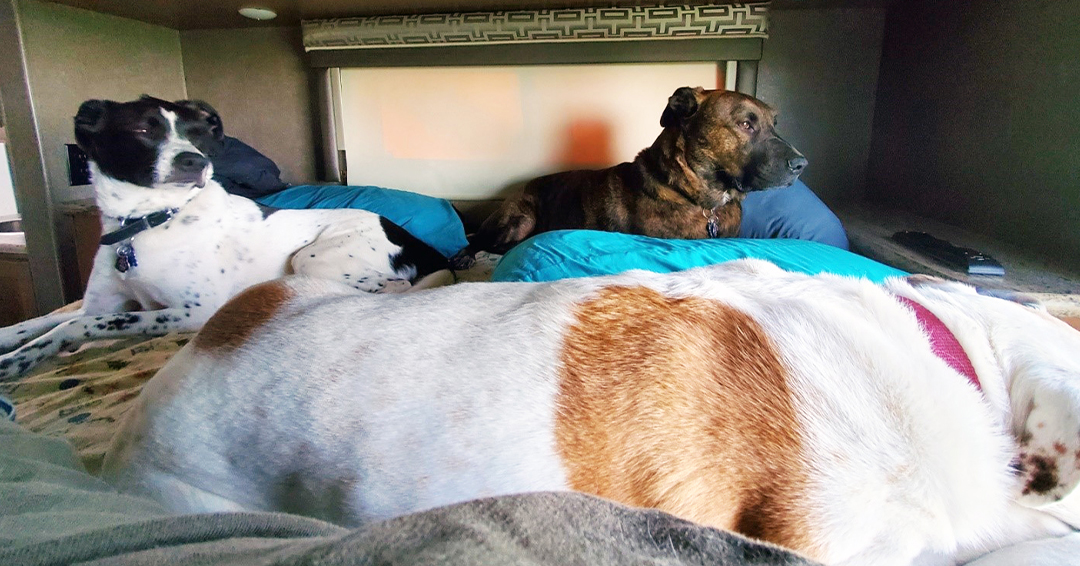 by Vanessa Bouchet
How we decided to travel with pets
If you told me 15 years ago when my husband and I said "I do," in Las Vegas that we would plan to travel around The States and Canada in an RV, I would have called you crazy. As we talked about this idea - traveling around the country - the question that kept coming up was, "What would we do with the dogs?" The answer: take them with us. That is when our crazy idea began.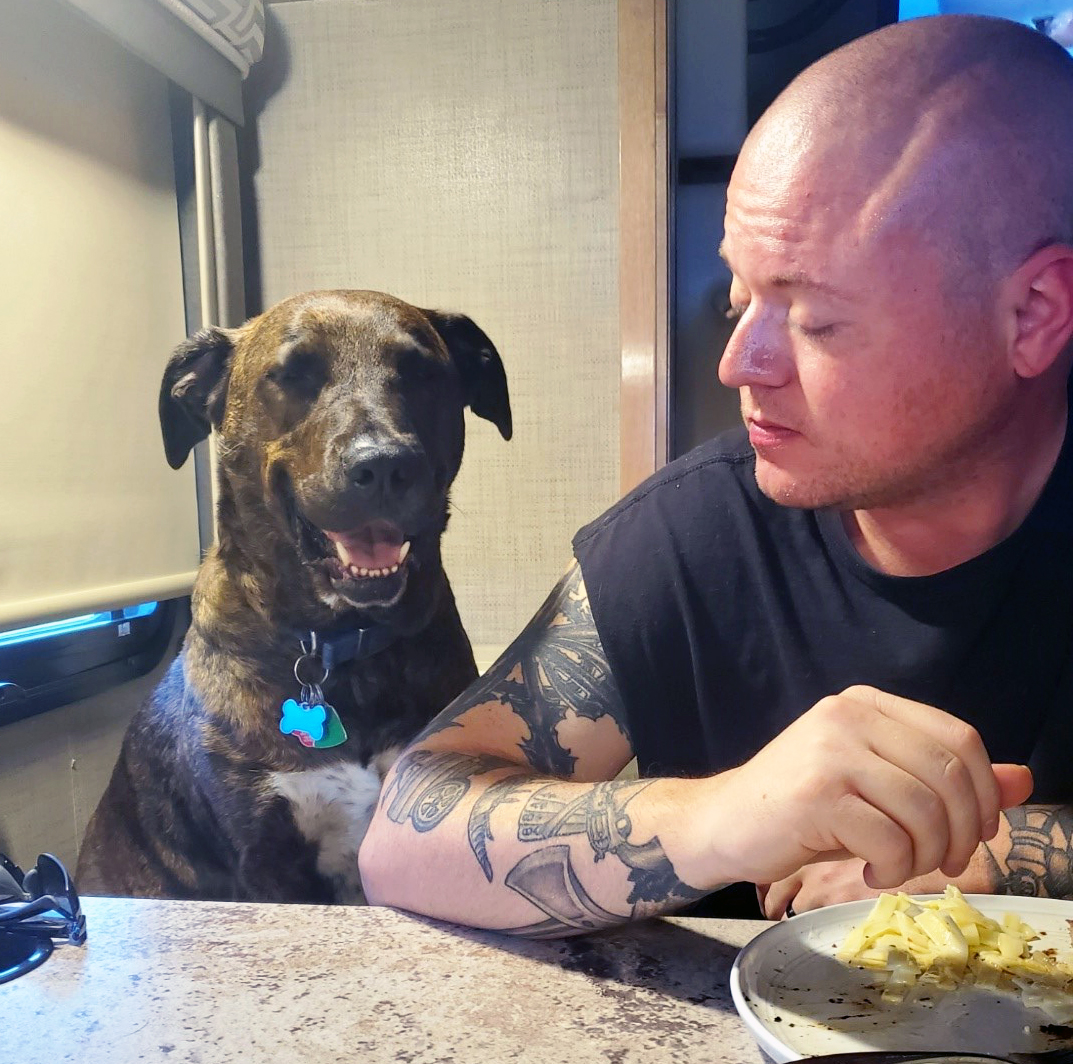 Camping for beginners
Our first road trip with our three dogs was a two-week journey to Nova Scotia, Canada, in a 2012 Toyota Highlander, to "camp." With no tent, no hotels and no RV, at the time, our car was the only option. It did not take long - I think it was on day two - that we decided an RV was the way to go. What we were doing was just downright rough. As soon as we returned home, we explored the RV dealership and did some research on Google. We chose a tiny RV the first time because we did not think we could drive the 31-foot or bigger models. Looking back, that was a mistake, and we should have started with the bigger one we have now the 31-foot Thor Motor Coach Quantum.
Why we chose the RV lifestyle
One of the most significant selling points of the RV lifestyle for us? To see a lot of the country and grow as a couple. You don't know how to work together to fix a problem until all you have is each other and luck. Another huge selling point is the flexibility we have to travel with our dogs. We have three rescues from our local shelter who go with us on every trip we take. Honestly, we like to joke that they bought the RV, we just financed it. When we were doing our walkthroughs to buy our current RV, we literally would say, "Will this work for the dogs?" or "How would the dogs do in this one?" It was all about making sure the dogs were comfortable.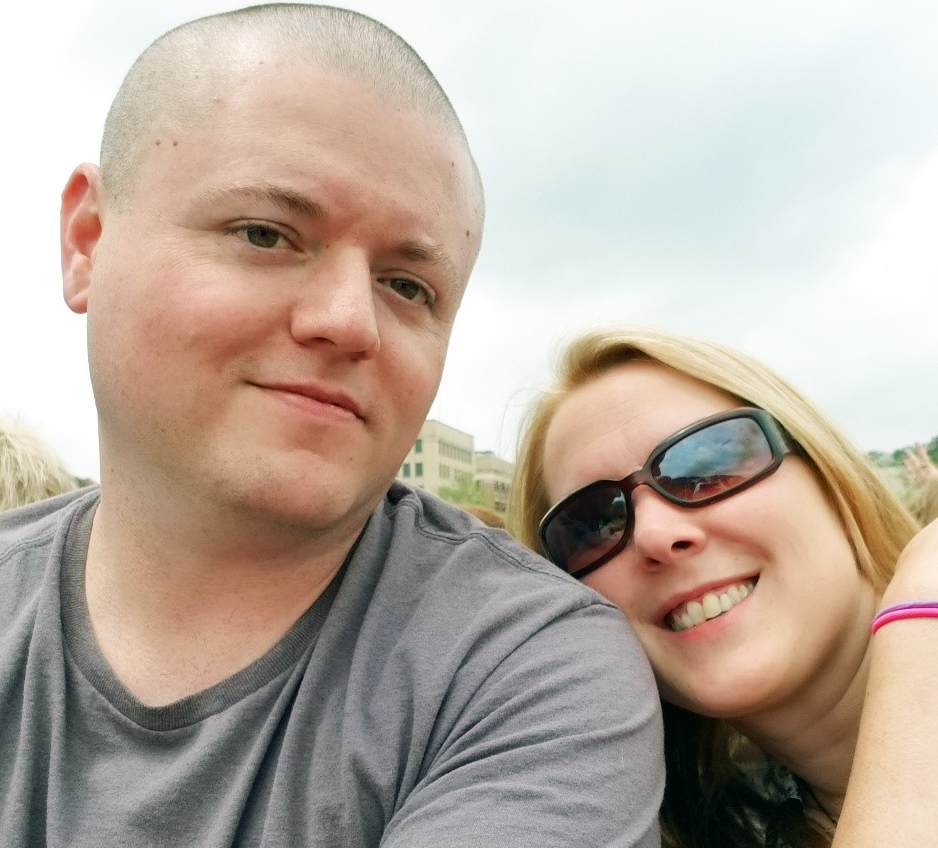 How we found the best RV for us
We went back and forth between the different classes (there is Class A, Class B, and Class C) before finally deciding on the 31-foot Thor Motor Coach Class C Quantum. This RV features a sleeping space above the driver's area, two bunks, a queen bed in the main bedroom, and two fold-out sleeping options in the dinette area and couch. Quantum sleeps eight to ten people. One of the benefits to a Class C RV, especially while traveling with kids, is always having access to a bathroom for emergencies. The other huge selling point for us was the induction cooktop, which is fantastic.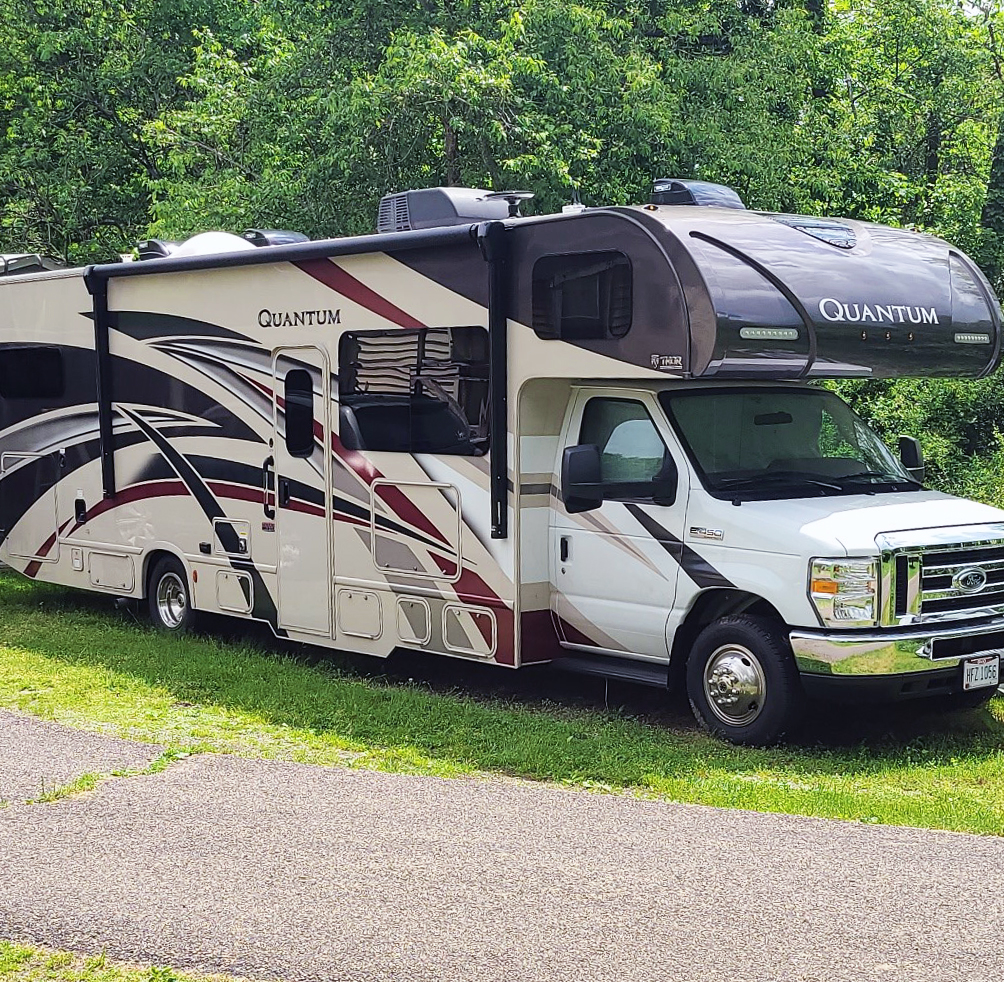 Class C RV features we love
Another feature we enjoy is the tankless water heater that warms the water to a specific temperature. Our motorhome also has an outdoor shower, which allows us to clean the dogs before getting into the RV. Our Quantum also has plenty of storage and a full-size residential refrigerator.
Why travel with dogs?
However, enough with the technicalities and let's get to the real question: What would possess you to want to travel in an RV with your husband and three dogs?
The short version of why we chose this lifestyle is freedom. We have the freedom to go where we want and do what we want to do, without worrying about where we will stay and how we will get there. We have driven from Ohio to Wyoming and back, we have driven to Halifax Nova Scotia, Canada and back, and many other places in-between. 
Benefits of RV travel
As we travel this way, we meet a variety of people and meet all sorts of characters. We met a lovely young lady in the Information Center in Nova Scotia who gave us the inside scoop on the best local blueberry pie, which, by the way, did not disappoint. We met a former truck driver from Wyoming, who travels full-time with his wife and dog. He gave us the inside info for a Farm-Tek carport building for our RV to park for the season's end. We also met a nice man who offered us a spot to park in his yard if we could not find a campground with space in Halifax.  
Those are just a few of the fantastic people you will meet. Not to mention the views and attractions you see along the way. As you are travel and live in an RV, you will see the classic Americana that some leave behind in the digital age. You will explore lands that have been around since the teens, and you will imagine all the stories that have unfolded in those places. When you think about it that way, it is genuinely humbling - our place in history books. What story will you leave behind?
Questions? Comments? Contact us on social media: Facebook, Twitter, Instagram
Shopping for a motorhome Made to Fit™ your family? We offer a convenient Dealer Locator.
Questions about a coach you're interested in? Our Coach Link® Sales Advisor is happy to assist.