RV Trip Meal Planning
December 29, 2020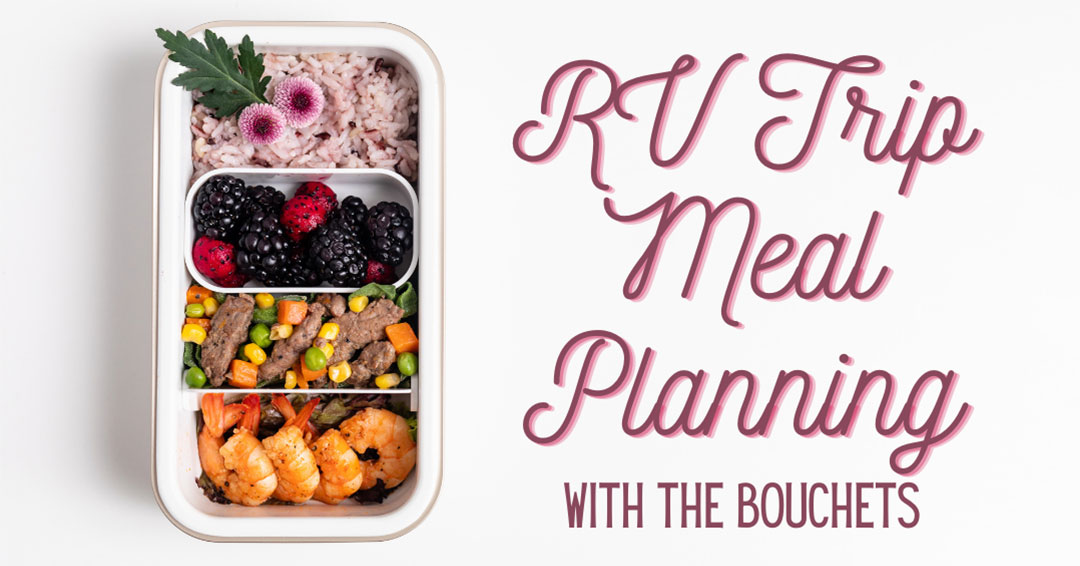 by Vanessa Bouchet

When planning meals for a typical RV trip, we try to prepare for every meal in the most efficient way possible. We minimize extra items brought and produce less waste by planning this way, which is always a plus when you have a limited amount of space to start. Usually, we plan for trips that are about one week long, preparing for seven days' worth of meals and snacks, including dog meals.
Making a Meal Plan
The easiest way to plan a meal is to do a simple chart or list with each meal needed for every day and what you plan to make. It would look something like this:


| | | | | | | | |
| --- | --- | --- | --- | --- | --- | --- | --- |
|   | Sunday | Monday | Tuesday | Wednesday | Thursday | Friday | Saturday |
| Breakfast | None | 2 eggs, 2 muffins | 2 eggs, hash browns | 2 egg sandwiches | 2 eggs, muffins | 2 eggs, hash browns | 2 egg sandwiches |
| Lunch | Lunch | Turkey & cheese sandwich and chips | Cup of soup | Turkey & cheese sandwich and chips | Cup of soup | Turkey & cheese sandwich and chips | None |
| Dinner | Dinner | Personal pizza 2 | Ribs, mac & cheese, green beans | Steak & chicken grilled, rice | Hamburgers and tots | Hotdogs and tots | Leftovers |
| Snacks | Snacks | Chips | Pretzels | Peanuts | Crackers | Popcorn | none |

Make a Shopping List Based on Your Needs
By organizing your meals this way, you can make a shopping list based on your needs. Then, you know you have everything you need for your trip, and you won't be bringing excess. We plan every trip we take, which causes less stress while traveling because we are ready. One question that might come up is, "Why do you prepare for the whole week? Why not just go to the store?" The simple answer is that our current setup does not allow us to tow a car, and we do not want to travel separate from each other, so we only travel with the RV. We do not travel by another vehicle. We always prepare all meals for the week because we can't re-stock items unless we leave the campsite.
Meal Planning Benefits
I always plan for easy meals on the days we are arriving and departing. We usually have a long drive and are completely exhausted when we get to our destination, so we want something simple, quick and easy - like a personal pizza or cup of soup. Another reason to prepare is that the more planning you do, the less stress you have when you are packing to leave. The week before we plan a trip, we create our weekly meal plan. Then, we "shop at outhouse" (meaning take the items we already have from our home base) and make the grocery list to buy whatever we still need. Extra planning might seem like overkill, but trust me, the last thing you want to do is get to your campsite, get all set up, then realize you forgot the toilet paper or wine. Planning goes a long way to ease the stress of traveling. Check out the master planning checklist for a detailed description of items to bring with you.
Meal Planning for Pets and Little Ones
The last thing to consider in terms of meal planning is planning for your animals and kids. When we make our meal planning list for "people food," we also add up the amount of dog food we will need to bring with us. We use six cups of dry food and two cans of wet food per day to feed our three big dogs. For one week, that would be 42 cups of dry food (call it 45, just in case) and 14 cans of wet food (call it 15, just in case). We have found the easiest way to prepare the dogs' food is to get plastic storage containers for kibble, pour in the needed amount and throw the cans on top, with a bag of treats. A secure storage bin is an excellent way to prevent sneaky dogs from getting into their food when we are not looking.
We do not travel with kids; however, I would say the same methods can apply for children depending on their age. Prepare a list for the kids, just like the adults, and shop the same way (first in your home, then at the store). I have gone on trips, both prepared and not prepared. I would strongly advise the planning portion of the article as your best option. Take your time and try to establish a good plan. You will have a tasty, relaxing trip.

New to RVing? Check out our free RVing How-To Guide. 
Questions? Comments? Contact our Coach Link Sales Advisor.

Are you searching for local inventory? We offer a convenient Dealer Locator.