Navigating Relationships in Close Quarters
June 12, 2020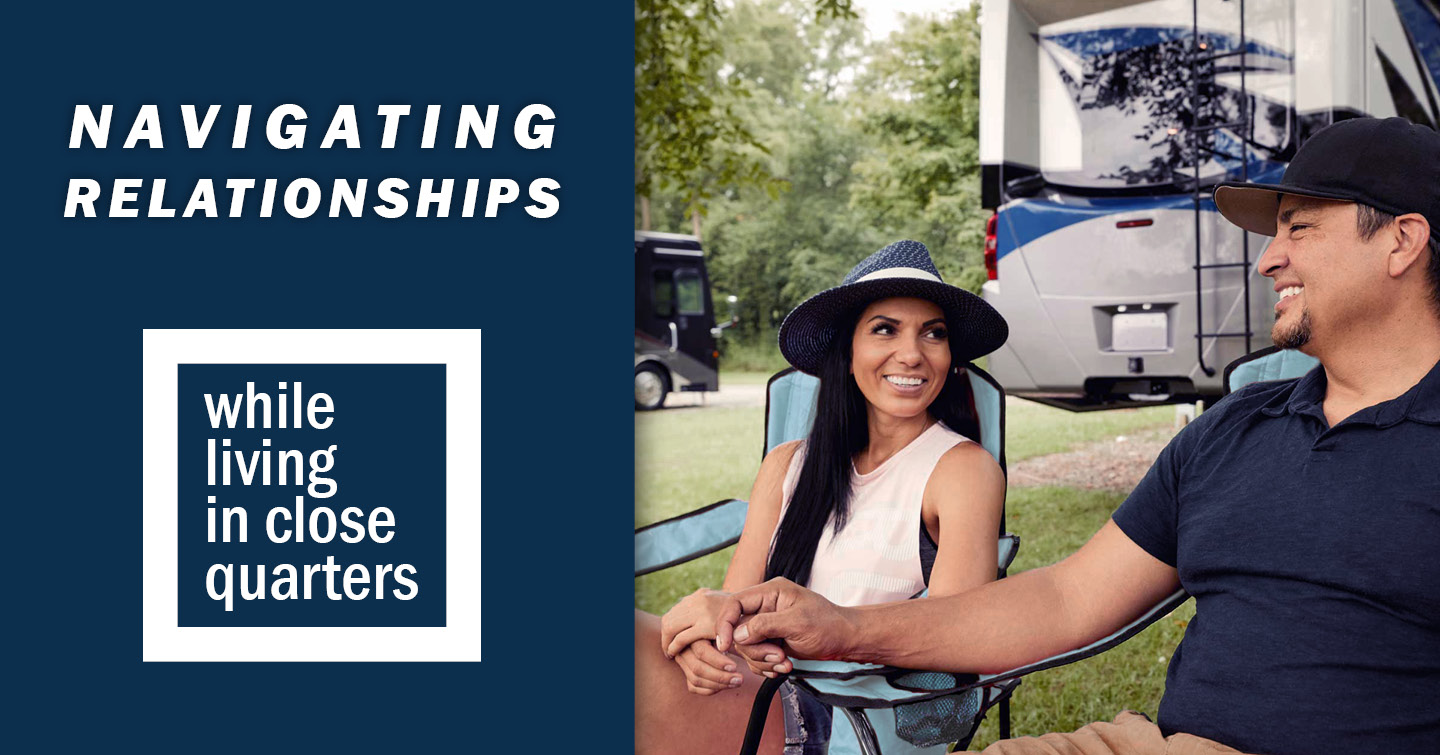 You might have thought it's not possible to get closer to your loved ones than you already are when you decided to purchase and live in a motorhome full-time. Even if you only use your motorhome to vacation here and there, the coronavirus pandemic has caused stay-at-home orders to promote social distancing, which in turn means families are spending more time together than ever. Herein lie some tips to navigate relationships in close quarters.
Change is inevitable, embrace it.
Don't jump to the conclusion that it will be an easy transition because of how long you've known each other or been together, because relationship changes are inevitable, especially when living in close quarters. Time brings us changes: personal changes, physical changes and external changes. As you spend time traveling in your Class C RV, this brings the opportunity to learn something new about your partner every day. It's quite possible that the circumstances of RVing could be one of the best things for your relationship - embrace it.
Two important C's: communication and compromise.
Embracing change may not always be as easy as it sounds, particularly if you aren't following the two C's, communicating and compromising. Now here's something you've probably heard all of your life: communication is key. The reason this saying is so familiar is because of the truth that it holds. No matter how big or small of an issue, if something's on your mind, you need to share it with your partner - after all, you're called partners for a reason. Psychologists encourage talking it out while it's on your mind so it doesn't become a bigger issue or argument later.
As you and your partner journey through the country in your Class A motorhome, finding balance is essential. Accommodating your partner's wishes to find a happy medium is a meaningful gesture that shows your significant other that you're listening, understanding and willing to work as a team. Not only is communication important during this process, so is self-awareness. What this means is to simply be considerate; maybe if you did something from your wishlist last time, you can do something off of your partner's next. You may hit road bumps along the way but the destination is worth it.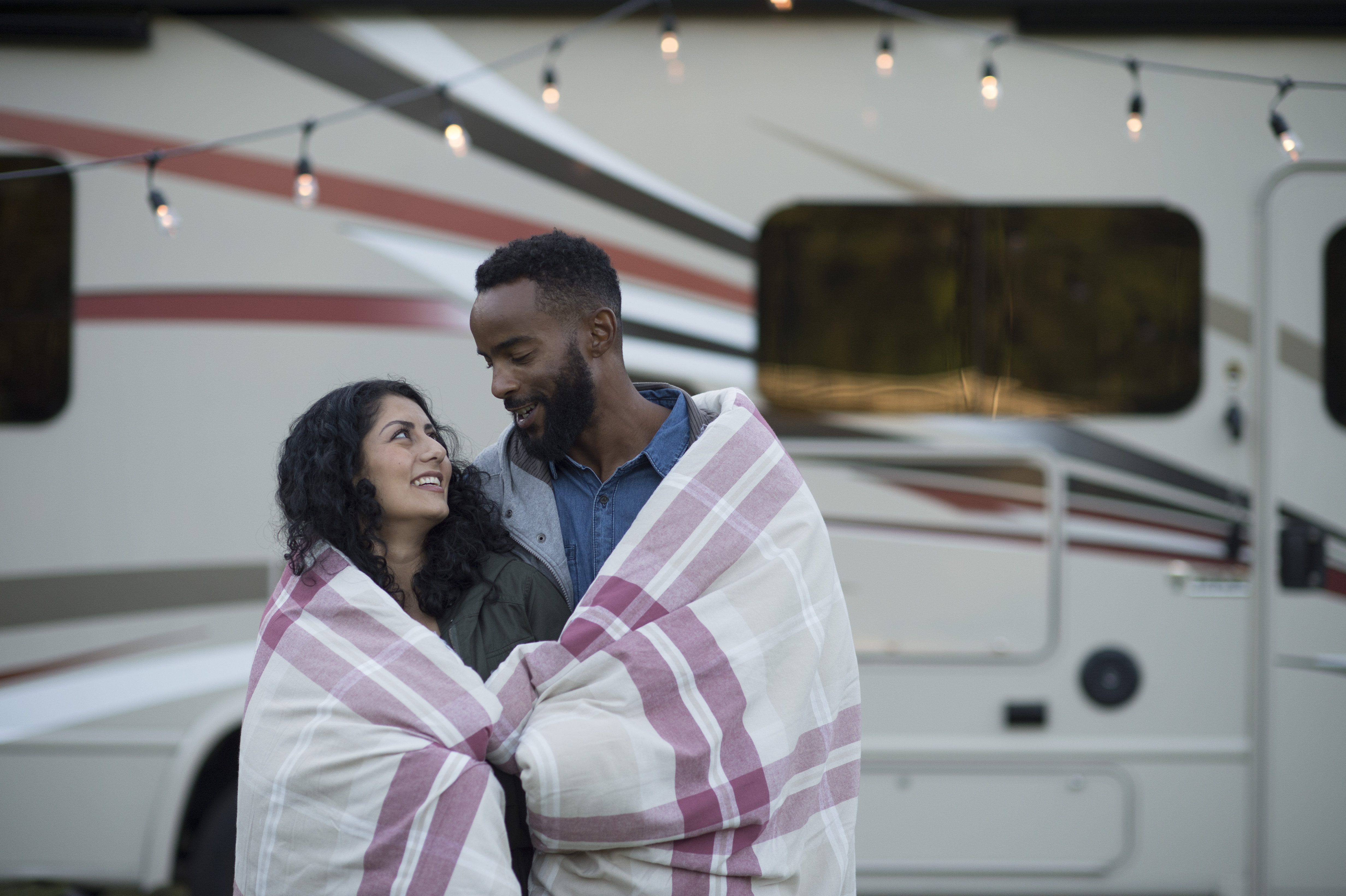 Take turns and do your part.
            As you and your loved ones share experiences together, it's important to also share the workload. Similarly to residential homes, RVs take some domestic work including preparation of Mobile Meals, dishes, laundry and sweeping. Getting to your dream destination requires driving and navigation. When you're heading to a new campground tanks must be cleaned and emptied, campsites must be set up and, of course, campers must decide which activities or entertainment will come along. Doing your part will result in a more enjoyable time together.
Get some alone time.
            We all love spending time with our families but it's important to have time to do your own thing, especially when living in close quarters. Alone time is healthy. You need time to clear your mind, refocus and destress. Traveling in the country in your diesel pusher is the perfect time to put energy into a hobby or find a new one. Go on a jog through the trails, create a summer reading list and immerse yourself in a good book or grab your fishing pole to reel in your biggest fish yet. In turn, your alone time will make your quality time with loved ones more enjoyable.
Create friendships on the road.
            With social distancing orders in place it may be a bit tricky, however, making friendships on the road is a great way for you and your loved ones to get out of your comfort zone and share experiences together. It can be intimidating but well worth it to make connections with those who enjoy the adventure as much as you and your loved ones do. If you are living full-time with your kids, they will be over the moon to make some friends too.
            Navigating relationships in close quarters can be complicated even for those who have been together for many years. RVing has changed lives and improved relationships for many who have embraced the lifestyle. If you're looking for a motorhome to begin this journey with your loved ones, you're in luck, we have a great new 2021 lineup.
            Class A diesel RVs are perfect for families that want to hit the road full time. Taking turns behind the wheel will be no problem in Aria®, thanks to the new integrated headrest and adjustable lumbar support on the cockpit chairs. In the bathroom have your own space with the new dual rear vanities in the 3901 floor plan. Get some alone time while reading on the King-size Tilt-A-View® bed as your partner watches their favorite movie on the Sony® Blu-Ray player in the living room.
            Class C motorhomes are perfect for an intimate vacation for two or to bring the whole family along. Chateau® just got a brand-new interior decor update, which will excite you to make friends at the campsite to show off your designer-detailed home. With 13 unique floor plans to choose from, you and your partner can decide upon the best layout for your family and lifestyle. Compromises will be easier with the MEGA-Storage® compartment.
Searching for local inventory? We offer a convenient Dealer Locator.
Questions? Comments? Send a message to our Coach Link Sales Advisor.