Hangin' with the Hagens discuss Cabin Fever during Social Distancing
Let's talk about cabin fever. Our family is no stranger to cabin fever! Travis and I grew up, got married and even had Lou in the Midwest. Winter brought on strong feelings of needing to get out and go anywhere warmer. For us, February was the worst. After moving down to Texas over seven years ago, that itch wasn't as predominant. Our first Christmas in Texas, we were even able to spend some time out on the lake in gorgeous weather!
In the last few weeks, we've been watching the information develop over the Coronavirus. We started being a little more cautious and spending less time in public places. We evaluated each meeting with friends or family and tried to decide whether we should go or not. At first, we didn't let it affect us or our plans. We watched the news come and go, but thought that we were okay. Then we started hearing whispers of the possibility of things closing. It wasn't until our home church decided not to hold its normal gathering that red flags really started to show up.
Cabin fever can happen anywhere, but in our house, I don't know that it would be hitting us in the same ways. Our house had been tucked in the back of a neighborhood that only had a family or two other than us that had younger children. We had our own yard and even a small swing set. We had storage space. And in our house, we even had a slightly different personality. We weren't as outgoing. I would have loved to have been stuck in my house for a few weeks. I would have enjoyed being able to take time to clean things that had been neglected, played games or read books. Even in our first RV, I probably would have greatly enjoyed the time to ourselves. I wouldn't have minded hiding away from the world, baking and playing Legos with Lou.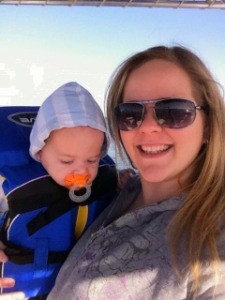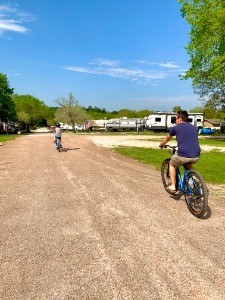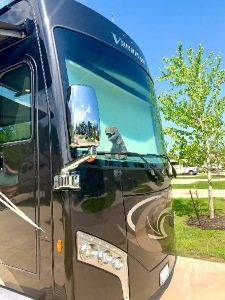 But we changed socially, as we started meeting other full-time RV families in our campground. Many families had decided to winter in Texas this year, and it's been a huge blessing. Lou has been making a lot of new friends, and we've been able to have multiple families over for dinner over the last few months. In fact, Lou started asking who was coming over for dinner instead of what we were having for dinner. "Well, there's always someone coming over!" he'd say. Dixie has even been enjoying making a few select pup friends and playing with them at the dog park.
So when social distancing started, it became a little harder for us socially. The campground we're staying at put up signs requesting that no groups larger than six people be together. We had already started the social distancing and told Lou (and Dixie) that we wouldn't be doing any park time right now. It's been over two weeks since we've gone to the park. We've walked passed it, and Lou will tell me he wishes he could go play. I know that this has probably been the hardest for him. Because all of our amenities are public amenities at the campground, we've been limited to what we can do to get outside. They officially closed down the playground this week. The pool has been closed for a little longer than that, although prior to this week it was still too cold for me to go swimming. The recreation center has been closed down and even the onsite restaurant has closed. 
In that way, for us, cabin fever has soaked in. Each of us itching to be able to go out and be social. The RVing community is full of such wonderful and social people and I'm able to see just how much we've been enjoying that when we've had to limit it. We walk passed friends' rigs and wave. They may not always see us, but it definitely helps to think they have.
We've made sure to spend a lot more time intentionally outside on bike rides and walks. The doctors say that vitamin D is necessary for staying healthy. Dixie's going to start picking up that "getting our sillies out" involves going outside soon with how often I've said it. During our recent bike ride, we were even able to apply our math lesson to it as Lou explained what it meant to go around the perimeter of the park.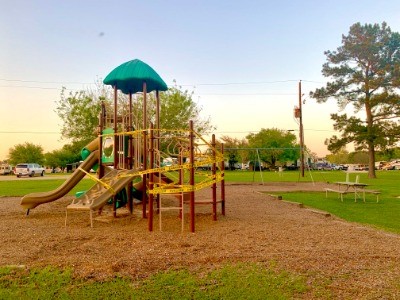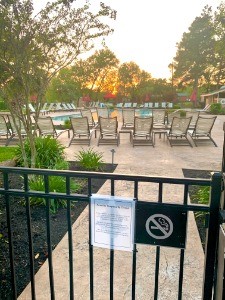 There are many upsides and it has been great that even though we're in a quarantine mentality, we have some beautiful views and great places to stretch our legs. The group of families in our campground even had a "bear hunt" where you could walk around the campground looking for bears hiding in the windows of other rigs. We were happy to participate, but our bear was a little more prehistoric in shape. 
All in all, we understand the importance of social distancing and are honoring it; it hasn't stopped us from enjoying the community areas of the outdoors!

Do you have questions for the Hagens?  Text them to us and we'll get those answered, 574.584.2074 (our #TMCHappyCamper line) or message us on Thor Motor Coach's Facebook page.
Follow #HanginWithTheHagens on Social Media
Facebook Page: Hangin' with the Hagens
Instagram: @HanginwiththeHagens