Hangin' with the Hagens in the Kitchen Quarantine-Style
Well it happened, we are officially in a stay-in-place order. Although this hasn't changed much from what we were previously doing, it has made us appreciate that we have everything we need from our Thor Venetian J40.
My personal favorite aspect of our rig is our kitchen. I had told Travis before we started looking that he would never be able to get me to live in a Class A. I didn't see that it was possible based on the layouts I had seen before. Travis took that as a challenge and started searching. Scouring the internet, he found the Venetian layout. I gently waved it off stating that I still wasn't sure because I wasn't standing in the kitchen. After seeing our rig in person (and quite a few other options), I caved. We could live in a Class A and it even seemed like the perfect rig for us.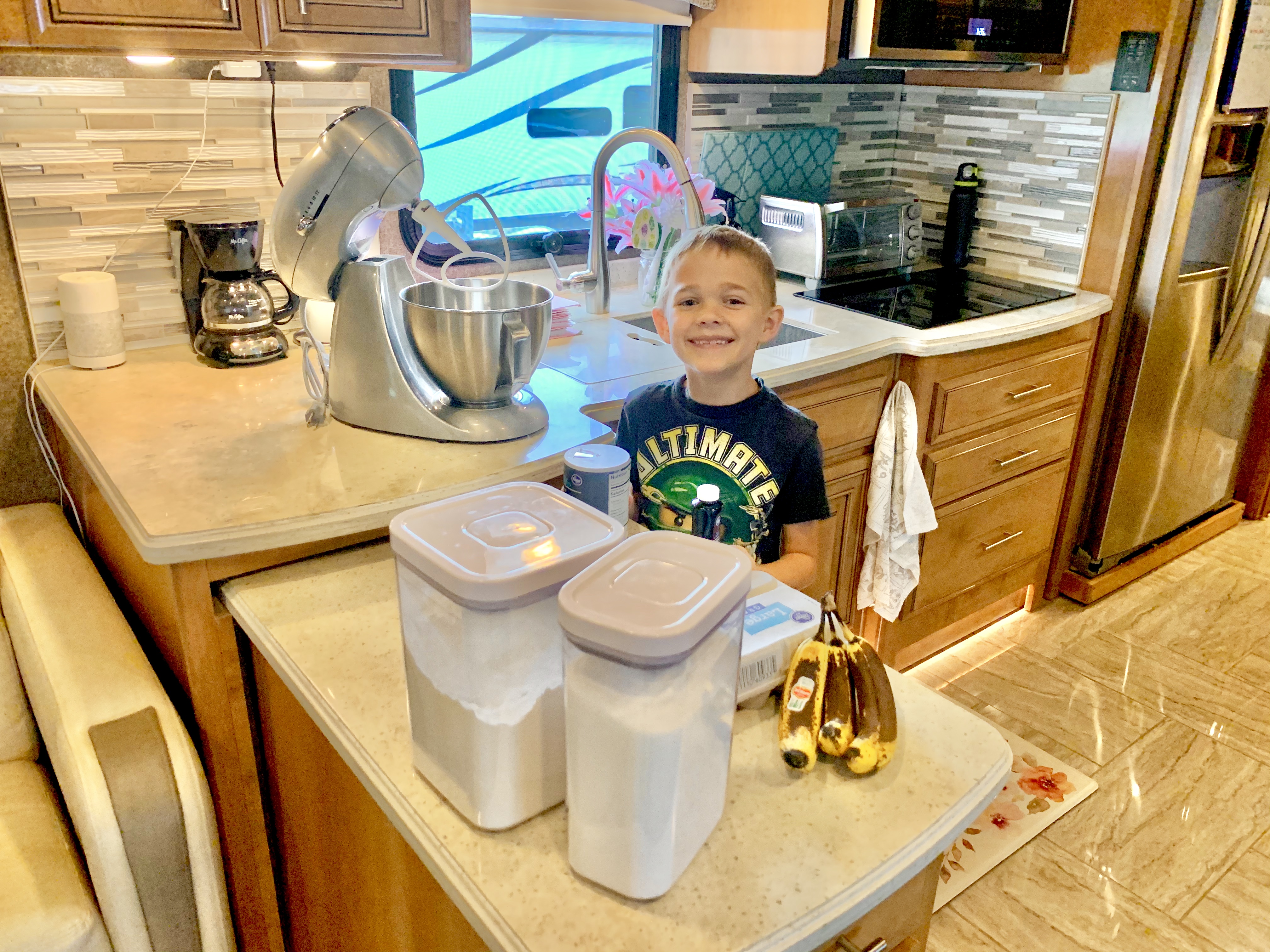 There were a few things that were non-negotiable to me. One, I needed to have a kitchen that allowed me to cook and bake the way I had in our home. Two, my mixer would be there too. The Venetian offered not only space for my mixer to come along, but an amazing kitchen! The pull out countertop is one of my favorite things to use and show others! Unlike other RVs that we had seen, this extension moves the entire cabinet with it, allowing plenty of stability for whatever job arises! It's not always required to have it pulled out as the counter top's depth is more than sufficient, but it's been a great alternative when assembling dinners or cupcakes! We also love having a residential refrigerator again. I didn't think I missed it until we had one again. Now, I have more than enough space for my groceries and drinks, and we love the ice maker in the freezer!
Lou and I have begun watching a lot of baking shows with our extra time. This has encouraged us to do more baking than we had previously (which was still a lot!). Our convection microwave has allowed us to bake as if we were in a sticks-and-bricks house. It was intimidating to learn how to properly use it. I was positive that there would be one time where I'd put bread in, walk away and come back to find it blew up the microwave. Not only has that not been the case, but I have come to find out that the convection microwave oven rivals that of the convection oven we had at home. Sure it's a little smaller and can only fit one batch of cupcakes in at a time but the quality of the bake has been fantastic! This week Lou took the reins and whipped up a banana cake.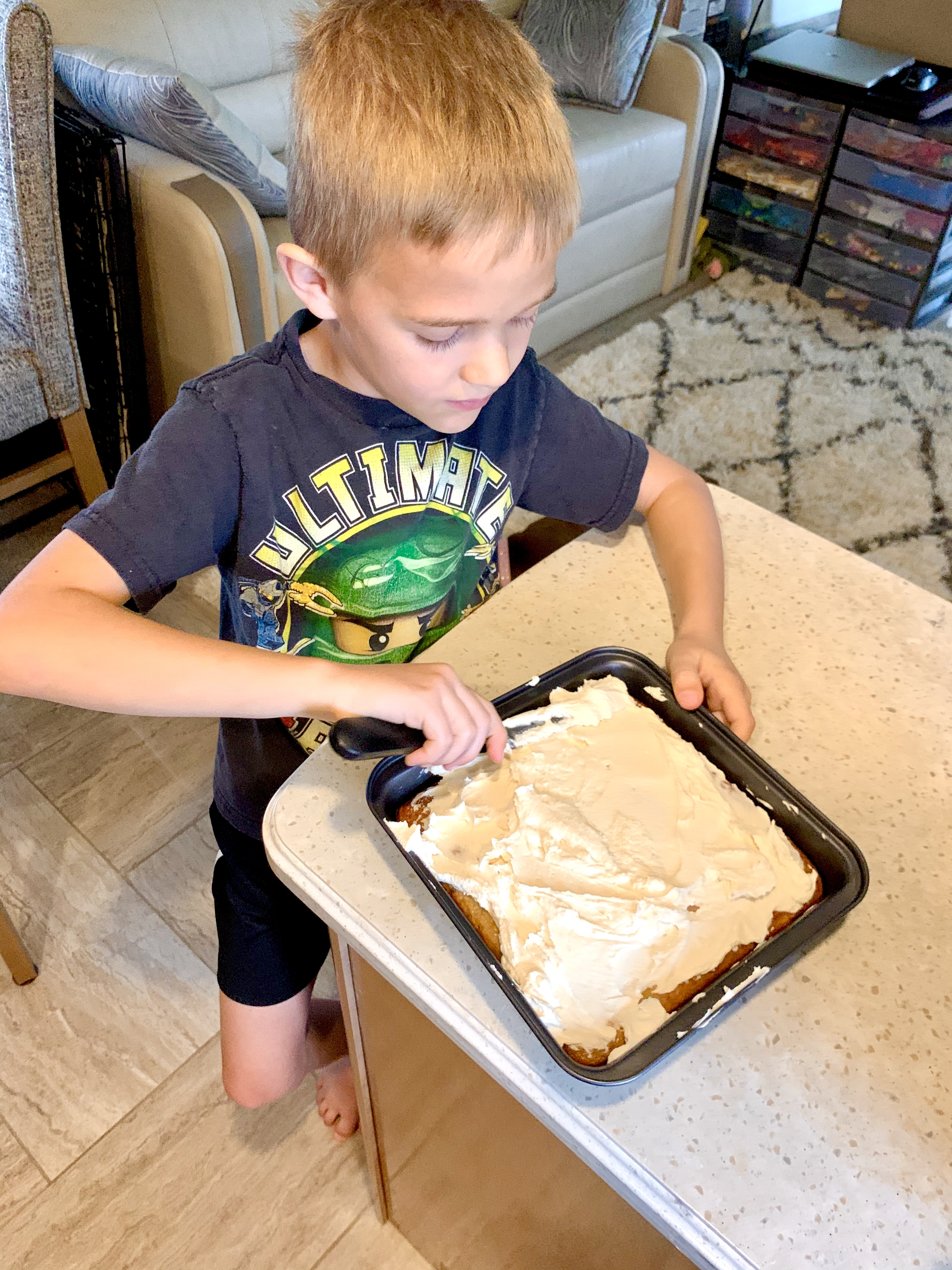 We love being able to make quality dinners right from our rig. Just the other night we made homemade spaghetti with meatballs and garlic herb bread. The amount of space in the kitchen has completely exceeded my expectations!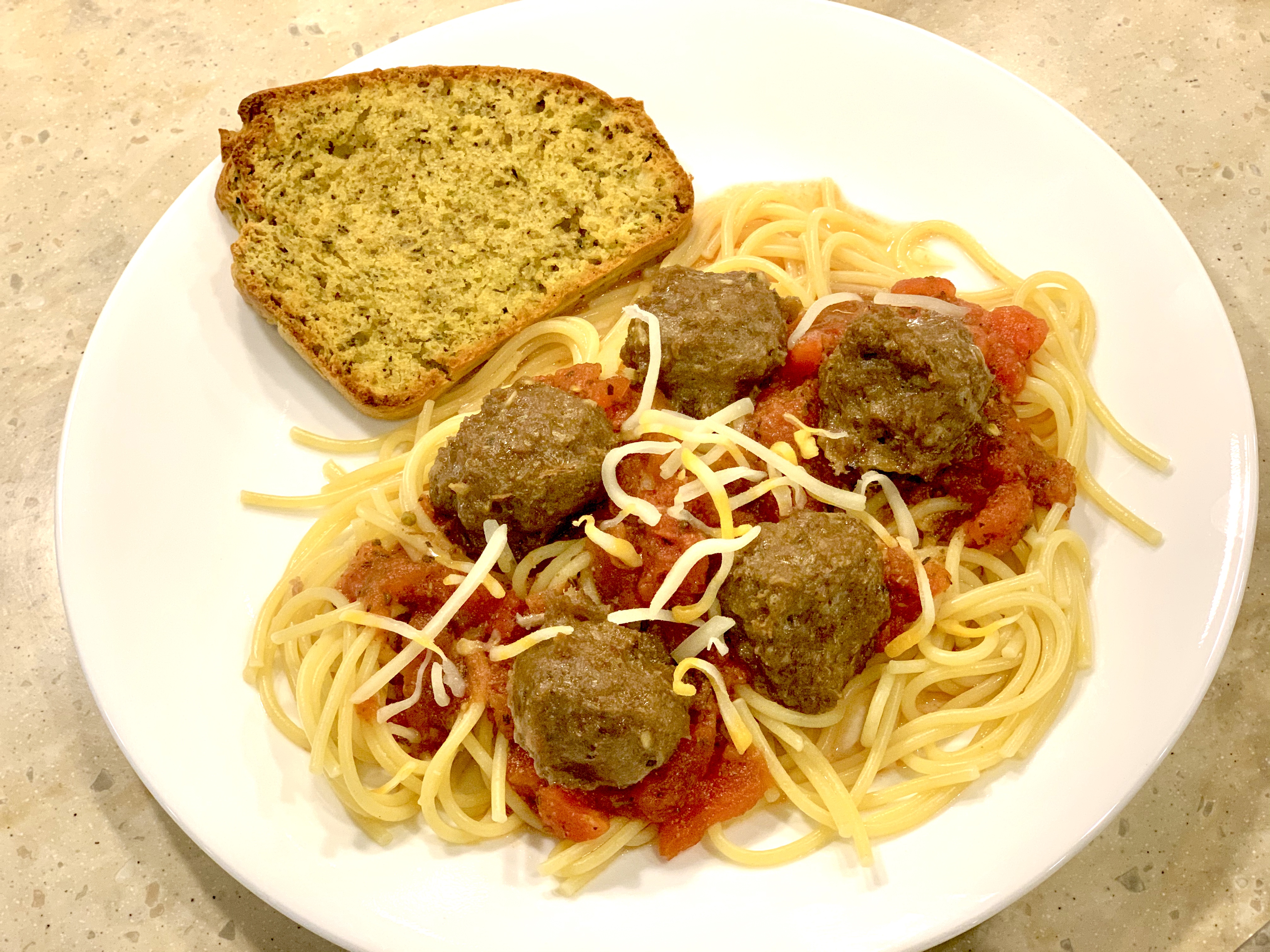 Living out of an RV brings its own challenges. Previously we had to take our laundry to a laundry mat. With all the sanitizing that needs to happen in public spaces, I'm extremely grateful that we have not needed to do that since living in our Venetian. The stacking washer and dryer have been so useful during this time of self-quarantine. Let's be honest though, it doesn't take a pandemic to love having a washer and dryer in your home, but it sure reminds you to be grateful for them!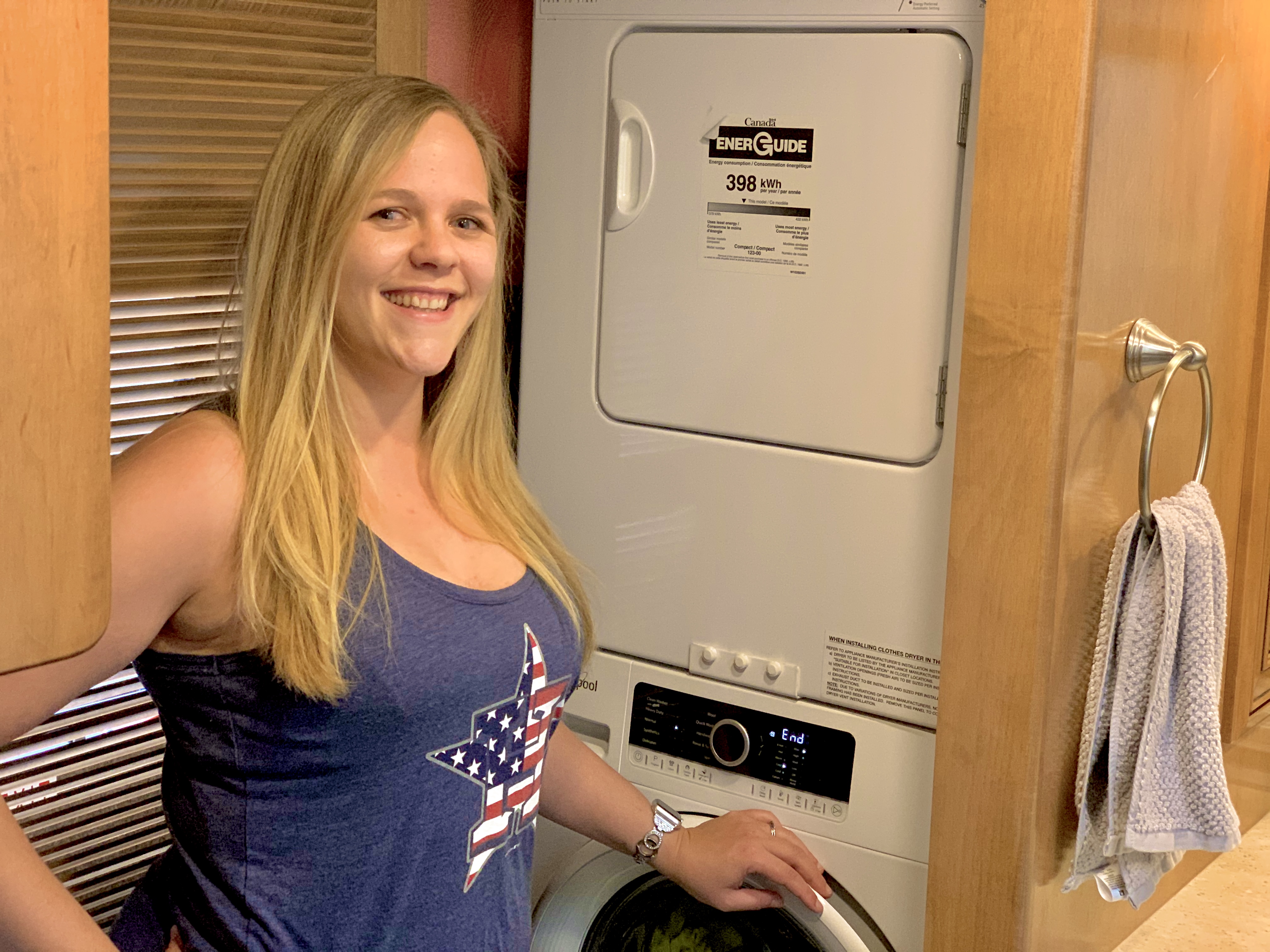 We also love the extra space in our living room! We find whether we are all snuggling in for a movie, reading or playing a game, we don't run out of room. It's been a great place to entertain friends and family as well. Or perhaps any spontaneous dance party that breaks out.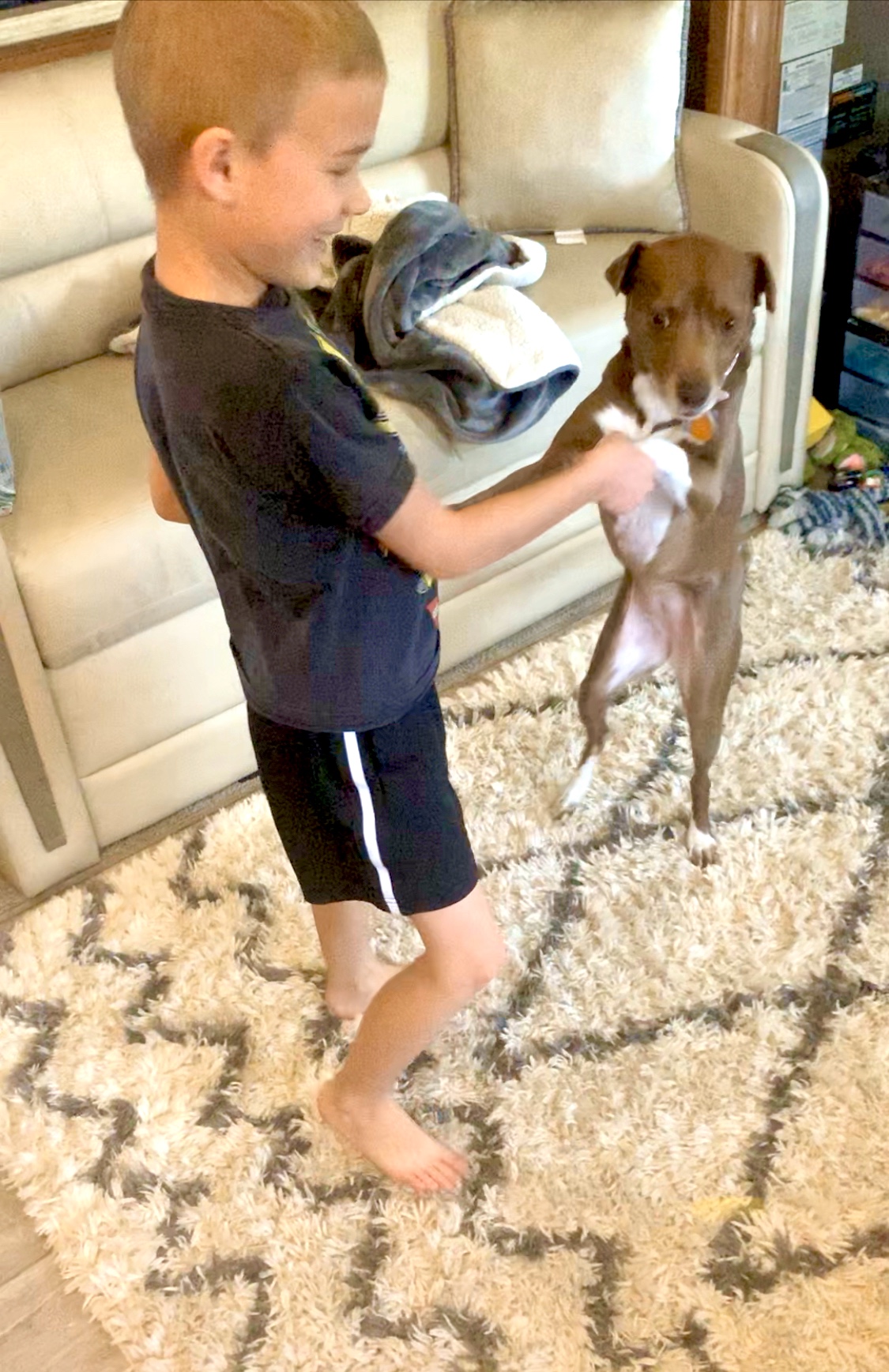 All in all, we are pleasantly surprised at how prepared we feel for the crisis in this rig. We are definitely enjoying it more now than ever!
Do you have questions for the Hagens?  Text them to us and we'll get those answered, 574.584.2074 (our #TMCHappyCamper line) or message us on Thor Motor Coach's Facebook page.
Follow #HanginWithTheHagens on Social Media
Facebook Page: Hangin' with the Hagens
Instagram: @HanginwiththeHagens