Great Homeschooling Resources During COVID-19 and Anytime!
We've been homeschooling for the last two and a half years since Lou started in kindergarten. He had previously been enrolled in our local school district, but when we decided to travel together as a family, we made the decision to homeschool. Little did we know, there are so many decisions and choices to make! 
But after a few years, we've been able to say that we're starting to get the hang of it. With COVID-19 social distancing in place, many families are now experiencing the joy and the craziness of having school at home.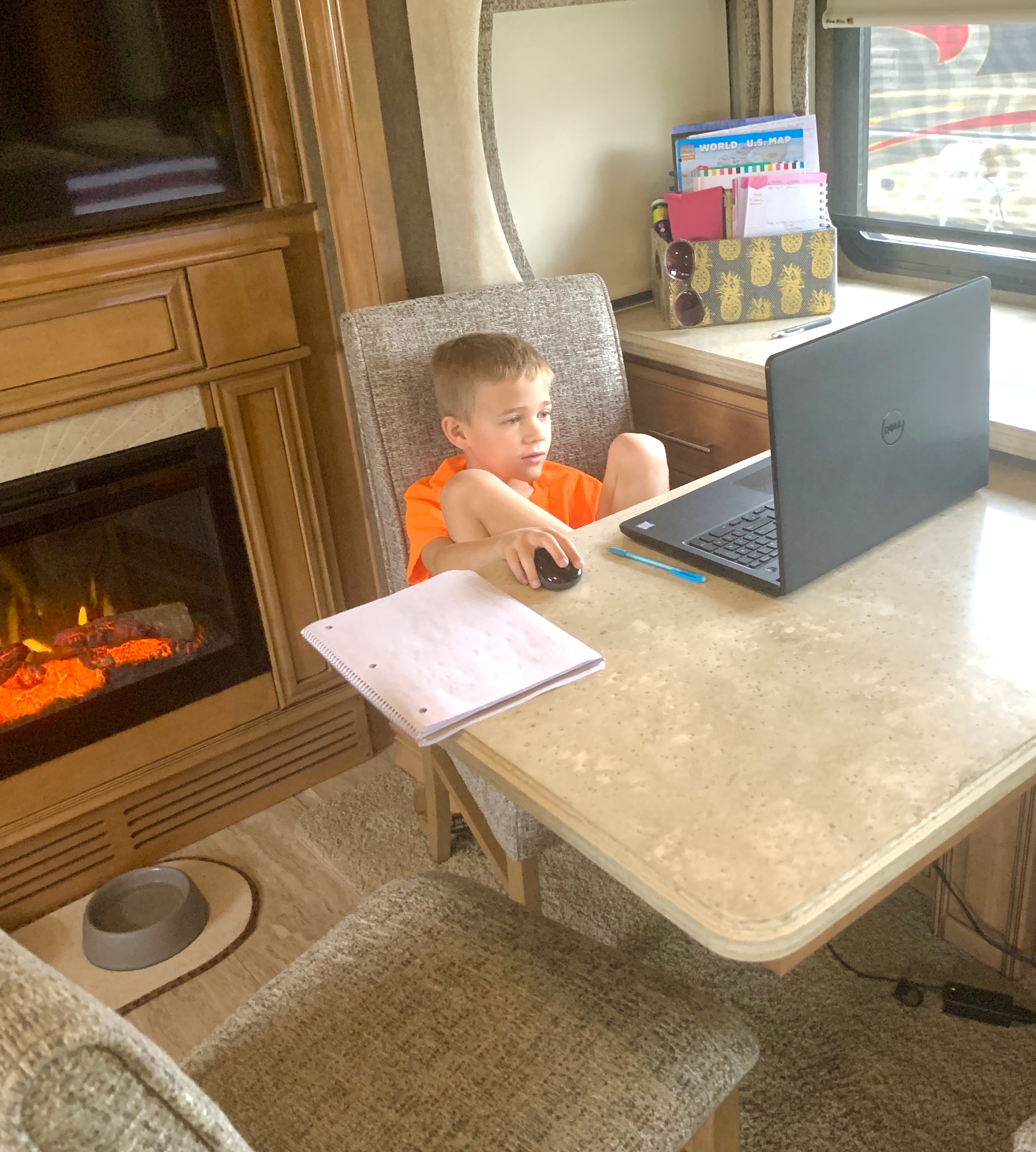 We'd love to share with you some of our favorite websites and applications that help apply what school is teaching!
BrainPop (www.BrainPop.com), is currently free but plans start at $21.95/month for homeschool families.
We started using this website recently as a filler for some science lessons. They have wonderful videos, games, and quizzes. BrainPop offers different levels including K-3 and Spanish.

Prodigy (www.ProdigyGame.com), has free gameplay but offers membership options starting at $8.95/month.

We've been using this website for about a year now. Prodigy offers a math game world that kids get to dive into and battle others to win prizes, gems and more. Parents and teachers have their own portal that allows them to see a variety of reports including the progress, student comprehension, usage and even assign lessons. Lou asks for this website more than any other. We have used both the free gameplay and the membership option. Although Lou enjoyed getting double the rewards, I wouldn't say that the membership is necessary, and I would recommend using their free gameplay to start.

Typing Club (www.TypingClub.com), free but offers a premium membership for $8.95/month.

We started using Typing Club this year when Lou was introduced to more computer work. Although some of the activities seem a little juvenile for his age group (it goes through the alphabet for the beginning lessons), it's an excellent introduction to the keyboard, placement of hands and even provides kids with warm-up activities to stretch their hands. The website also offers different plans that grow with the children.

DuoLingo (www.DuoLingo.com), free but offers in-app/web purchases.

DuoLingo brings the joy of learning other languages straight to your home! Through pictures, sounds, voice recognition, and even some spelling, you can learn a number of languages. We've been using this website and app since the beginning of the year when we introduced Spanish. Lou will play on this app even when we aren't doing school. As you proceed through the lessons, it awards you gems and offers different achievement badges that show off what the kids (and adults) are learning.

National Geographic Kids (https://kids.nationalgeographic.com), free.

I've been utilizing this website to provide great videos for a number of different subjects. We've also been known to find National Geographic Kids videos on YouTube. Lou loves learning about different animals through their videos and games.

Our Local Library, free.

We utilize our local library even when we aren't home! We love being able to download books from OverDrive or Libby app and read on our Kindle. The best part is no overdue fees; the books are returned when your limit is up. We go through so many books, it's hard to purchase them and carry them in our RV or borrow them from the library and remember to return them before we need to head out to a new destination. We also have been utilizing the encyclopedia options they have for us through the research projects we've had this year. 

PBS Kids (https://pbskids.org), free and currently offering a newsletter being sent straight to you with daily activities and tips during social distancing.

We have utilized this website for a few years now. We watch some of Lou's favorite shows and he gets to apply some of the things he learns in their online games. In the Parent section, they offer printable color pages, different craft ideas and even experiments. This is a great resource for younger families when you need a little more hands-on fun (and maybe less screen time). 

ABC Mouse (www.ABCMouse.com), free for the first month, $9.95/month after.

Lou utilized ABC Mouse almost every day in kindergarten. He loved the games and the playtime. I had all the apps downloaded to my phone for him to play on. I was able to really watch him grow and learn through games, stories and puzzles. I would recommend this for children in pre-kindergarten and kindergarten. They can grow out of this one.
Adventure Academy (www.AdventureAcademy.com) is the next step up for kids from ABC Mouse. We have not utilized this one yet but will be trying it out over the next month with their free trial. They have a wide range of subjects that the kids get to learn about and explore.

Epic! (www.GetEpic.com), currently free for the first 30 days, $7.99/month after. 

We use this app and website as a companion to both our school curriculum and for fun. Epic! offers non-fiction and fiction books with read-to-me options on a lot of books. They also have a wide range of videos that include different learning videos, fun science experiments, adventure and just for fun videos that the kids will love. We highly recommend this website and app for any families, but especially to traveling families with limited storage for a lot of books.

Teachers Pay Teachers (www.TeachersPayTeachers.com), free to sign up, additional purchases possible.

I use this website for many building blocks to our daily work. Teachers have come together to help support each other and their classrooms by offering the materials they've created in one area. Some may charge depending on the project and teacher offering it. We've used both free materials and paid materials, and it is one of my most frequent stops while I plan our school day. This website isn't just children, but also can be a great resource for parents as they find materials to help their children learn.
There are so many other options in the wide world of the internet, but these have been great resources for our family. Many different museums, zoos, and aquariums are offering different virtual tours or talks right now, and I'd also recommend looking for those! We've been on a few "field trips" over the last couple of weeks. During this time of uncertainty, bringing in play and creativity can really ease some of the stress. We love using educational websites for fun; Lou thinks he's just playing games, and we know that it's building the foundation for continued growth.

Do you have questions for the Hagens?  Text them to us and we'll get those answered, 574.584.2074 (our #TMCHappyCamper line) or message us on Thor Motor Coach's Facebook page.
Follow #HanginWithTheHagens on Social Media
Facebook Page: Hangin' with the Hagens
Instagram: @HanginwiththeHagens