Education on the Road
August 13, 2020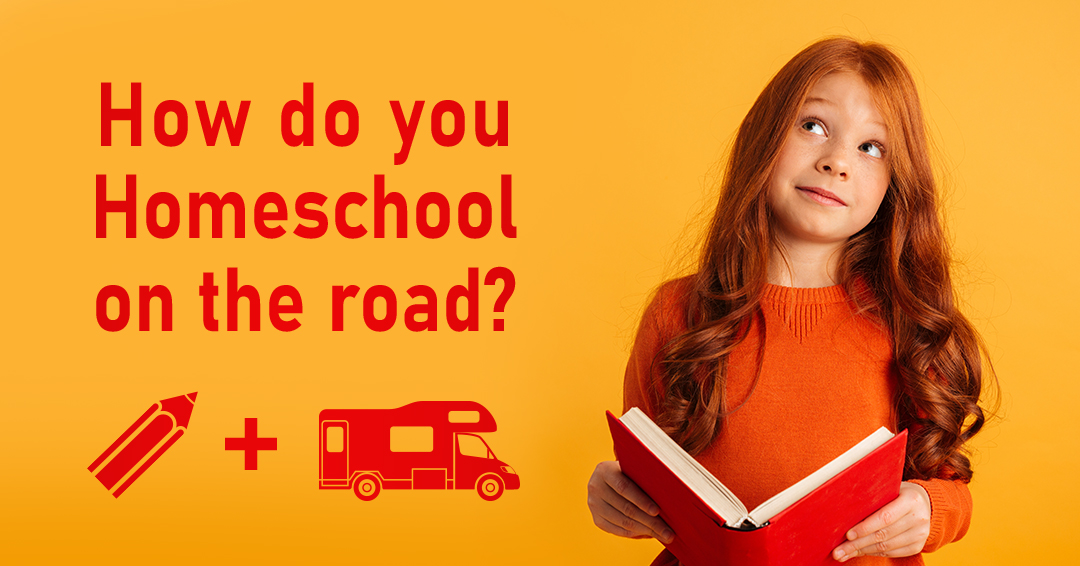 It's that time of the year again: summer is ending and the air is beginning to crisp, your home and backpacks are filled with supplies and the mental preparation for the school routine begins. Wake up, get your kids ready for school, pick them up from extracurricular activities, then back at home to help with homework. But, what if you "do" school a little differently this year? Maybe it's time to join the full-time RV lifestyle and begin road schooling.
What is "Road Schooling"?
Road schooling, as you may have guessed, gets its name from homeschooling - the only difference is being on the road in your Class A motorhome. Full-timers provide education to their children in a variety of different ways, including following a curriculum either entirely online or a parent-tech hybrid, parent-guided literature, or only by experiences (also known as "unschooling"). More often than not, parents opt-in to a mixed variety of these learning techniques, which we will describe at length later on.
Is Road Schooling Legal?
Requirements and laws for road schooling vary state by state. Although your Class B RV is your home, you must adhere to your state of residency's guidelines. Some states require no reporting; however, most states see reporting as necessary. Reporting can be in different forms, whether it's yearly testing, monthly grading, quarterly attendance reports, etc. If your children have dreams of attending a university, you will want to check with the college's state to ensure your child has completed their mandatory prerequisites.
Road Schooling Techniques
As mentioned previously, most parents choose a combination of hands-on, computer and literature-based education or just one particular method. Computer-based techniques are helpful for subjects like math, science and coding, while literature-based techniques are beneficial for writing, reading and other workbook exercises. Hands-on techniques are for experiences or field trips. For example, your child can learn about the Battle of Gettysburg as you visit the very grounds of the Pennsylvania battlefield.
Road Schooling Resources
Believe it or not, many families teach their children on the road, right from their Thor Motor Coach. If you're missing that sense of community - don't worry - there are groups on social media of families supporting each other on the journey of road schooling. You can share textbooks or choose to get an e-reader. You can get passes for all sorts of different museums and historic sites, U.S. National and amusement parks, aquariums and zoos, and nature and science centers.
Relationships while Road Schooling
Parents may fear for their child's socialization during road schooling, but with all of the resources above, you won't have to worry. From online social media communities, real friendships can develop at the campground. National Parks have a Junior Ranger program where children can meet and learn together. There are also a variety of camps throughout the school year and summer for you to sign up. Because road schoolers learn to adapt to their environment, it may be easier to approach people and make new friends once they reach adulthood. Not to mention, road school family testimonials show signs of family relationship improvements.
Benefits to Road Schooling
There is not typically a "one size fits all" approach to your child's education while you're on the road in your Class C motorhome. This flexibility allows you to cater to your child's needs and determine their learning experiences. You can literally and figuratively shift the landscape, which ultimately benefits your child's overall educational growth and can aid issues of focus. Dynamic learning teaches children independence and gives them physical, educational and emotional freedom to blossom and thrive in adulthood.
Is Road Schooling for Your Family?
If you know that road schooling is best for you and your family, let us help you with step 1: finding a motorhome.
The 2021 Challenger Class A motorhome makes for a perfect school-on-wheels for large families. With the 37DS bunkhouse model, you have plenty of spaces for your little ones to sleep. There's no need for a crowded classroom when you can set-up your children's desks at the Dream Dinette®. Plus, Winegard® ConnecT™ 2.0 works as your WiFi extender and 4G hotspot, so if you opt-in for fully or partially online classes, your children won't have to stress about getting homework done on time.
Challenger | Crystal Palace Exterior | Color Options      Challenger | Shoreline Interior | Gallery
When you travel to the next field trip in your Delano Sprinter RV, you can set-up camp quickly and get to the hands-on learning experience thanks to Rapid Camp+® multiplex system. Your child will love reading, writing and, of course, taking the occasional afternoon nap in the overhead bunk with a built-in skylight. Flexibility is the beauty of road schooling, so don't forget to watch educational programs and movies on the living room TV at any time of the day or night.
Delano | Scottsdale Exterior | Color Options                   Delano | Grey Cashmere Interior | Gallery
Questions? Comments? Contact our Coach Link Sales Advisor.
Are you searching for local inventory? We offer a convenient Dealer Locator.