Christmas Traditions with the Bouchets
December 21, 2020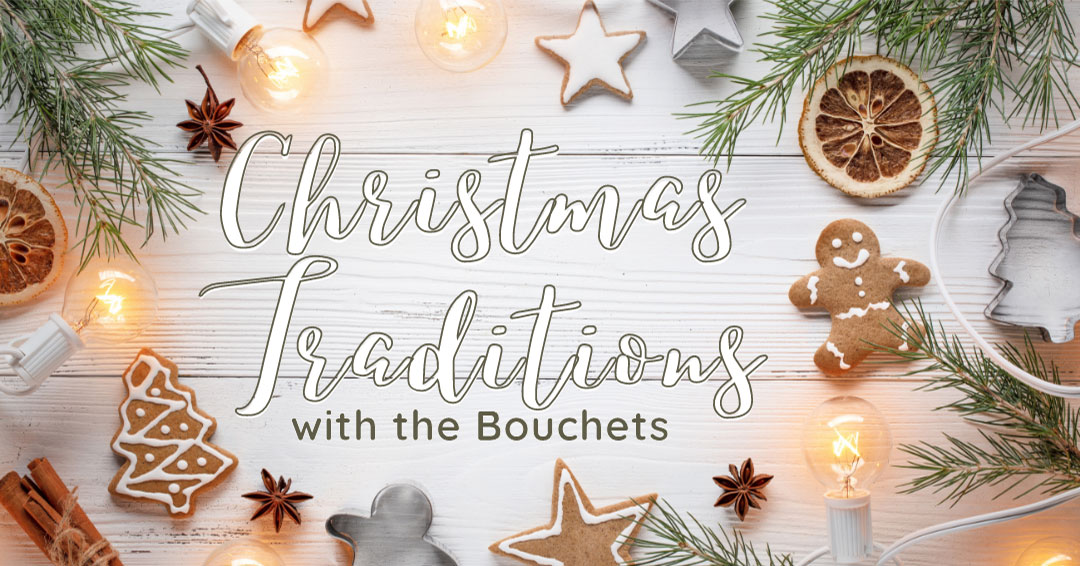 by Vanessa Bouchet

Christmas is a special time of year for many people. Christmas is when we can get together with family and friends that we may not see very often. My husband and I are in the Northeast, so Christmas for us usually consists of snow and cold temps in the 20s and 30s. We have two very different traditions in our families that we embraced as a new family.
Our Christmas traditions while growing up
My husband's family is traditional, celebrating Christmas on December 25th at the family home, with a traditional tree, presents and food. Different traditions never caused issues with us because I do not celebrate on December 25th. My Christmas, considered Orthodox Christmas, is January 7th and is a nod to my Ukrainian heritage. Usually, for our celebrations, we would go to Baba's house (grandmother), and she would cook enough food for the entire town of Ambridge, PA, where she lived. She would cook and prepare so many things, including three types of soup, six or seven sides, three meat dishes, two kinds of salad and six or seven different kinds of pastries. She would play traditional (Ukrainian language) music in the kitchen while she would cook and chase us kids out of the kitchen when we would try to sneak tastes of the food.
How our Christmas traditions have changed
Our Christmas has changed as we have lost family and friends, and the gatherings are much smaller now but we still try to enjoy the time we can spend together. The decorations and celebrations have gotten smaller. We have standard decorations, including a tree, lights and a wreath on the door. The food has changed and is much different now. Baba's recipes were a guarded secret, and she never followed a recipe book, so we had to figure things out for ourselves.
Our Christmas traditions now
Our tradition usually consists of the 24-hour movie marathon of "A Christmas Story" (1983) while my husband and I cook the meal for our family. I, like my Baba, always cook way too much food for the number of people we have at our house. These two things are the most important for our celebrations, and we always enjoy them. Our holiday meals are not very typical. We usually will have German potato salad, mac and cheese, green beans, stuffing, broccoli casserole, turkey, ham, stuffed mushrooms, deviled eggs, spicy sausage and cheese balls, apple pie, chocolate cookies, chocolate chip cookies and peanut butter cookies. I will need to do some trimming down before we plan for a full-time Christmas dinner in the RV!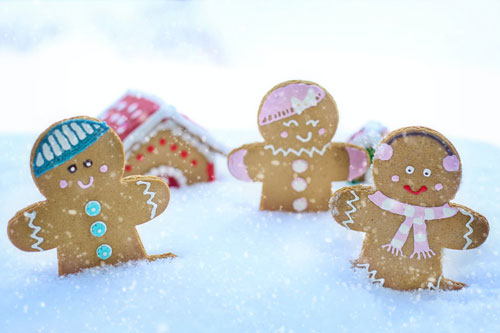 Decorating the RV
One thing we get asked a lot, mostly by our parents, is, "If you guys are full-time in the RV, how will you decorate for the holidays? Are you going to throw a tree on your roof and drive around with it?" Well, that's silly and no. Right now, we are not full-timers, so we still decorate our home base for Christmas (and keep them up until January 8th, the day after my Christmas). I have put some thought into making the jump to full time and decorating and making the RV festive for us. After some review, we have some ideas on ways we can decorate and enjoy the holidays without the giant decorations.
Making our motorhome festive for the holidays
Our Christmas tree is only about a foot tall, as it is just for us, and we have it decorated with little decorations to match the size of the tree. Some LED lights along the roof make it just festive enough for us, and all of those items don't take up too much room in the RV. Without a chimney to hang our stockings from, we will hang them from the shelf with care, and each household member has one (including the dogs).
Consider space when decorating your RV
One thing to think about with decorations is space. If you plan to celebrate Christmas in your RV, consider more unique items for decorating, rather than a big production of inflatables and massive outdoor decorations. We also decorate with stuffed animals in the Christmas spirit, like Rudolph and The Bumble from the classic Christmas movie "Rudolph the Red-Nosed Reindeer" (1964).
In whatever way you decorate or celebrate, finding meaning in the season is different for everyone. Making memories with loved ones is truly one of the most important aspects of any holiday tradition - anywhere. 

New to RVing? Check out our free RVing How-To Guide. 
Questions? Comments? Contact our Coach Link Sales Advisor.

Are you searching for local inventory? We offer a convenient Dealer Locator.