Be Prepared: Pet Meds and Remedies on the Road
December 9, 2020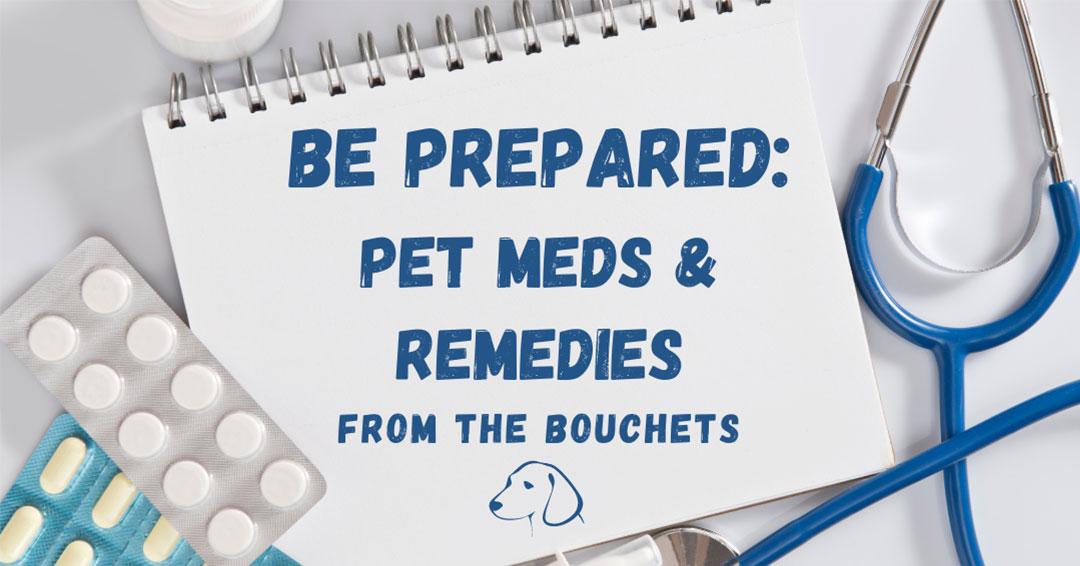 by Vanessa Bouchet

Traveling away from your home base can always be stressful and a little bit anxiety-provoking, especially if you plan to travel with children or pets. It is essential to identify how long you will be traveling and what you will need before starting your adventure. We are planning a six-month-long adventure in the next few years, and we are looking into how we need to prepare for that long of a trip away from our primary vet clinic.
Plan for vacations with your vet
Our vet, Dr. Kurt, is fantastic, as is his staff at Crestview Veterinary Clinic in Ohio. They always work with us on planning for medical issues while on vacation and, as a long-standing customer, they will work with us on having extended medications for our adventure. If you follow my blog postings, you know we travel with three dogs on every trip we take. Our dogs each have specific prescription and over the counter medications that they are required to take. These medications range from daily medications to monthly medications and, obviously, their yearly check-ups.
Preventative care: Annual vet check-ups
Our dogs are due for their yearly check-ups in June, so we always plan a time to return home, even if just for a few days, for their appointments with Dr. Kurt. At our check-up with Dr. Kurt, we get the annual heartworm test and yearly vaccinations of DHPP and Lyme disease. We get also get rabies vaccinations every three years. These vaccines are pretty standard, and our vet strongly recommends them. These are all things that are taken care of at the vet and cannot be home remedies. Our dogs also take Bravecto, which is a quarterly maintenance medication to prevent fleas and ticks. The chewable "treat" is much easier to give than the traditional oil-based flea and tick medications. The last prescription medication we provide is Interceptor, which is a monthly maintenance medication to prevent heartworm. Interceptor Medicine is also a "treat" type of chewable medicine.
Over the counter medications: Vet-approved
The rest of the medications we give are all considered over the counter medications approved by our vet. We provide the youngest dog, Leviathan, 3mg of Melatonin twice a day, as he has intense anxiety when traveling and has some fear most days and will get uneasy. The pill is given with his food as an easier way for him to ingest the medications.
CBD Oil
The other medication we give two of the dogs, Xanadu and Leviathan, is CBD oil that we get from www.thecbdistillery.com. There is some controversy about CBD products and their benefits because it is derived from hemp, which falls under the cannabis umbrella. CBD is considered non-intoxicating due to the lack of THC content (found in marijuana), making it legal in most states. The 2018 Farm Bill removed hemp from the definition of marijuana, which allows CBD products with less than 0.3% THC to be legal at the federal level. Regardless of your feelings about medical cannabis, CBD products are different. We have seen many benefits of using CBD oil once a day during meals to treat our oldest dog, Xanadu, for seizures. Our vet supports our medical treatment choices, and CBD oil has fewer side effects than some harsh seizure medications like phenobarbital.
Over the counter medications: Just in case
Some must-have over-the-counter medications include cortisone, Benadryl, and some essential antibiotic cream in case of an injury. Other items considered vital are a lighter and tweezers in case of a tick incident, depending on where in the US you are traveling. You must remove the entire tick, including the head, which can sometimes burrow under the skin, with tweezers and burn it before disposal in the toilet or trash.
Always consult your veterinarian. 
It is imperative to address all medical issues and conditions with your vet before traveling with pets or starting any medications. Remember the basic boy scout rule of "always be prepared," and you will have a great vacation with your furry friends.
New to RVing? Check out our free RVing How-To Guide. 
Questions? Comments? Contact our Coach Link Sales Advisor.

Are you searching for local inventory? We offer a convenient Dealer Locator.