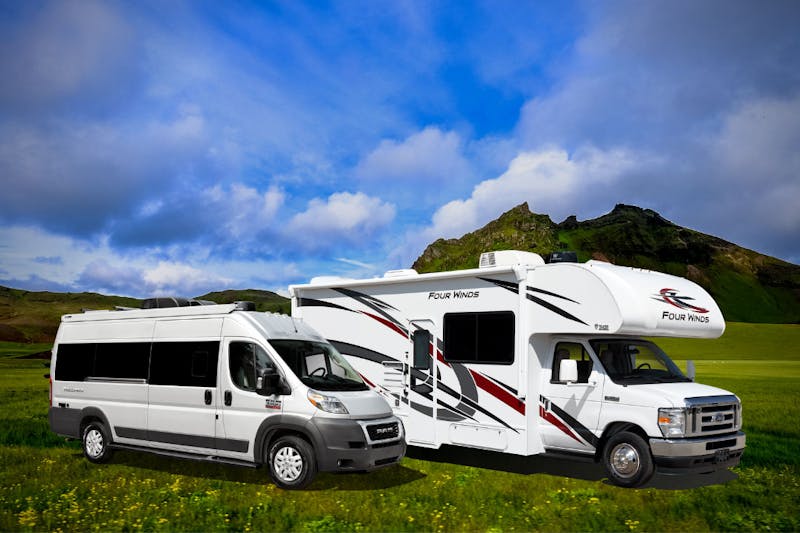 Class B vs. Class C RVs
If you're wondering, "Is a Class B or Class C motorhome right for me?" you aren't alone. This is a question we get often. With our great lineup of Thor Motor Coaches, choosing the right one can sometimes be difficult. This week, we're comparing Class B and Class C RVs, so your family can find a perfect fit.
What is a Class B motorhome?
A Class B RV is an automotive van that has been converted into a residential living space. Unlike Class A or Class C motorhomes, these small motorhomes don't have walls added during the manufacturing process. This means they are compact vans that include all of the living features within the van itself. RV manufacturers find ingenious ways to transform the van interior into a functional kitchen, bedroom, and living space. You may have heard them referred to as a camper van, B van, explorer van or Sprinter van.
What is a Class C motorhome?
A Class C is a motorhome built with a cab or cut-away chassis. A cab chassis provides a front structure that looks like a van, including seats, a dash, opening doors and body sheet metal. From this foundation, floors and sidewalls added in our factory create the body of the motorhome. From there, our team adds all of the amenities that make the Class C a true home-on-wheels, including a kitchen, bathroom, sleeping and living areas.
Class B vs. Class C Drivability
Because of the Class B's automotive van platform, stress while driving is virtually non-existent. Another camper van convenience is that they are compact enough — ranging from 18 to about 21 feet — to fit in a conventional parking space. Class Cs are mid-range motorhomes, ranging from 22 to nearly 33 feet in length. Class Cs may be a bit more intimidating to drive than a Class B, but are still easily maneuverable compared to a larger Class A. You can learn more about each product's platform on their specs page; some are available in more than one chassis.
Class B vs. Class C Floor Plans
Thor Motor Coach offers three Class C products and six Class Bs, and all are available in unique floor plans. The different living room and bedroom configurations allow owners to find their perfect match. We understand it can be overwhelming at times looking through our inventory, which is why we have Coach Link Sales Advisors ready to help. You can ask them any questions, tell them what you had in mind, or tell them you don't know where to begin. They'll help you throughout the discovery process and can eventually help you find a local dealer.
Class B vs. Class C Features
With their compact size, Class Bs are ideal for those who want to become one with nature. That's why our Class Bs have features that fit the outdoorsy lifestyle, including Thule Accessories — a bike rack, roof rack and ladder system and an awning (on select models) — and standard solar power. Class Cs are also tailored to the explorer lifestyle for families. Large storage bays and larger sleeping capacity are two top stand-out features for those comparing a Class C to a Class B. No matter which Class is best for your family, you'll love calling your Thor Motor Coach "home."
Recommended Class B and Class C RVs

Tellaro Class B RV
You'll want to go everywhere in this Class B RV. Available in three floor plans, Tellaro has everything you need for a stress-free vacation. Behind the wheel, a 7-inch touchscreen dash radio comes with Apple CarPlay and Android Auto for listening pleasure on a cross-country road trip. For entertainment, Winegard ConnecT 2.0 works as a WiFi extender, 4G hotspot and TV antenna. The 24-inch TV in the living area even swivels for outdoor viewing capabilities, allowing you to entertain guests at the campsite.
Four Winds Class C RV
Perfect for a vacation with the family or a weekend for two, Four Winds has floor plans made to fit you. This Class C comes standard on a Ford E-Series chassis, while some floor plans have an optional Chevrolet chassis. Navigating the open roads on either platform will be a breeze, with cruise control, backup monitors and comfy leatherette captain's chairs. 31-foot models even come with SmoothTECH ride enhancement, a suspension system trusted by ambulances for a smooth trip to any destination.