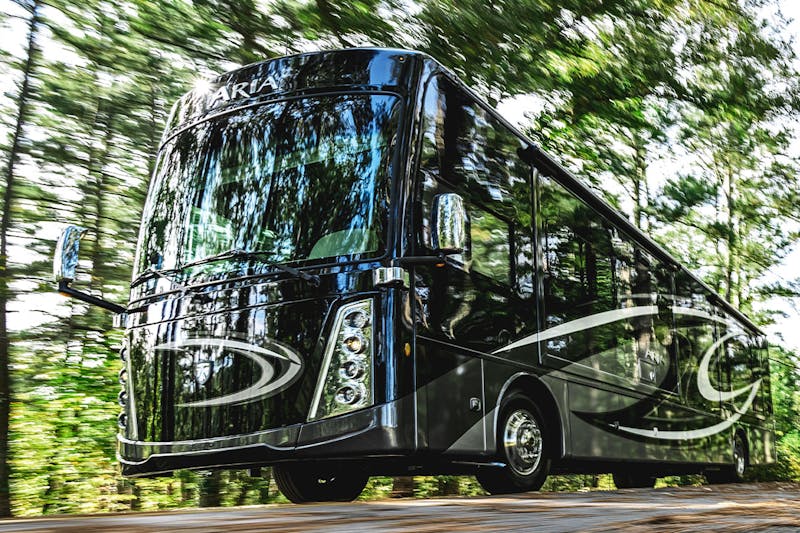 Class A Camping in a National Park!
Steep grades and size restrictions on campsites can make camping in your larger rig more of a pain but the rugged outdoors with family and friends is the reward.
Taking your diesel pusher to a national park to camp is not forbidden, you just need to know where to take it. You may have heard about the length limitations for RVs in national park campsites. Some restrict the length of the rig to a maximum of 20 feet.
This pretty much means no diesel pushers or class A RVs. That sucks. I'm sure you didn't buy that powerful machine for it to sit in your driveway. Here are three Thor Motor Coach motorhomes longer than 37 feet and three national parks where you can park them overnight. If you know of other parks that can accommodate large motorhomes, leave a message on our Facebook page.
Venetian Class A Diesel and Yellowstone National Park, Wyoming, Montana, and Idaho
The Venetian might have a lot of bells and whistles but what's even better? It's got 400HP of mountain crushing muscle. It can handle the Yellowstone Grand Loop and come back for more. The Mammoth Hot Springs Campground is close to Gardner River with good trout fishing and shade trees so you don't have to run your AC all the time. And if you're lucky, you could see bison and elk. The Norris campground is centrally located and adjacent to the Norris Geyser.
Mammoth Hot Springs Campground at Yellowstone has sites that can handle vehicles up to 65-feet and Norris Campground's max is 50-feet. Both Mammoth and Norris are first-come-first-serve campgrounds and do not require reservations.
Venetian Class A Diesel
Models range from 38 to 41 feet long
Freightliner chassis
10,000-pound trailer hitch
Click here for more about the Venetian.
Challenger Class A Gas and Yosemite National Park, California
While you can't drive an RV through a sequoia tunnel, you will have no problem parking this bad boy on one of 12 campsites with a maximum clearance of 40-feet. The Challenger Class A motorhome comes in lengths from 37 feet long to just over 38 feet, depending on the model.
A word of advice, reserve your site in advance since they fill up quickly during the peak season and since there are only 12 total sites that can handle the Challenger. Six of these are in the Lower Pines campground and the other six are in the North Pines.
Challenger Class A Gas
Ford® F-53 Chassis
Auto leveling jacks
8,000-pound trailer hitch         
Click here for more info on the Challenger.
Outlaw Class A Toy Hauler and Arches National Park, Utah
Toy hauler owners know the best part of play is the playground and in Arches National Park the unique rock formations provide the ultimate adrenaline rush. ATVs and dirt bikes are not permitted within the park but motorcycles are welcome.
The Outlaw will fit right in at Devils Garden Campground. Sites there max out at 40 feet- just perfect for the Outlaw. You can reserve these sites up to six months in advance so plan ahead.
Outlaw Class A Toy Hauler
Models range from 38-39 feet long
Garage drop-down ramp door
Remote fuel filling station
Click here for more info on the Outlaw.