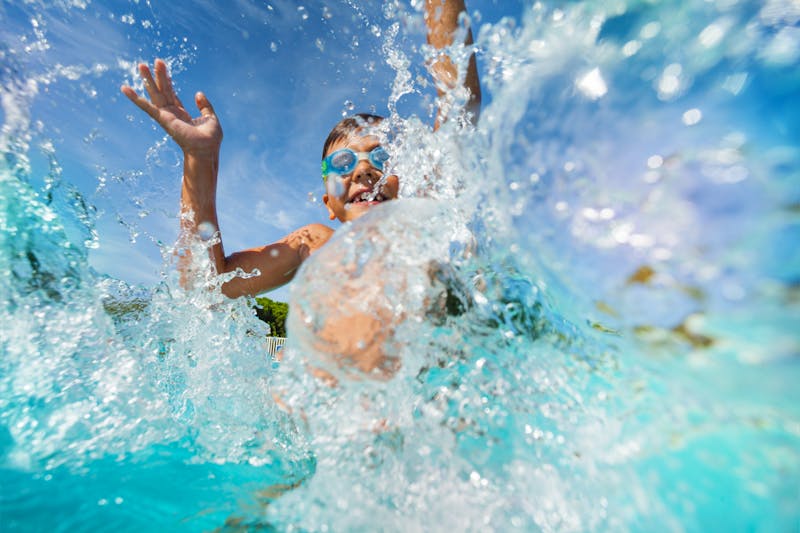 Big Splashes, Bigger Adventures!
Best Waterparks in the U.S.
Swimming is the perfect way to cool down on a hot summer day! Where do you go, though?
Waterparks are the safest option for aquatic fun compared to oceans, rivers, and lakes. The United States offers a multitude of waterparks for families of all sizes. We've compiled a list of the best waterparks in the country so you can get straight to splashing and sliding!
According to Timeout and Family Vacationist, these are the best waterparks in the United States:
Knott's Soak City – Buena Park, California
Knott's Soak City is the best way to stay cool in Southern California! This fantastic water park is next to the famous Knott's Berry Farm. It's a whopping 15 acres of waterslides and family fun! Catch a ride down any of the 23 different slides, or take a relaxing trip down one of the longest lazy rivers in the country. Glide down Banzai Falls for racing excitement or chill in the enormous 750,000-gallon wave pool. Adventurers can scale to the top of Old Man Falls, a 63-foot high-speed slide structure with three slide choices!
Water World – Federal Heights, Colorado
Water World is just ten miles north of Denver, and it's considered the Mt. Everest of waterparks. It's located in a community park that rivals the largest private waterparks in the country! This park features 52 attractions, including the Voyage to the Center of the Earth raft ride with animatronic dinosaurs. Visitors often require multiple days to ride each waterslide, so many tend to focus on the park's various slide clusters. A recently added attraction, Warp Speed, combines traditional tube slide action with a virtual gaming experience!
Disney's Typhoon Lagoon – Orlando, Florida
Typhoon Lagoon is one of two Disney Orlando water parks and home to the Crush 'n' Gusher, the first-ever water coaster in the Orlando area. Blizzard Beach is where waterslide lovers can experience the thrill-ride drop of the Summit Plummet and Slush Gusher. Families can enjoy the Miss Adventure Falls white-water raft ride, North America's largest wave pool, and the Castaway Creek lazy river. Typhoon Lagoon also hosts an after-hours Disney H2O Glow event with a DJ dance party, snacks, and lower wait times on select nights.
Holiday World & Splashin' Safari – Santa Claus, Indiana
Splashin' Safari is a waterpark located within the Holiday World theme park. It features two wave pools, numerous tubes, open-air slides, and two fun zones for kids. The park also features the Mammoth, one of the world's longest water coasters. It's in the Guinness World Records for its record-breaking length of 1,763 feet! The ride propels a tube up and over hills and into splash pools before finishing with a huge drop. Cheetah Chase is the waterpark's newest ride, and the world's first launched water coaster!
Schlitterbahn – New Braunfels, Texas
Schlitterbahn New Braunfels is located about 30 miles from San Antonio, on the banks of the Comal River. It has been recognized as the best water park in the world for more than two decades by the theme park industry's Golden Ticket Award. It's so big that showing it requires two full maps on their website! In fact, Schlitterbahn rates its slides by their degree of scariness, much like ski slopes. If you're a waterslide fanatic, this park is a must! The park also features multiple calm pools for visitors who wish to relax.
Noah's Ark – Wisconsin Dells, Wisconsin
Noah's Ark is an amazing water park with nearly 70 acres of space and 22 different water attractions, including two wave pools. The small town of Wisconsin Dells launched the indoor water park concept in the late 1980s. Now it's considered "The Waterpark Capital of the World!"® Notable rides include Scorpion's Tail (America's first looping, near vertical waterslide) and the Surfing Safari surf simulator. However, the park's main attraction is the Black Anaconda tube slide, which reaches speeds of 30 miles per hour.
Sanctuary® Mercedes Sprinter
Sanctuary sprinter van feels like a breath of fresh air, no matter where you go. Its compact conversion van size makes driving and parking simple. Spend a day at the waterpark while enjoying the comforts of home! By day, open your sliding entryway door to enjoy the gentle breeze through the screen door or open the back doors for the ultimate camper van experience. By night, enjoy the sunset view through the large opening side windows. Unwind like never before while you get your splash on!
Omni® Super C Diesel Motorhome 
Omni delivers everything you need for the perfect getaway. Every floor plan offers more than enough room for you and your loved ones. This Super C RV features a panoramic skylight with a power shade. Gather with loved ones at the Dream Dinette® and discuss your favorite waterslide! At the end of the night, relax on the sofa or theater seating while enjoying your favorite show on the 39-inch TV. Residential vinyl flooring makes clean-up easy and convenient, especially after being at the waterpark all day.
Which water park will you visit this summer?
Be sure to use #tmchappycamper when posting photos or send them to our happy camper line at 574-584-2074 for the chance to be featured on our social media pages!