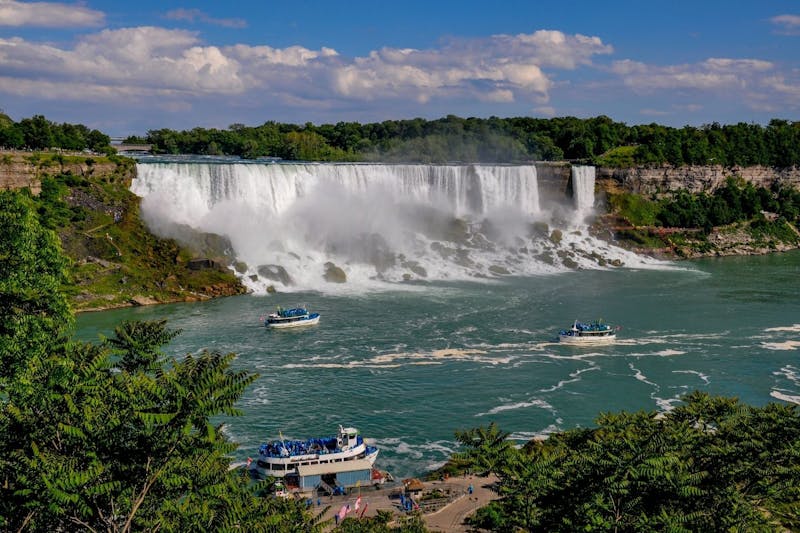 Best Waterfalls to Visit this Spring
Spectacular views, calming sounds and a great experience for families of all sizes - we're talking about waterfalls, of course! There are plenty of waterfalls worthy of the bucket list, but this week we're focusing on our top three. Continue reading for our recommendations for the best waterfalls to visit this spring.
Shoshone Falls Park in Idaho
Shoshone Falls Park in Twin Falls, Idaho, is a must-see for campers. Pull-through spots for a Class A motorhome make visiting the "The Niagara of the West" simple and stress-free. Shoshone Falls, located on the Snake River, is one of the largest natural waterfalls in the country at 212-feet tall and 900-feet wide. Pet parents can bring their dog and walk along the canyon rim trail as long as they are on a leash. Although the park itself doesn't allow overnight camping, there are plenty of places nearby to rest your head for the evening.
Havasu Falls, located in the Havasupai Indian Reservation, is just outside Grand Canyon National Park in Arizona. The Havasupai Tribe, meaning "the people of the blue-green waters," requires visitors to obtain a reservation through their website, with limited availability and are currently closed as a COVID-19 precaution. Once the park re-opens, the hike to Havasu Falls' gorgeous views is strenuous and requires experience or a lot of preparation. Reservations are for 3 nights and 4 days, so plan ahead when packing your Class B RV.
Upper Falls of the Yellowstone River in Wyoming
Though often overshadowed by the Lower Falls in Yellowstone National Park, the Upper Falls of the Yellowstone River are breathtaking at 110 feet. Near Canyon Village, the Upper Falls can be seen from multiple vantage points. Many enjoy viewing the falls from Uncle Tom's Point because you can take in the views without the hike. If you enjoy the hike, you can make your way upstream for different views of the falls. While at Yellowstone, take advantage of their numerous experiences, including more extensive hiking trails, biking, watching wildlife and even horseback riding. Finding a camping spot for your Class C RV will be a breeze, as there are plenty of options in the area.
Want to get to the waterfalls with ease? Check out these Thor Motor Coaches.
Compass AWD™ Class B+ RUV™
Compass AWD is more than your average Class B+ motorhome, it's a Recreational Utility Vehicle (RUV). Compass AWD's RUV platform makes the drive feel like an SUV. The V-6 ECOBoost® turbo engine provides enough power for the Class B+ to navigate the winding roads. With an all-wheel-drive platform, driving to your favorite waterfall will be stress-free, even in inclement weather.
Sequence Camper Van
Sequence is perfect for outdoor enthusiasts who are willing to take the strenuous hike to Havasu Falls. This camper van may be one of our smallest motorhomes, but the versatile floor plans have plenty of storage, a fully equipped kitchen and a wet bath. The Thule® bike rack allows for two adult-sized bikes and the patio awning with LED lighting is the best place to rest after the long journey to the falls.