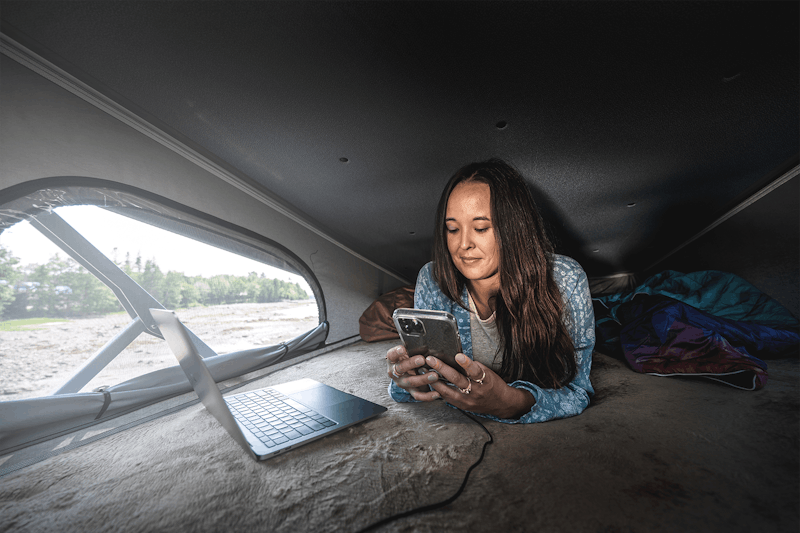 Best Road Trip Apps
Best Device Apps for Road Trips
Fall is approaching, and you know what that means? Road trip season!
We know that planning road trips can sometimes be a hassle. That's why we've compiled a list of apps (all available on iOS and Android) that will facilitate travel so you can focus on making memories with your loved ones. Take the guesswork out of road tripping and journey like a real pro!
According to More Than Just Parks and Travel and Leisure, these are essential apps travelers should download before hitting the road:
Best Use: Navigation
Waze provides users with real-time updates that help avoid traffic jams, construction, and even speed traps. No one wants to spend hours sitting in traffic. Hence, Waze collects data from other drivers to streamline your experience while helping you get where you want to go. Best of all, the app is free!
Best Use: Music/Entertainment
What's a road trip without the perfect road trip playlist? Tune into your favorite music, queue up curated playlists, and listen to podcasts as you cruise with the Spotify app. It's free, but users can get Spotify Premium for $9.99 a month if they prefer to listen to music without ads and download playlists for offline listening.
Best Use: Lodging Accommodations
Book vacation homes and experiences around the globe with the Airbnb app! This free app is great for finding a place to stay, whether booking weeks in advance or looking for a last-minute place to sleep. The user reviews are beneficial in determining the expected quality of accommodations. Plus, the booking process is quite speedy.
Best Use: Planner
Roadtrippers is one of the most popular road trip planner apps. You can plan your journey, collaborate with friends or family, check traffic conditions, and discover great national parks, roadside attractions, and hotels along your route. The app is free, but you'll want to upgrade to Roadtrippers Plus for $29.99 a year to enjoy all the perks.
Note: Roadtrippers also has an RV mode which highlights spots of interest to RV adventurers.
Best Use: Planner
Paying for gas can consume much of your road trip budget, but GasBuddy is here to save you a few bucks! The app helps drivers find the cheapest gas stations, so you never pay more than you have to when filling up your tank. You can also use this free app to find the closest gas station and nearby parking for much-needed rest stops.
Best Use: Reviews
Browse through nearly a billion reviews of various places and experiences on the TripAdvisor app! Aside from the reviews, many people use this free app for road trip inspiration. It's also a very reliable organization to book hotels through. They offer generous cancellation windows and competitive prices.
Best Use: Reviews
Who hasn't heard of Yelp at this point? Though many people have jokingly threatened to "leave a bad Yelp review" on a business' page at one point or another, this app is handy when looking for food on the road. Avoid the places that constantly have health code violations and find the spots that will make you want to come back for seconds. Plus, the app is free!
Best Use: Planner
Considered the best hiking app, AllTrails is a great road trip planning tool. This free app allows users to easily find and save hikes throughout the United States, saving hikers time to explore highly rated trails over disappointing ones. It's complete with trail guides, photos, and reviews, among other things. If you love hiking, then download this app!
Inception® Super C Diesel Motorhome
Every aspect of Inception is designed to increase the capacity and comfort of life while traveling on the road. If driving is the part of the trip you like best, get excited. The massive 15,000-lb trailer makes light work of towed cars, horse trailers, and anything in between. This Super C Diesel RV's massive external storage lockers are perfect for surfboards, fishing poles, folding bikes, or other oversized items. Road trip packing has never been easier!
Windsport® Class A Motorhome
This Class A gas motorhome has versatile layouts and optional features that make traveling a breeze. Windsport has everything you need to road trip with your loved ones. Grab supplies from the large storage bays and grill dinner using the external propane connection; you can put the leftovers in the fridge of the exterior kitchen. Built on a Ford® F-53 chassis, this RV has the power to take you somewhere unforgettable!
Which app will you download for your next road trip?
Be sure to use #tmchappycamper when posting photos or send them to our happy camper line at 574-584-2074 for the chance to be featured on our social media pages!