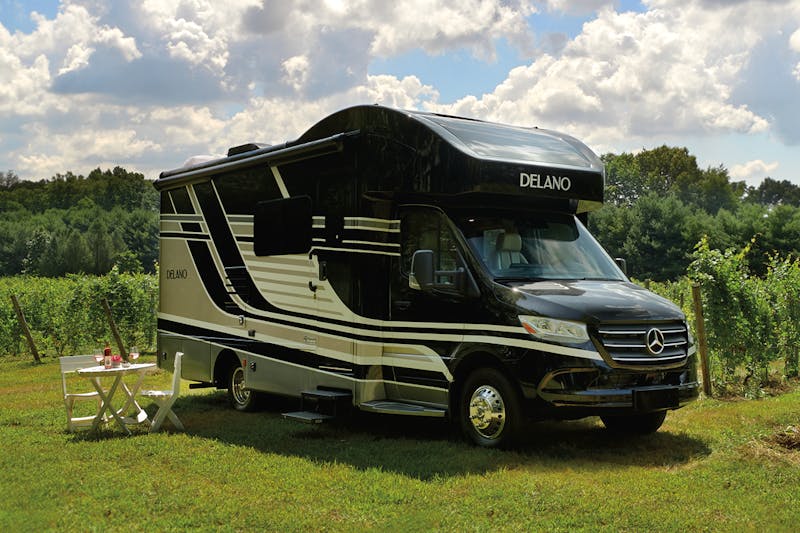 Best Mercedes-Benz Sprinter RV Features
When we hear Mercedes-Benz®, a few things come to mind: quality, performance, luxury, and safety. With Thor Motor Coach's Sprinter motorhomes, those features don't end at the chassis. From behind the wheel to a camp set up, these RVs are made for comfort and convenience. Continue reading to hear all about the best features of our featured Sprinters, Delano and Sanctuary.
Delano Class C Mercedes Sprinter RV
Top safety features, a residential feel and an abundance of technology. In Delano, the finer things come standard.
Behind the Sprinter RV Wheel
Sit back and enjoy the ride in the heated and adjustable captain's chairs. Safety is at the forefront of this Sprinter RV's design, complete with the Mercedes-Benz safety package: active brake, attention and lane-keeping assist, adaptive cruise control and wet-wiper system. Hands-free control of the radio is available from the steering wheel's audio buttons, so you can easily turn up the tunes of the 10.25-inch touchscreen dash with navigation, Bluetooth® and SiriusXM®. Delano also comes with keyless entry, a backup monitor and deluxe heated mirrors for your convenience.
Luxury Interior
Delano's Class C Sprinter RV size creates a spacious interior for families traveling on the road. Depending on your floor plan, you'll have a full or partial wall slide-out, featuring a living area, sleeping options and full bathroom. Inside, you'll have a choice of "Miami Modern" or "Luxury Grey" high-gloss Euro-style cabinetry, which are both perfectly named — they give the motorhome a high-end look. A built-in skylight, above the Class C's cab-over bunk, illuminates the living space for a truly at-home feel.
Three Floor Plans
When compared to the Sprinter Vans, this Sprinter Class C has the advantage when it comes to sleeping space, with a capacity of up to five people. Delano's three floor plans all come in a unique layout, so families choose the right fit for them. Compare below and, if you need assistance, contact our Coach Link® Advisors.
Sanctuary Class B Sprinter Van
With thoughtful floor plans, advanced technology and interiors designed with your family in mind, this isn't just your home; this is your Sanctuary.
Sprinter Van Drivability
Off-road enthusiasts, this is the Sprinter Van for you. Sanctuary comes with a 4x4 platform, optional all-terrain tires and a top-mounted LED light bar so you can get off the grid. Apple CarPlay® and Android Auto™ are available on the large MBUX® multi-media screen, the "Mercedes-Benz User Experience" dash with upgraded voice control and more. Convenient features continue in the Class B Sprinter, including a backup monitor, adaptive cruise control and keyless entry.
Life in a Van
Van life is ultimately for outdoor adventurers, and Sanctuary fits the bill. Thule® accessories, standard on all floor plans, make outdoor living all the more possible with a design philosophy of bringing your life with you. The patio awning, roof ladder and rack system, and bike rack with a capacity for two adult-sized bikes allow you to spend as much time outdoors doing what you love. Plus, a standard Re(Li)able lithium battery pack system couples with the 190-watt solar panel to keep the house batteries charged for a longer get away from the crowds.
Two Floor Plans
Room for two means an intimate travel experience for partners, or a road trip with a friend. Although the Class B Sprinter design is smaller than the Class C Sprinters, Sanctuary's two floor plans have a rear sleeping area, kitchen and marine-grade wet bath — everything you need to enjoy van life. As always, contact our Coach Link team if you need help deciding between the two floor plans below.