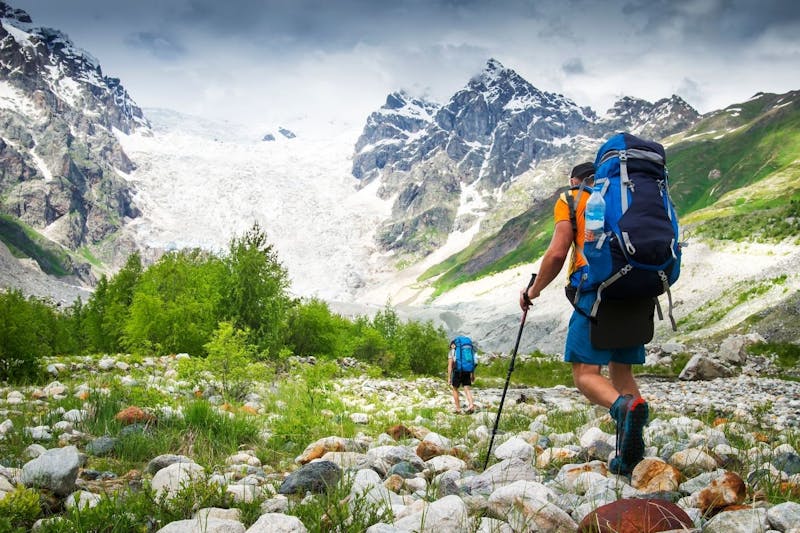 Best Hiking Trails
If you feel that it's time to reach new heights, continue reading. This week, we're sharing four of our favorite hiking trails that truly change your perspective at a peak over 1,000-feet. First, we'll begin with a trail that's great for families and make our way to the longest featured hike.
1. Emerald Lake Trail in Rocky Mountain National Park
Emerald Lake Trail is located in Rocky Mountain National Park near Estes, Colorado. This 3.2-mile hike has picturesque views of Nymph Lake, Dream Lake and finally, Emerald Lake. The sporadic shading from pine forests leads you to views of Flattop Mountain, Hallett Peak, Glacier Gorge, and Tyndall Glacier. You don't have to be a pro to hike this trail; in fact, many Class A RVers bring their kids along. Remember to bring appropriate footwear - you'll appreciate it as you gain 698-feet in elevation to rocky peaks.

2.   Devil's Bridge Trail in Coconino National Forest
Near Sedona, Arizona, you'll find the Devil's Bridge Trail in the Coconino National Forest. The 3.9-mile hike leads you to the largest natural sandstone arch in the area. This trail is great for beginner hikers, with a relatively short trip peaking at 521-feet. Orange-red rocks contrast with the green cacti and juniper to make a breathtaking view - just remember plenty of water in the summer months. Pet parents traveling in a camper van, you can even bring your four-legged friend along for the trip, as long as they're on a leash.

3.   Cadillac North Ridge Trail in Acadia National Park
With the highest elevation in our top-pick trails at 1,118-feet, Cadillac North Ridge Trail has an incredible vista point. The path goes to the highest point of Acadia National Park, located near Bar Harbour, Maine, with a gradual incline to the top. Bring your dog along for the 4-mile hike, or bike your way up the optional paved road to the summit. Nature lovers, you'll appreciate the wildflowers, birdwatching and other creatures of the forest - so what are you waiting for? Plan your Super C RV trip today.

4.   Grinnell Lake Trail in Glacier National Park
Our longest hike trail choice, Grinnell Lake Trail, is 7.1-miles in Glacier National Park near Babb, Montana. Although it may be longer than the previously mentioned trails, Grinnell Lake Trail is great for new hikers and peaks at 351-feet. You'll take in gorgeous views of Swiftcurrent Lake, Lake Josephine and eventually to Grinnell Lake if you visit during the warmer months. You'll be in awe of the Grinnell Glacier giving the lake life. Photographers, don't leave your cameras in the toy hauler because this is a hike you'll want to relive.
RVs for Hikers

Tellaro Class B Motorhome
You'll love all of the features of a larger motorhome in a compact and easy-to-drive camper van. Easily park anywhere with Tellaro's unobtrusive RAM Promaster® chassis. The Thule® bike rack conveniently carries two adult-sized bikes for those who wish to ride on the trails rather than walk them. When you're ready to relax, come back and rest under the Thule-powered patio awning.
Four Winds Class C RV
This Class C motorhome is perfect for a trip to the trails. With 15 floor plans to choose from, you'll find the best fit for your family's hiking lifestyle. Once you find the one for you, make plenty of nutritious snacks for the hike in the Four Winds' fully-equipped kitchen. Enjoy them while in nature or come back and snack at the Dream Dinette®. Relax in your floor plan's versatile sleeping areas and get ready for tomorrow's hike.