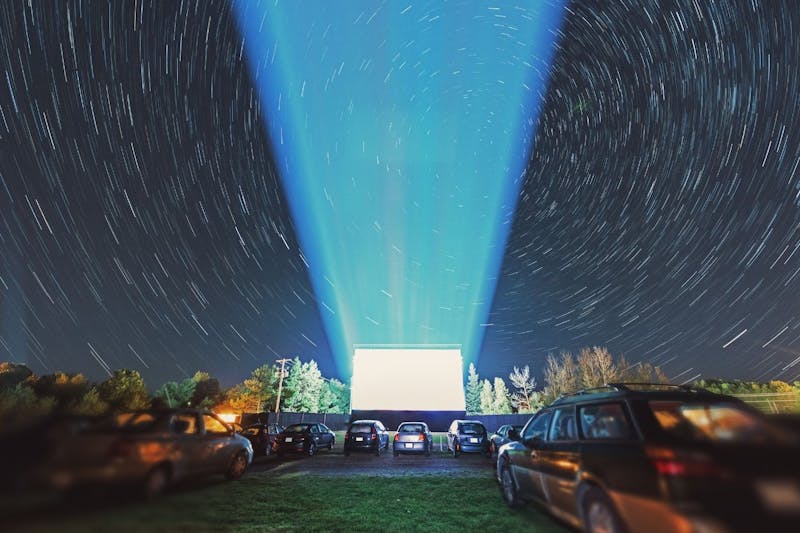 Best Drive-In Movie Theatres
Summer is in full force and van lifers are looking for family-friendly activities. Drive-in movie theatres are perfect for social distancing and enjoying a summer night under the stars. This week, we're recommending some of the best drive-in movie theatres throughout the country.
Northfield Drive-In in Hinsdale, New Hampshire
Northfield Drive-In is conveniently located in New Hampshire, near the cusp of Massachusetts and Vermont. Operating seasonally since 1948 - over 70 years - Northfield is one of the few lasting drive-in movie theatres in the New England region of the United States. In the thick of the summer months, the family who owns the theatre is found working at the snack bar. Want to bring along your four-legged family member? No problem! Plus, you'll come across the occasional double feature or drive-in concert.

Swap Shop and Drive-In Theatre in Fort Lauderdale, Florida
Not only is the Swap Shop Drive-In Theater the biggest in the country, with 14 screens, but it's also the largest daily flea market in the world. Proudly open 365 days a year, rain or shine (and including all holidays), the Swap Shop showcases a variety of film genres, including new and old releases. Accommodating to guests of all budgets, the prices are reasonable per visitor, plus the Facebook page often has deals. So if you're looking for a place everyone can enjoy near the Gulf coast, check it out.

Malco Summer Quartet Drive-In Theatre in Memphis, Tennessee
Part of a movie-theatre chain, Malco Summer Quartet Drive-In Theatre has been family-owned for more than 100 years. This old-fashioned drive-in has kept its retro feel over the years, which makes it a great experience for those looking for a bit of nostalgia with their outdoor flick. While you see two movies for the price of one, on any day of the week, staff representatives ensure that the bathrooms and other shared spaces don't become overcrowded to promote social distancing. You can have peace of mind while enjoying this drive-in from your Class B Van.

Mission Tiki Drive-In Theatre in Montclair, California
Mission Tiki lives up to its name with a renowned tiki bar concession stand and palm trees encompassing this Southern California drive-in movie theatre. The theatre is open seven days a week but requests that those with motorhomes taking up more than two parking spaces come Sunday through Thursday. As a drive-in theatre by night and open-air market by day - with more than 300 vendors - you can enjoy thrifting Wednesdays through Sundays with your loved ones.

Holiday Twin Drive-In Theatre in Fort Collins, Colorado
Travelers can visit the oldest drive-in in the Centennial State for socially-distanced, double-feature movies. Parking is assigned by vehicle height at the Holiday Twin Drive-In Theatre, but you can still enjoy the evening with your four-legged friend and, if you choose, some adult beverages. Holiday Twin also offers "Drive and Jive" concert events, a safe way to see some of your favorite artists perform.

Amusement Park Drive-in Theatre in Billings, Montana
As you may have guessed from its name, the Amusement Park drive-in does have a roller coaster - the only one in the state. Although this Montana drive-in is newer than its fellow outdoor movie theatres, viewers can reminisce while watching back-to-back Hollywood classics. Open seven days a week from April until October, you can enjoy this theatre throughout the warmer months. Don't forget to come on an empty stomach because you can order pizza right to your camper van!

Visit a Drive-In Theatre in your Class B RV by Thor Motor Coach
Our camper van brands, Sequence and Tellaro, are the ultimate choice for going to see a drive-in movie! Both are equipped with a 7-inch touch screen dash radio that will make connecting to your drive-in theatre's radio station a breeze. The optional Re(Li)able™ battery system keeps you charged through double feature films.

If you don't want bugs to get into your Class B motorhome but want the breeze of the summer air, you can utilize the sliding screen door for the entryway. Plus, don't forget to bring your four-legged family member to those pet-friendly drive-in theatres because both Sequence and Tellaro have hideaway pet food and water bowls so everyone can enjoy a movie-time snack.
No matter which drive-in movie theatre you visit, you'll have an incredible experience in your Class B RV by Thor Motor Coach.