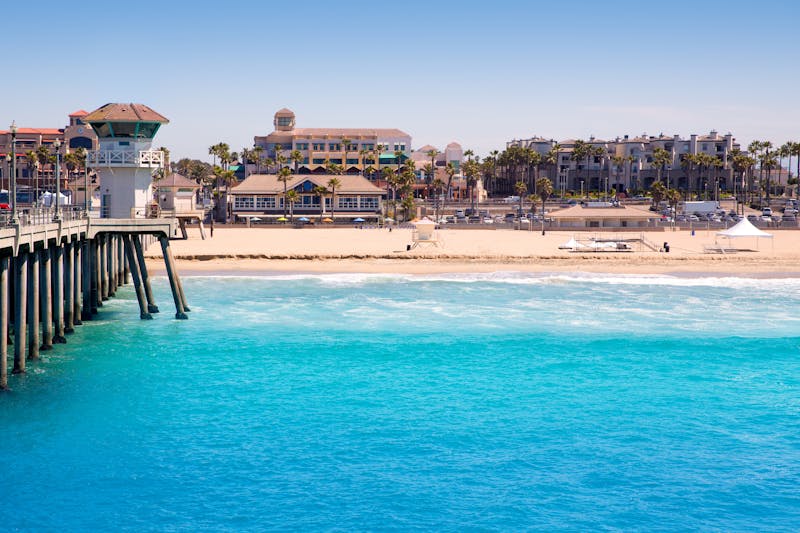 Affordable Beach Vacation Spots
Inexpensive Beaches in the U.S.
Picture yourself on a beach. The smell of salt water. Ocean breeze across your face. The sound of waves crashing against the shore. Sand between your toes. You're surrounded by crystal blue water as far as the eye can see. You are relaxed, one with the world, peaceful.
Are you convinced you need a beach getaway but can't afford one?
When people think of beach vacations, the word "cheap" isn't the first thing that comes to mind. However, the United States offers many budget-friendly options for solo travelers, couples, friends, and families. We've compiled a list of the best and cheapest beaches in the country so you can get straight to packing and feeling fintastic!
According to Trips to Discover and Vacation Idea, these are the most affordable beach destinations in the United States:
Gulf Shores is a charming spot with about 32 miles of pristine beaches and local restaurants. This relaxing paradise is known for its natural beauty and quiet, laid-back lifestyle. Deep sea or pier fishing, parasailing, and dolphin cruises are available! Those who'd like to explore beyond the shore can try hiking or biking the backcountry trail, kayaking the back bays, and golfing. The dining options here are endless! Only the freshest Gulf seafood is served. Many restaurants will cook what you catch on your fishing excursion. However, the best thing is the white, sandy beaches!
Huntington Beach, California
Huntington Beach is the top destination for those who want low-cost beach fun! Also known as Surf City U.S.A., it's a mecca for surfers of all ages and abilities. Lessons and equipment rentals are available for individuals and groups at the Banzai Surf School. Spectators can enjoy beach volleyball and tournaments held throughout the year. Done catching rays by the shore? You can wander through the Huntington Beach Pier, ride horseback in the 154-acre Huntington Central Park Equestrian Center or hop aboard whale and dolphin watching cruises.
West Palm Beach has something for everyone! Its Broadway-quality entertainment, outlet stores, and 23-acre zoo are well-known. There are four entertainment and shopping districts, all of which offer a variety of shops, shows, and dining choices. West Palm Beach is ideal for outdoor activities regardless of the season! It's a lovely tourist spot with crystalline blue waters and powdery white sand beaches. Who wouldn't want to visit?
The fishing town of Wells consists of harbors, nature reserves, and – of course – beaches! From modest fishing boats to luxurious yachts, boat owners can dock at Wells Harbor. You can find scenic sailing excursions, fishing adventures, or chartered vessels for a private experience there. The coastline provides almost four miles of beaches, including Moody Beach, Crescent Beach, Wells Beach, and Drake's Island Beach. The longest stretch, Wells Beach, is almost a mile long. Guests here can enjoy the view from the sandy dunes and grassy knolls. The town is also home to an annual chili festival, where chili makers can compete in the World Chili Championship Cook-Offs.
This affordable beach vacation destination has a carousel and classic arcade games that will have you feeling like a kid again. It's perfect for those looking for a bit of nostalgia on their beach vacation! Ocean City is a summertime haven for surfers, fishers, and families. Free concerts, movie screenings, and sports events are abundant here. The Jolly Roger Amusement Park is a kids' paradise with carnival rides, water slides, and rollercoasters. Tourists can head to a beachfront restaurant for a fresh seafood feast with a spectacular ocean view.
This seaside village has an excellent reputation for being home to the best beach on the Oregon Coast. Its natural beauty even led to National Geographic listing it as one of the most beautiful places in the world! This picturesque destination is one of a kind. You can marvel at colorful tide pools and one of Oregon's most recognizable landmarks: The mighty Haystack Rock. It rises 235 feet above the ocean floor! You probably recognize it from the 1980s hit classic, The Goonies. The town also holds an annual sandcastle contest each June. Cannon Beach is an excellent beach getaway that won't break the bank!
Myrtle Beach, South Carolina
Myrtle Beach is a beautiful place for families to visit, with a 60-mile string of beaches known as the Grand Strand. It's the quintessential seaside destination, with its lively, fun-filled boardwalk, amusement parks, waterparks, and top-notch seafood restaurants. Kids and adults can also go scuba diving or surfing. Those who feel the need for speed will love parasailing and taking a ride on a jet ski or banana boat. Attractions like a 5D theater, Ripley's Aquarium, a trampoline park, and the SkyWheel (a Ferris wheel with glass-enclosed gondolas) provide endless entertainment for the whole family. There are lots of golf courses and nightlife options for adults too!
South Padre Island, Texas
Just off the coast of Texas, South Padre Island is one of the Lone Star State's most beloved (and most affordable) beach getaways! Warm, calm gulf waters surround it, and the temperatures are already nice and toasty by early spring. Families and adventurous couples can keep busy with water parks, sailing, kiteboarding, and dolphin watching. At the South Padre Island Birding and Nature Center, visitors can climb a 5-story watchtower to view flocks of migrating birds. The Port Isabel Lighthouse State Historic Site provides a climb up a historic lighthouse with fantastic panoramic views. All that without having to spend your savings!
Tiburon® Mercedes Sprinter Motorhome
Easy to love, Tiburon sets the bar high for luxury travel. This motorhome's vinyl flooring has a residential look. It's easy to clean, making it perfect for beach bums covered in sand. Tiburon comes standard with a 100-watt solar panel with a power controller. This solar system keeps your house battery full without overcharging, which protects the battery and prolongs your beach vacation. That's right, now you and your loved ones can enjoy some vitamin sea a little longer!
Axis isn't your average Class A motorhome. It's easy to drive and easier to love. This motorhome offers an optional solar charging system to escape the crowds and relax at your beach oasis. You can also connect a travel grill to the external LP connection for fun in the sun! The Ceiling Ducted Air Conditioning System allows travelers to rest and recoup before getting in the water again. Axis also features a drop-down overhead bunk with a Cotton Cloud™ mattress and bunk ladder so everyone can sleep, beach, and repeat.
Which beach will you visit this summer?
Be sure to use #tmchappycamper when posting photos or send them to our happy camper line at 574-584-2074 for the chance to be featured on our social media pages!